Start-to-Finish CORE Curriculum
Start-to-Finish® CORE Curriculum is built around the belief that students with cognitive disabilities and autism deserve to experience important works of literature while building core reading skills—just like their peers!
Watch "how Miner School is making first-time readers with CORE Curriculum" (5 minutes)
Please note: The Start-to-Finish computer CDs are NOT compatible with Mac OS 10.7 or 10.8. If you're running these operating systems, check out Start-to-Finish Online Accessible Library!  It supports any OS including iOS (iPads) and Android.
For more information, please check compatibility here.

New action research from Michigan shows
Start-to-Finish CORE Curriculum improved
reading on SRI and AIMSweb measurements
over one semester.

Start-to-Finish CORE Curriculum  Resources  Pricing  Request A Quote

Start-to-Finish CORE Curriculum
Start-to-Finish CORE Curriculum
Start-to Finish CORE Curriculum pairs comprehensive reading instruction with simplified classic works of literature. This combination helps students in grades 6-12 move beyond sight words and into foundational reading skills aligned with new rigorous state standards — such as Common Core and TEKS. Learning is explicitly transferred to life skills—creating a connection between a student's book learning and real life!
The program is comprehensive—building comprehension, phonics, vocabulary and fluency skills. Scripted lessons are paired with individual book chapters and follow a consistent rhythm:
(1) The reading is anchored through a group activity.
(2) A focused purpose for reading is established.  Then the class reads through shared reading or individually with technology supports.
(3) The purpose for reading is recirculated in a follow-up class discussion, and this is related to real life (Career and College-Ready activity).
Each book cycles through this process several times creating predictability and consistency for teachers and students. Additional phonics lessons help students build decoding skills.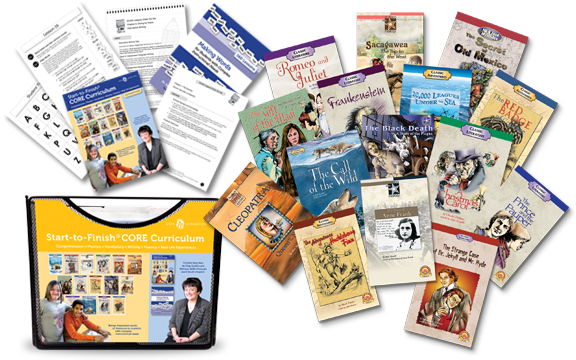 Peek inside Lisa Delgiudice's classroom and watch how she uses a CORE Curriculum lesson to teach her class to read…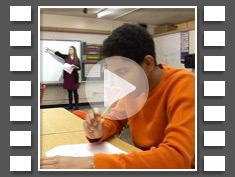 Check out sample lessons in our new Start-to-Finish CORE Curriculum Sampler…

The Curriculum Sampler includes PDFs of the Start-to-Finish CORE Curriculum Guide and sample Making Words phonics lessons, plus PDF versions of two Start-to-Finish Library books: Frankenstein and The Story of Anne Frank.

Who is Start-to-Finish CORE Curriculum For?
Who is Start-to-Finish CORE Curriculum for?
Many students in special education programs never move past sight word instruction.
They never get experience with real books. When these students hold their first Start-to-Finish book in their hands, they feel proud and respected. And teachers are often in awe how far their students can go.
CORE Curriculum was designed to respect students and teachers.
What are the benefits for teachers?
Curriculum lessons come ready "out of the box" — lesson prep takes less than 10 minutes! This means teachers can implement reading instruction with fidelity right away.
Teachers love initiating authentic reading experiences and watching their students go beyond sight words and truly engage with books while they build fluency, comprehension, vocabulary and phonics skills.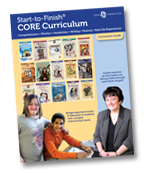 What are the benefits for students?
Reading one's first chapter book is a rite of passage. CORE Curriculum guides students through that journey. Students feel proud to hold a chapter book and the feel supported through teacher-led discussions, professionally narrated content, and accessible computer books.
The result? Students get access to some of the most important stories of all time like Anne Frank, Sacagawea, and The Call of the Wild just like their peers!
Start-to-Finish CORE Curriculum is a perfect companion to Start-to-Finish Online, which includes 94 chapter book titles including the 15 books included in the curriculum.

Where can I use CORE Curriculum?
Where can I use CORE Curriculum?
Inclusion Classrooms
In inclusion classrooms, the classroom teacher uses the lessons during the shared reading time. The lessons and stories are engaging and age-appropriate for any level of reader.
Co-Teaching Inclusion Settings
In co-teaching inclusion settings, the content is used in reading groups where a special education, paraprofessional or aid can easily instruct a small group of students at the most emergent reading levels.
Resource Rooms
In resource rooms, teachers or aids deliver lessons to student groups in 40-minute reading blocks.
Self-Contained Classrooms
In self-contained classrooms, each lesson is designated for one 40-minute reading block. Additional phonics lessons are designed for 20-minute reading blocks.

Start-to-Finish CORE Curriculum includes:
15 chapter books and accompanying computer books on CD

20,000 Leagues Under the Sea, A Christmas Carol, Anne Frank, Cleopatra, Huckleberry Finn, The Strange Case of Dr. Jekyll and Mr. Hyde, The Call of the Wild, The Prince and the Pauper, Frankenstein, The Black Death, The Gift of the Magi, Romeo and Juliet, Sacagawea, The Secret of Old Mexico, The Red Badge of Courage

Instructional materials for each book containing:

Daily comprehension lessons
Student worksheets and writing lessons
End of book tests and practice for alternate assessments

Making Words – 160 phonics lessons with reproducibles
Curriculum Guide – to support and guide teachers with implementation
Teacher Tools and Templates Folder, that contain:

Fluency and writing rubrics
Fidelity checklists
Data collection tools
Real Life Experiences – authentic learning activities to celebrate each book

Teacher Resource CD, containing:

Printable PDF of each book
Chapter quizzes and teacher answer sheets
Vocabulary and idiom lists
Student and teacher reproducibles
Backup of all the lessons for each book

How CORE Works
Each of the 15 books are expected to take three weeks (at 45 minutes a day) ending with an end of the book assessment and extending activities through the "Real Life Club" allow students to self-select a way to demonstrate what they have learned connecting learnings to life skills and jobs.
Pre-reading activities prepare students for the content and form connections to what they already know.
Example
Anchor
Activate Background Knowledge:
Have students work as a group. to create a graphic organizer describing dogs according to their own beliefs and experiences. If the class knows about a particular dog (e.g., a companion dog), use it in this exercise.
Ask students to list words and phrases that describe dogs. For example, fun, companion, loud bark, gentle with children, protection, chases a ball, likes to swim, etc.
Tell students. You used what you already know about dogs to think of words and phrases that describe them. Good readers find and remember words and phrases from next to describe characters in stories.
For one chapter of the included re-written classic book, The Call of the Wild, the pre-reading task is to share what is already known about  dogs. Students typically have responses like "dogs are furry, they walk on four legs, and their breath is smelly").
Establish a purpose for reading
Purpose Statement:
Say, In this chapter, you will meet a dog named Buck. Read to find words and phrases that describe Buck. You may wish to take notes to help you remember the words and phrases that you find.
Immediately prior to reading, the lessons provide a purpose for reading. In The Call of the Wild, the purpose for reading is to listen for characteristics about the dog, Buck. The classroom teacher engages listening skills by reading aloud or "playing" the book on a smartboard with professional narration and text highlighting to engage the visual senses. Students listen for words and phrases that describe Buck.
Apply
After Reading Task:
On the board or flipchart, write the word Buck, and call on students to provide a word or phrase that describes Buck. Examples include the following:
big (p. 6)
heavy (p.6)
140 pounds of muscle (p. 7)
lived in a big house in California (p. 6)
went wherever he pleased (p. 6)
king over everyone (pp. 6-7)
went swimming (p. T)
went hunting (p. 7)
a St. Bernard (p. 7)
wasn't spoiled (p. 7)
growled when upset (p. 8)
owned by a Judge (p. 6)
Follow-up and Feedback:
Return to the text to confirm answers and add additional information from the text.
After reading they return to the book and find the evidence—which is consistent with College and Career Readiness goals. They find the characteristics mentioned in the the story and the teacher writes the words or phrases on the board (i.e. big, heavy, growled, went wherever he wanted).

Karen Erickson, PhD
Dr. Karen Erickson is Director of the Center for Literacy and Disability Studies at University of North Carolina—Chapel Hill, focused on understanding the best ways to assess and teach reading and writing to children with the most severe disabilities. As a special education teacher, Dr. Erickson has worked to support students with a range of disabilities in a variety of classroom settings, particularly students who do not use speech as their primary means of communication.
She earned a master's degree in reading from State University of New York, Albany and a PhD from the University of North Carolina—Chapel Hill.
Jerry Stemach, M.S. CCC-SLP
Jerry Stemach is a writer and Special Educator who has worked with middle and high school students and adults learning English as a second language for more than 30 years. He has served students with language and learning disabilities as a Speech and Language Pathologist, an Assistive Technology Specialist, and as a Special Education teacher.
Patricia Cunningham, PhD
Patricia M. Cunningham, PhD, is a professor of education at Wake Forest University in North Carolina. She has been an elementary school teacher, a reading specialist, and director of reading for a county school system—specializing in finding alternative ways to help struggling readers. Dr. Cunningham is author of Phonics They Use, What Really Matters in Spelling, What Really Matters in Writing, and What Really Matters in Vocabulary. She is coauthor of Classrooms That Work and Schools That Work.
She earned a master's degree in reading from Florida State University and a PhD in reading from the University of Georgia.
Carol Seibert
Carol Seibert has worked with educational software and technology for over 30 years, specializing in research, development, testing, and training users with Don Johnston Incorporated. Carol holds her degree in Elementary Education/Special Education, and is Co-Founder of the Learners for Life Resource Center (Nonprofit Learning Support Services) in Gig Harbor, Washington.

Phonics Lessons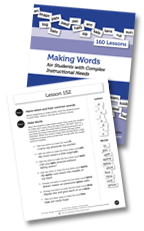 Once students know most of their letters, the next step is to move into explicit phonics instruction which begins to open the world of reading.
Daily phonics lessons included in Start-to-Finish CORE Curriculum feature Dr. Patricia Cunningham's Making Words re-written for students with complex instructional needs by Dr. Karen Erickson .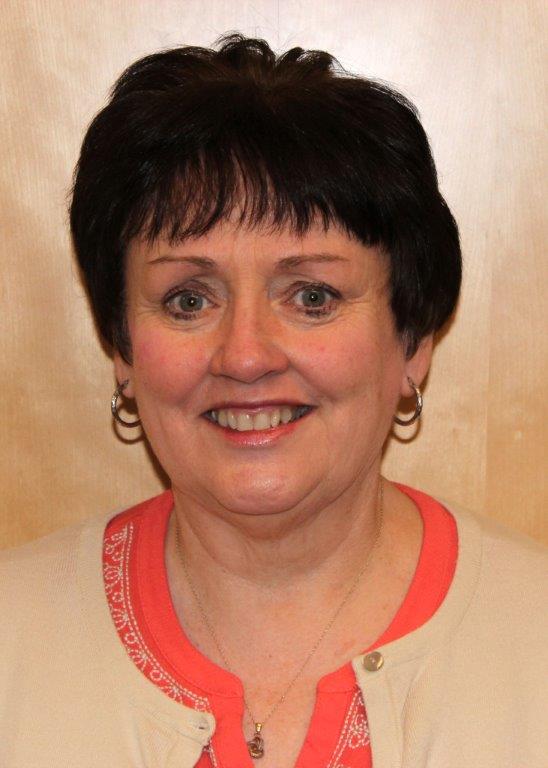 Preparing for New Alternate Reading Assessments
Changing Expectations for Students with Complex Needs
The special education district, NSSEO, believed that students with complex instructional needs including autism deserve to experience important works of literature like their peers. This would have been unprecedented 10 years ago, but with new alternative assessments coming, districts are looking to develop the core reading skills of the students with complex support needs.
Hear technology coordinator Mary Ann McGinn share how her district addressed this challenge through Start-to-Finish CORE Curriculum, a comprehensive literature-based reading curriculum. This change allowed many of the students to hold a chapter book for the first time. Students now have 'read' several chapter books including Huckleberry Finn, Frankenstein, and Anne Frank which not only developed core reading skills, but also improved confidence and self-esteem. The curriculum's lessons guide their teachers to use important works of literature in instruction. Now administrators and teachers see potential revealed in their students.
Join this webinar and see how you can adapt your reading program to this new paradigm!
Want to learn more? Check out our current webinar schedule to register for one of our upcoming sessions!


Click to write your own product review.
Write a Review