First Author Writing Software  First Author Writing Curriculum  Resources  Research & Case Studies  Pricing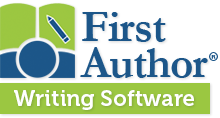 First Author Writing Software helps teachers bring writing to students planning to take the alternate assessment—the 1 to 3 percent of students with complex instructional needs, including  autism.  First Author will help you make these students, who were never expected to write, into first-time authors. The software was developed with Dr. Janet Sturm through an NIH research and development grant.

Important update for First Author users!
First Author uses a Flickr photo library for picture prompts. On June 27th, 2014, Flickr changed how their photo library interfaces with other applications. First Author users who don't have the current version (v1.3) must install an update to access the images.
Request the free download here. Or request a CD ($25) by emailing customer_success@donjohnston.com or calling 800.999.4660.


Click to write your own product review.
Write a Review