Sorry, WordMaker has been discontinued. The information below is for reference.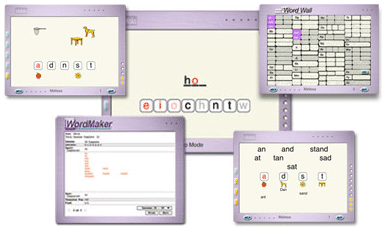 WordMaker
This phonics program systematically builds phonemic awareness, decoding, and spelling skills. It is based on Dr. Pat Cunningham's Four Blocks approach.

 WordMaker Product Story
Collaboration Begins with Balanced Literacy
During the early nineties, research began to trickle in regarding the effectiveness of using a balanced approach to teaching literacy—reading, writing and word study. Rising to the top of this fast growing movement was Dr. Patricia Cunningham, matriarch of the Four Blocks® Literacy Model and a dozen books about teaching reading and word study to struggling students. As early adopters of balanced literacy, Don Johnston eagerly sought to partner with Patricia in several capacities, one being WordMaker.
Based on Proven Classroom Model
WordMaker is based on Dr. Patricia M. Cunningham's book "Systematic Sequential Phonics They Use" (Carson-Dellosa). Finding alternative ways to teach children to read, for whom learning to read is a struggle, has been Patricia Cunningham and Don Johnston's lifelong passion. Early in Dr. Cunningham's career, she realized that phonics was a challenge for many children and that getting children to actually use the phonics knowledge they had was an even bigger challenge. Children who could recite the rules about long and short vowels, silent e's etc. rarely used that knowledge when they actually needed it to decode or spell an unfamiliar in-print word. Ultimately, she began to experiment with a variety of more active "hands-on" ways to teach children to use letter-sound knowledge to decode and spell words.
A Word from Dr. Cunningham:
WordMaker is based on years of success with struggling readers of all ages and is grounded in extensive field-testing. Because it is computer-based, students move at their own pace, enjoy individualized lessons and feedback and receive extensive practice on essential decoding and spelling skills. Thousands of teachers and children have enjoyed making words and learned through these manipulative activities how words work. I hope that children will continue to enjoy and learn from this activity enhanced by the special capabilities of technology.
© Don Johnston Incorporated 5722 R09/03

Read reviews here, or click to write your own product review.
Write a Review
WordMaker for Smartboard
By Kim Carr-Howard, Missouri
Product Setting: reading resource. Skill Development: Reading support to improve word pattern recognition.
I have used WordMaker with small groups on an interactive whiteboard. The practice sequencing letters and sorting for word families is fun and engaging for small groups on the smartboard. I am very excited about how rapidly it helps my students figure out how words work.