Building Wings Reader's Theater Toolkit
Start Your Student Self-Advocacy Program Today!
Building Wings has inspired thousands of students! Their heartfelt letters continue to encourage us to share new ideas that help you build confident learners and change their lives! This FREE implementation toolkit provides a lesson plan and supportive materials for you to design your own student self-advocacy learning model. Special thanks to educators at Schaumburg School District, IL who created this terrific Reader's Theater to share with you!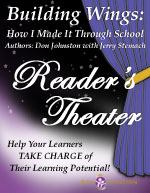 Download Self-Advocacy Toolkit & Lesson Plan (PDF)
Building Wings can help you raise awareness among people who work with and care about struggling learners! Over 1000 educators have requested Don's book to share with colleagues, community members, teaching staffs and to use in professional leadership workshops.
Special thanks to educators Carron Gibbert and Margaret Lee from Schaumburg, Illinois