Reader's Theater Showcase
View the winning presentations:
Highland Park Junior High School Wiki  |  Pomfret Community School Digital Storybook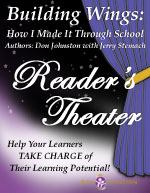 Take your students on a journey of self-discovery now and download your copy of the Building Wings Reader's Theater! These materials were developed by educators in Schaumburg School District 54, IL and are designed to help students explore different learning styles by acting out scenes from the book and documenting their feelings using compare and contrast worksheets and visualization charts.
Don Johnston's auto-biography, Building Wings: How I Made It Through School, describes Don's personal journey growing up as a struggling learner. Building Wings traces Don's life through an incredible list of challenges, triumphs and real-world accomplishments to inspire other struggling readers. The book is written on a 3rd grade reading level and has stimulated hundreds of conversations among educators about the unfortunate practice of labeling struggling learners as behavior problems. This happens when students camouflage their learning disabilities rather than risk appearing 'stupid' in front of their peers.
Winning entries were selected based on a rubric involving creativity, originality, Web 2.0 multimedia and overall presentation quality. Each school received a Start-to-Finish® Audio, Computer and Paperback Collection. No purchase was required to enter the 2008 Building Wings Reader's Theater Contest.
Don Johnston and our staff wish to thank…
All educators and students who submitted presentations, letters, testimonials, videos and audios about the positive impact Building Wings has made for struggling readers.