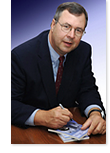 Don's Story
Don Johnston didn't learn to read well until the 8th grade when an inspiring teacher, Mrs. Tedesco, realized that Don hid his learning difficulties. Don's schoolmates bullied him to the point that he didn't want to return to school. What his teacher, Mrs. Tedesco, did for Don made a world of difference! He went on to build a successful company and dedicated his life to developing innovative instructional programs for schools and educators to improve student achievement. Thousands of students are now successful readers, writers and thinkers because of Don Johnston's books, instructional approaches and teacher-friendly technologies.
Book Quotes:
Terry Dedrick talks about Building Wings and the impact Don's book made on her husband to help their son deal with dyslexia.
View Video (0:50)
A friend gave me Building Wings for my daughter who is 12 and dyslexic. She struggled all of her elementary years and now is in 6th grade. She loved reading Dons' book and really related to his story! I think she found relief knowing that he had the same issues as her, but the mere fact that he was successful in life gave her hope! Thank you for writing this book! You gave my little girl hope!!
Smiles,
K. West, MHS EAST Facilitator
Arizona
I received my copy of Building Wings at ATIA. It was the first thing I grabbed after I buckled the seatbelt on the plane. I couldn't put it down. I was so moved by Don's trials growing up, angry at his teachers for missing his strengths and applauding his fortitude and his 'one' teacher! After I read the book, I began thinking about how to use it when I got home.
Here's my plan. I'm purchasing copies for my staff, supervisor and director. My vision is that all special ed staff needs to read this book. In addition, I teach university classes in Speech Pathology, Technology and Special Education. I want all of my teachers in training to read it. The third piece of my dream is that all of our kids with special challenges need to read this. I think the book and its' message will provide a model for teachers and motivation to perservere and succeed for the students. Don, thank you so much for sharing this most difficult story. You've been touching and changing lives for more than 25 years and now you've found a personal way to touch and make our kids succeed.
Bless you.
Sincerely,
Marsye W. Kaplan, MS, CCC-SLP, ATP
Assistive Technology Team Leader
1940 G Greenspring Drive
Timonium, Maryland 21093
410-887-2299
http://www.bcps.org/offices/assistech/default.html
"A book struggling learners need to read; written in a way that they can read."
Kirsten Haugen, educational consultant and parent of struggling learner
"I LOVED Don's book! It is a real gift to young people who are struggling, especially in circumstances where we may have forgotten the big picture, called "resilience." It is wonderful to know that people like Don Johnston are out there focused on the struggling learner."
Sincerely,
Mary Spence, Ph.D. School Psychologist
Washtenaw Intermediate School District, Ann Arbor, MI
Dear Don:
I read your book as an educator, but was surprised that while reading it I was reminded of feelings as a student of teachers who made ME feel important and special. My second grade phonics teacher is probably the reason I love teaching phonics today. My fourth grade teacher always let me wash the board and help her around the classroom. In high school, my journalism teacher counted on me to make sure the weekly newspaper got out on time, even though she was ill one week and unable to oversee it. If she hadn't had confidence in me the whole school would have been disappointed that week. I also recalled teachers who made me feel inadequate… like a kindergarten teacher who said I talked too much or my Jr. high language teacher who embarrassed me in front of the whole class.
I think I needed those reminders to help me remember how important our daily comments CAN be to students, both good and bad. A few years ago, I was teaching first-graders during Inclusion of Phonics. Michael was known as a problem. I knew it wasn't little Michael's fault that his parents were poor and began to call on him whenever I was in the classroom. His confidence grew and he became one of our best students that year. His classroom teacher was amazed at his progress. Michael moved away, but I often think of him and wonder if anyone made him feel special once he left here. Thank goodness YOUR book, Building Wings, reminded me to make a point of inspiring all kids to feel like Michael, and that they, too, can reach their full potential!
Gratefully,
Debbie Brigner, Title I Reading Teacher
Payne Elementary School, OH
Dr. John Krewer, Superintendent of Spotswood, NJ Schools
"A school is the setting where we learn who we are, how we fit in and what we might become. Don Johnston's book raises good questions for educators as it reminds us of the all-too common coping mechanisms that children often use when our school system is unwilling or unable to respond to learner differences. Building Wings presents an inspiring message of expectations and accomplishments that we all have the power to achieve. Adults and student readers will identify with Don's journey in his growth of self-confidence as he traces his childhood experiences back from kindergarten to 9th grade. It is a story of hope of which all of us can take something away and learn from his experience!"
Joy Cunningham, PA Parent and Elementary Teacher's Assistant
Recognizing how a child learns is so important. Building Wings is a must-read not only for struggling learners and their parents and teachers, but for everyone. Don's book is a reminder that as good parents and the "first teachers" of our children, we must remember that children learn differently and at their own pace. The earlier a child learns how to be successful with his/her unique abilities to learn, the more self confidence they will have. Giving praise and encouragement is one of Don's strongest messages, because a child who is self confident and enjoys learning will be less disruptive in class. If the teachers in Don's life would have recognized his reading struggles sooner it could have made a difference in how Don felt about his self, how his classmates viewed him and how his teachers labeled him. As a teacher's assistant, I will take Don's message to heart and continue to make the valuable time necessary to observe and interact with each child to help them identify their unique learning potential and become self advocates for lifelong learning success. Thanks Don for sharing your story!
Alex, 7th Grade Student
What did you think about Don's book?
It's good. He was brave to tell about his struggles.
How did you related to his learning struggles?
It makes me think about my struggles.
What steps have you taken with your teachers or school to help you learn in a more effective way for you?
I've asked my teachers if I could take tests in the hallway.
What advice can you give to other kids to learn more about their unique learning styles and take more responsibility for their own learning?
It's ok to ask for help. Find a way that works best for yourself
How has Don's book inspired you?
Let's me know that it's not just me who struggles, there is a solution and a way to figure it out.
What do you think about Don Johnston?
It's great that he took his learning disability, toughed it out and then started helping others with their disabilities. If I had to tell other people about him I would say he's not just important to me he's important to other people like teachers and other kids.
Parent, Judy F., Alex's mom
Why do parents need to know more about their child's unique learning styles and how to help them leverage this for more self-student advocacy?
It helps us understand Alex better as a person. It reminds us more patience is needed to make sure he is learning. If we understand him he will also understand himself better and he will be able communicate what he needs. As he has learned what his differences are he was not happy that he was different but he did learn different does not mean 'dumber'. When he realized he was smart his self esteem shot up. He has learned he is the boss of him and we say what do you need. And that has become a way of thinking for him. He is still learning to communicate that out to teachers but he does find it is working in his favor.
What changes have you seen in Alex since he learned more about his unique learning style after reading Don's Book?
He has always been impressed with who Don is and what he has accomplished in life to help educators and students. He has identified with Don on a personal level and Building Wings just brought it down to more of a a child's explanation of what happened to Don. He has referred to Don's book on many occasions which reinforces that he comprehended the book's meaning and the messages it was conveying..
What can teachers and parents learn from this book from your perspective?
Many parents do not understand the vagueness of learning disabilities. Building Wings gives us many examples of stereotypes that are untrue. It gives me and my son inspiration that he can do and accomplish anything that he wants to achieve…just like Don has.
Joy Birr, Parent, St. Joseph, MN
"Dear Don:
I just wanted to say thank you for giving our son your book. The most precious thing you have given him is your story. He struggles (that's why we purchased SOLO), but it's amazing how much he related to your story.
Yesterday, he read your book aloud to me for 40 minutes. That's definitely a record! Every page is interesting to him because he can relate to the upset stomach, the feeling stupid, the teachers, the disappointment, the memory retrieval issues, enjoying football and NASA. It is so important for him to know that he is not alone in the world and that you have become very successful despite the struggles you endured. You are the example of hope that he has been searching for. Thank you for being a wonderful role model for my son!"
I LOVED your book, Building Wings! I intend to buy one for each jr. high special services teacher to share with their classes. Not only will it mean so much to have the kids recognize their own similar struggles, but teachers can get a glimpse of the internal life of a teen experiencing reading difficulty. GREAT JOB! Thanks for sharing your life!
Caron Gibbert
Special Services Literacy Coach
Junior High Special Services Chairperson School District 54 Schaumburg, IL
Kathleen Hurley, Vice President of Business Development at Pearson Learning said, "Don's book is motivating for students and a thoughtful journey for teachers. It reminds us (educators and publishers) that we face a critical challenge to help every student succeed. We must support our teachers' efforts to identify students who need more assistance." Fairfax County Schools, Virginia will use Building Wings in a student self-advocacy learning initiative. William Reeder, Director of Special Education: Assessment, Assistive Technology and Support Services, said, "Don's book is sad, funny, engaging and inspirational and details his personal and often painful journey as a struggling learner in school. For years, our school has selected Don's programs to improve students' reading comprehension, writing and critical thinking skills. When our students read Don's book, they related to his experience and took charge of their learning in a more focused way!"
Dr. Alice M. Farling, Assistant Superintendent for Fairfax County, VA said, "This initiative includes several tools and teaching components. It is intended to focus on students who struggle with reading and writing concepts. We selected Mr. Johnston's book to empower students to identify their own learning barriers and to become self-advocates for their learning success. Building Wings reminds us that struggling learners sit in classrooms across America."
Jennifer Carr, Fairfax Special Services teacher presented Building Wings to students in two Fairfax County Schools writing camps for rising 5th and 8th graders in 2006. Ms. Carr shared, "Building Wings has enlightened my students about themselves as learners. They realize that they learn differently and they related to Don's personal struggles and the interactions he had with his parents, friends and teachers. Their response was so compelling that we knew we had something special to motivate our students to take action. Our hope is to empower other administrators to create a similar student self-advocacy learning initiative for diverse students. Don's book has given our students self confidence about their learning abilities and their gifts and that is a great accomplishment!"