Updated April 2015
New college and career readiness standards emphasize writing in the classroom for all students. Students are required to write routinely for long and short periods across a range of tasks. And with students using computers at an earlier age, we need to consider if technology can help them meet classroom demands.
Your district needs a process to evaluate writing issues for students with disabilities. Unfortunately, many districts don't have a systematic way to do this.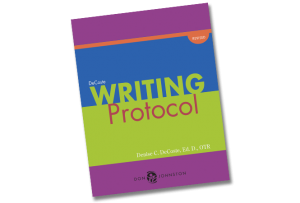 Join author Dr. Denise DeCoste as she shares her research on the subject and walks us through her new DeCoste Writing Protocol (an important update to her original book, Assistive Technology Assessment: Developing a Written Productivity Profile, first published in 2004). The formative assessment tool helps educators identify factors affecting an individual student's ability to produce writing. The Writing Protocol compares a child's individual performance across handwriting and keyboarding tasks. It examines spelling performance and writing skills so educators make more informed decisions about instructional strategies and the appropriate use of technology to meet classroom demands.

Bring your team and learn how you can use the new DeCoste Writing Protocol to make sure your students have access to the tools they need to support their writing! If you own the 2004 edition, it's time to retire it—updated research, updated protocol!
Watch the most recent webinar anytime, on-demand!