Webinar | Implementing Google Extensions for Reading and Writing: A Model School Approach
Recorded March 2018

All students should have the opportunity to learn in the way that best fits them, and sometimes that includes using new technology. But getting everyone on board with new tech can be tough. The key to success is in finding the right strategies to incite buy-in and collaboration, and sometimes that comes in the form of using Google Extensions.
Watch and see what happened when a curriculum integration specialist and her director took a Model School approach in order to give all students access to Snap&Read and Co:Writer Universal at the School City of Mishawaka.
They brought to life a vision by creating clear processes, reinforcement strategies, and refinement at key stages; and they achieved outcomes that engaged both teachers and students.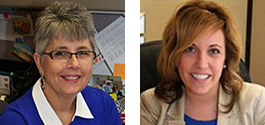 About the Presenters:
Barbara Michalos, Director of Exceptional Learners at School City of Mishawaka;
Caity Stockstell, Curriculum Integration Specialist at School City of Mishawaka