This blog post is dedicated to Don Johnston and a tribute to his work in special education. It was written by John Micklos, Jr. and featured in the 2011 AEP Hall of Fame program. The post is a testament to Don's lifetime contributions to help all persons with learning challenges and disabilities read and write. Congratulations Don!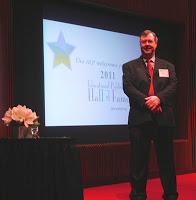 Growing up, Don Johnston struggled in school. In his autobiography, Building Wings: How I Made it Through School, written for adolescents, Don thought of himself as a failure until an eighth-grade teacher, Mrs. Tedesco saw his true learning potential. Don was a thinker. Mrs. Tedesco set high expectations for Don and encouraged him. Gradually, he became a successful student and business man, earning both an undergraduate and graduate degree and on December 1, 2011 the AEP Hall of Fame Award for his work in special education. Don's childhood learning struggles set the stage for what lie ahead of him. "Struggling as I did and rising above the challenges, I knew I wanted to make a difference for others."
Don Johnston has paid that debt over, tens of thousands of times. "My career revolves around inspiring people with disabilities," he said. That is the reason for my book – Building Wings—to help struggling students build self-confidence and learning independence. I want to encourage them to identify their unique learning style and advocate for the strategies and tools, they need to succeed."
Don recalls visiting a school, an event he has done many times over 30 years, where all the students were reading his book and acting out the parts. "This really hit home for me," he said. Since his book was published, letters pour into Don from students, parents and teachers. Some are sad, some are witty and the majority of them are poignantly written. The message is: "Students realize that even with learning struggles, they can be successful in school and in life."
Indeed, one of Don's current projects is a book inspired by a class of students who wanted to know how to survive in the business world with a learning disability. Don notes that the concept of dis-ability is interesting because it connotes not having ability. "In reality, struggling learners have other abilities," shares Don, "meaning that a more accurate description would be a "difference-ability."
The Don Johnston company develops products that address learning differences and support students until they are successful. In fact, Don says, "If our education systems were more based on visual learning, you would have a whole population of different students succeeding. The tradition of how education has been conducted leads us to the school being dis-abled rather than the student. Point in fact; if people came from outer space and saw our writing system they'd think we are crazy."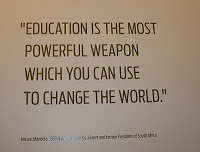 Passionate in his convictions, Don feels that schools must do a better job of serving students who learn in a variety of ways. His first project after graduate school involved building a school for struggling students. In 1980, he founded his company (Don Johnston Incorporated), an educational publishing and assistive technology company. Don recalls starting the business during a recession. "With two young children, it was a stressful time financially," he said, "but the excitement of striving to solve education and disability issues with technology kept me going." By spending lots of time on the road and talking with educators, Don built life-long customer relationships, as well as establishing friendships and strategic partnerships that have stood the test of time.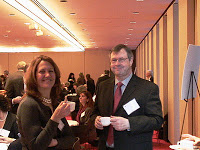 Don Johnston takes pride in the fact that his company remained a true "family business." Sons, Ben and Kevin run the company, along with longtime friend and colleague, Ruth Ziolkowski, the President. "We are a family-owned company, and we treat it that way," Don says. He loves the freedom that being an entrepreneur provides in terms of working on projects he feels passionate about. However, he also appreciates the value of collaboration, noting that networking at venues has led to dozens of ventures over the years.
After 32 years in business the company recently celebrated the milestone of reaching more than 32,000 U.S. schools with its assistive technology, impacting the lives of countless learners from elementary to post-secondary. He has celebrated the success of many students he has watched blossom over the years using assistive technology. "Overcoming learning difficulties as a youngster helped me prepare for success in my businesses. The same challenges we face in business, struggling learners face in schools. i.e. If you can stand up and give a book report when you never read the book, that takes real skill and imagination," he gestures.
As someone on the cutting edge of educational technology for three decades in special education, Don has seen many changes. He thinks cloud computing is the next big trend to alter the learning landscape. His new digital library service, Bookstream, allows schools or districts to upload eBooks to the cloud, where students can get instant access on any software or portable device with Internet access. The accessible (digital) book list on this Bookstream "online bookshelf" can be individualized for students and supports a range of assistive technologies. The service helps educators track and manage copyrighted books as well. Don also sees the potential for technology to continue to improve data collection that can be used to monitor and support students' progress for more individualized learning. Such data should be used to provide "positive feedback" and encouragement," he adds.
Still, Don worries about an overreliance on testing and the fact that schools sometimes spend much time in gathering data that takes away from time left to analyze and determine how best to use the data to support learning. Although No Child Left Behind was enacted with great intentions for helping all students achieve at higher levels, Don believes, "The problem is that the testing focus has created an unintended consequence. Ultimately, I think it's left MORE children behind. The brightest kids are scoring higher, but the kids who struggle are scoring lower." He cites work by brain researcher, Sally Shaywitz that suggests struggling learners may learn more strategically because they use different parts of their brain to process information. Multiple choice tests fail to effectively capture what these students comprehend. "We're destroying their confidence and ability to succeed," Don says. "Are these kids failing, or are the schools that have switched to a testing regimen failing?" A good question for much dialogue.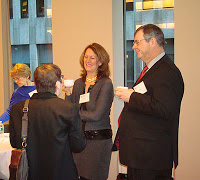 Don's peers in the field of K-12 and Special Education use words such as "believer," "innovator," and "transformer" to describe him. "Don truly believes he could use his own experiences to make life better for children," says Dr. Michael Behrmann, Kellar Professor of Special Education at George Mason University. "Don is a pioneer innovator in product development," adds Behrmann. "He found a niche market and focused on creating products that really worked to improve access and literacy. He transformed the industry by developing a dynamic company that had vision and showed quality products and a determination to build relationships that would carry his company forward. His focus on accessibility for students with physical disabilities, while of marginal profitability I imagine, was one of the mainstays of teachers of low-incidence populations for decades. "Overall, Don's products give the widest possible range of students an equal playing field in language arts and reading."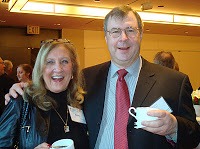 Kathy Hurley, Senior Vice President, Strategic Partnerships, at Pearson Education and the Pearson Foundation, notes Don's enduring passion for children and adolescents and his willingness to prioritize product over profit. "He created products in niches where others were afraid to try," Hurley said. "He went with what he thought kids needed rather than basing his decisions on financial considerations; that is where his heart has always been—producing the best possible products for kids."
Furthermore, students can truly identify with Don. "His openness about his struggle throughout life and the obstacles he overcame really motivate others who struggle and he is a role model for many types of students of all ages," says Steven Kaplan, Director of Student Services for the Sharon Public Schools in Sharon, Massachusetts.
Don's influence has touched the lives of many within the industry as well. "When you're with him, you just soak up the qualities he exudes, and you want to show those same qualities yourself," Hurley adds. "I see Don's products as examples of how having an idea can impact the field in positive ways," says Dr. Behrmann, who has been a longtime leader in the field of assistive technology professional development. "It has been a pleasure to see him build and grow his company and develop a vision of AT software and hardware which always reflected both the state of the art and the state of the practice."
"Don is one of the people who is a 'known and lasting' figure in education," concludes Hurley. "He's always learning and putting out better products to help kids. He's exactly the kind of person the Hall of Fame should recognize; a person who has contributed to the industry in ways that will last a long time."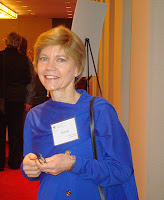 Don accepts the honor with humility and gives special thanks to his wife, Cheryll. "When you've been a struggling learner who failed so often in school and then had some success, it almost seems unreal to get an honor like this," he says. "For struggling learners, the fear never really goes away. When you get a taste of success, it's really humbling. Thank you for honoring me."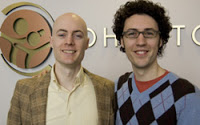 Don's sons, Ben and Kevin, created this video as a testament to their father's accomplishments, filled with student messages.
Watch Now
And please do share!
*****
Special thanks to the members of the Association of Education Publishers, John Micklos, Jr., Charlene Gaynor, AEP Director and Stacey Pusey for their efforts to honor Don Johnston.