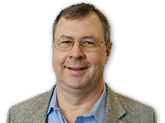 From the desk of Don Johnston…
Interrupting the failure cycle with high expectations and words of encouragement. 
As a student growing up with dyslexia in the 1950s, I was labeled early on.
I was told that I was lazy. I became lazy.
I was told that I was a trouble-maker. I became a trouble-maker. 
I was told that I was a terrible reader. I gave up trying.
Then I was told that I could do better — that I could read if I worked at it. I did work at it, and I read my first chapter book in the 9th grade.
Assumptions can have a profound effect on outcomes because they can become a key ingredient in a vicious cycle — a label is applied causing lowered expectations and teaching is modified leading to lowered outcomes.
In the mid-80s, Anne Donnellan promoted the idea that educational decisions ought to be based on "the least dangerous assumption". The basic idea is to start with high expectations because lowered expectations will surely lower outcomes by becoming self-fulfilling prophecies.
My staff recently witnessed a high expectations transformation first-hand. They joined Dr. Janet Sturm in Michigan to check in on a writing program she implemented in self-contained classrooms across four schools. The educational goal for many of the students prior to the First Author program was merely to write their first and last names by the time they left high school.
For three days my staff interviewed students, teachers, parents, and administrators in those self-contained classrooms. It was very clear from the interviews that these low expectations were shattered quickly — including the expectations of the students, teachers, parents, and administrators. The educational goals of writing one's own name quickly shifted to writing lists, first sentences, and then stories on self-selected topics! Students wrote with First Author Writing Software and tracked progress with a new set of writing measures sensitive enough to detect the smallest writing gains.
The students saw themselves as authors and said as much with shouts of "I'm an author!" One classroom teacher with over 20 years experience said "I never knew my students so well." A parent of a student with autism was able to understand her son's interests for the first time. The principal at one of the schools commented, "Not in our wildest dreams did we ever think of having the students write expressive kinds of things about their interest areas or topics. First Author expanded a whole area we had not even considered."
We put several videos where you can witness the transformation first-hand. If you're inspired by these videos as much as I was, I hope you share them with your staff and administration. It will take all of us to raise expectations.
Check out First Author Writing Software
Who knows, your district could be the next spotlight in the battle of the least dangerous assumption!
~ Don C. Johnston