What is the Common Core?
The Common Core is a state-led effort to establish a shared set of clear educational standards to prepare our students for college and careers, and make them more competitive in our global society. For the first time ever, students and educators across the country will have consistent expectations about what they need to know and what they can do.  States can voluntarily adopt these standards, and so far, all but a few states (Texas, Virginia, Nebraska, Alaska, and Minnesota for math) have done so.
How does my state's adoption of the Common Core change things for special ed?
Perhaps the most important shift for special education is that the Common Core promotes a culture of high expectations and success for ALL students—this means that more than ever before, students need to be working at grade level, in the general education curriculum.  Additional supports and services are required to meet these more rigorous academic standards. Using a Universal Design for Learning approach, intervening with core assistive technology tools and solid instruction, will ensure that students get to grade level.
Watch our new webinar: The Common Core and Special Ed

The Common Core is coming, and districts across the country in nearly every state are making changes to prepare for the new educational standards. This webinar will explore key Common Core shifts and what they mean for assistive technology infrastructure and service delivery.
Presenter: Ruth Ziolkowski, President of Don Johnston Incorporated, is a Keller MBA graduate, former OT. Ruth is well known in the field of special education and speaks across the country about current education topics and their impact on educators, students and print publishers.
Bring your staff up to speed on the Common Core and special ed with our 5-min videos
"What Does the Common Core Change for Special Education" (part 1)
"Identifying Students Who Can Benefit from Assistive Technology Services" (part 2)
"How Assistive Technology Can Close the Common Core Gap" (part 3)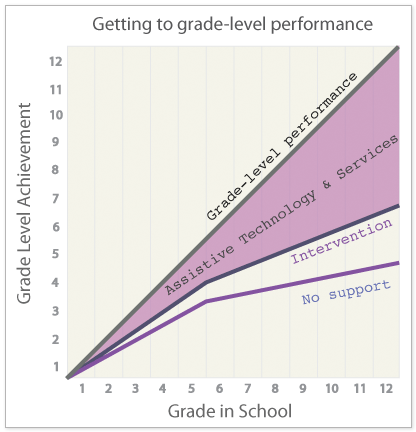 The Council for Chief State School Officers gave three recommendations for students who need support beyond what they get in the classroom.
Instructional supports for learning based on UDL principles
Instructional accommodations (changes in materials or procedures)
Assistive technology
Where does Assistive Technology fit?
Additional supports and services (like intervention) are required to meet these more rigorous academic standards. For many students, intervention only goes so far. These students also need instructional accommodations and assistive technology to help achieve the high expectations required by the Common Core.
The Common Core gives you an opportunity to make your mark and make a difference for students with disabilities.
Where should you focus?
Two areas:
Infrastructure
Service Delivery
1) Infrastructure – create a UDL environment with assistive technologies
Do you have the assistive technology tools that you'll need for the Common Core?
Did you know… Our Universal licenses create UDL environments for a fraction of the cost you'd spend on one-to-one interventions.
NEW! Read our latest research to learn how the Start-to-Finish Library aligns to the Common Core State Standards.
See how our products align to your state's Common Core standards with our state standards search tool
2) Service Delivery – develop ways to methodically screening students, getting the IEP team on-board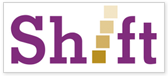 Download SHIFT – Changes don't have to come from the top; sometimes the small things you do make all the difference.  SHIFT is a guide to leveraging the small things to make big changes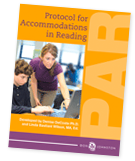 Download PAR – Use the PAR manual to systematize how reading accommodations are recommended on a student level or across the school district. 

What funding resources are tied to the Common Core?
All of the current state and national funding sources you traditionally use to support educational initiatives and student populations will support the Common Core.  New funding sources, both federal and private, incent Common Core adoption—Race to the Top Funding, The Carnegie Corporation and The Gates, Broad and Walton Foundations, are all awarding grants and funding related to successful implementation and increased student achievement.
Check out our funding section.