I admit it—I use assistive technology to give me an unfair advantage over others who don't use it.
It started innocently at first. I needed a little assistance remembering this and that but then I became a regular user.
Yes, I'm talking about the calendar alert on my phone.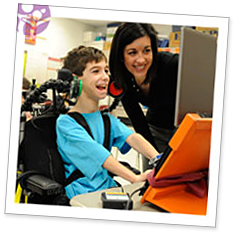 Pick up a dozen eggs on the way home, beep!
Bring treats for Judy's birthday on Monday morning, beep!
You have a meeting in five minutes, beep!
Watch Now
This is the assistive technology device of choice for the moderately absent-minded. Me.
The case against assistive technology says that it gives me an unfair advantage over those who don't use one. Maybe it does, but what does that mean?
A calculator saves time and improves accuracy over paper and pencil when solving 6-digit multiplication problems.
Can a computer help a NASA scientist perform complex calculations only dreamed about a few short decades ago? Do these calculations provide the safe arrival of a small robot on the surface of Mars that was impossible just twenty years ago?
Yet, some people argue that students shouldn't use devices to do what they should do in their head. Why is there so much argument about the unfair advantage of technology?
For students with disabilities, technology can mean the difference between functioning and frustration, between achievement and learned helplessness. With new developments in word prediction, text readers, and accessible hardware and software, students with disabilities are enabled to read and write in ways they could not have twenty years ago. These technologies help cut through impeding physical or cognitive challenges.
Technology helps people do things they ordinarily could not, but surely this could be said of any technology development as far back as you can think.…
The polio vaccine reduced incidence rates of this debilitating disease from hundreds of thousand a year to about one thousand. Is this considered an unfair advantage for the people opting to be immunized?
Computers increase productivity and can perform complex calculations in seconds that would take a lifetime to complete longhand. Can we legitimately say that computers do create an unfair advantage for people using them?
Eyeglasses help people see who had less than perfect vision. Does wearing eyeglasses unfairly level the playing field between people with 20/20 vision and those with less than perfect eyesight?
I feel the clear answer is…why should this matter? Why should fairness stifle progress?
Let's use everything we can to help empower as many people as possible.
Let's integrate our strategies and technologies into our ways of life.
I'm certainly not going to give up the calendar on my phone, just as I wouldn't want students with disabilities to be stripped of technology that helps empower them to read and write more successfully in school and perform better in the workplace.