< Back
District: Northeast Independent School District (NEISD) • Location: San Antonio, TX
Leaders: Terri Grundy, Program Coordinator and Lorrie Garcia, AT Specialist
Two assistive technology advocates found a creative way to roll out AT, go directly to students through parents and families.
Texas Parent Academy Builds Bridges for Student Learning at School and Home
Two special education leaders in the Northeast Independent School District (NEISD) in San Antonio, Texas wanted to improve the writing skills of their students with disabilities and to extend their writing practice. Terri Grundy, Program Coordinator and Lorrie Garcia, AT Specialist found a creative solution. They knew that taking more time from the school day with new initiatives is sometimes difficult, so they implemented a technology accommodations program directly with families and developed the first NEISD Parent Academy.
Now in its fifth year, the Parent Academy serves students in grades 4 through 12 and families from over 50 schools with assistive technology software, the SOLO Literacy Suite. Students, parents and teachers can attend any number of events including Super Saturday sessions, after-school trainings and small-group tutorials. Everyone who attends has opportunities to use SOLO at school and at home with an unlimited site license. "With all of the demands on teachers and parents, it's hard to find time to introduce students to helpful technologies even when they can make a real difference between success and failure," said Ms. Grundy. "A benefit of an unlimited site license is that we can use the software on every computer in our district and families have take-home privileges. We don't have to track which computers the software is installed on and which students can use the writing tools. Parents appreciate SOLO because it extends learning time and skill practice."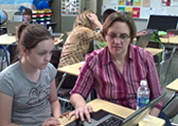 Initially, NEISD purchased Write:OutLoud, a talking word processor, one of four software tools found in SOLO to support students in 45 elementary and 13 middle school campuses. As students and teachers embraced the technology, the district expanded their use to all SOLO companion tools; Draft:Builder, a graphic organizer; Co:Writer, a word prediction tool and Read:OutLoud, an accessible text reader. SOLO is now available on every computer in the middle schools and students can use the software at home.
Teachers, students and parents learn how to identify writing supports to address specific learning styles and writing barriers. They are taught strategies that may help a student develop writing skills such as how to write a proper outline. If a student is a poor speller, Co:Writer can help them to express their ideas in writing even if they struggle with spelling or grammar. Students use the Read:OutLoud, accessible text reader, to research information on the Internet prior to writing their papers.
Students who use SOLO include English Language learners, students with dyslexia, autism and cognitive delays and even some advanced learners. "There is something for every student," said Ms. Garcia. "This could be word processing, talking spell checks, a bibliography wizard, audio read-back features or note-taking assistance. Our district strongly supports the use of technologies to deliver instruction in multiple ways and we want to deliver differentiated instruction through Universal Design for Learning (UDL) opportunities. SOLO is one literacy tool that students can demonstrate curriculum mastery. And because it is installed on every computer and has a variety of writing tools, it models the definition of UDL to support diverse learners."
NEISD invites teachers and families to attend their Parent Academies in flyers sent home with students, email broadcasts and teacher announcements in weekly online news. "We believe in the power of assistive technology to bridge school-to-home learning connections," said Ms. Grundy. "I'm thrilled with the response from the families in our district!"