Testing Accommodations Guide



Assessment practices shifted dramatically over the last few years. Nearly all students (99%) are expected to take the general assessment, modified assessments were eliminated, and only 1% of students qualify for the alternate assessment. To accommodate students with disabilities, there's an incredible array of accessibility options build into the assessment. Historically, only 1-2% of students used testing accommodations, but the new assessments open up accommodations to more students. Read on and learn more about these shifts and how they affect special education.
New assessments bring several shifts including:
Increased assessment difficulty tied to new standards.
Eliminated modified assessments — the students who took the modified assessments will be expected to take the general assessment. Only 1% of students (about 10% of students with IEPs) will qualify to take the alternate assessment.
More reliance on accessibility supports and accommodations — technology supports and accommodations implemented through a UDL (Universal Design for Learning) is seen as crucial to ensure students can "show what they know." In the old model, very few students were allowed to use accommodations. With the new assessments, technology support is widespread.

Both PARCC and Smarter Balanced define three levels of support to ensure that all students have appropriate universal tools, designated supports, and/or accommodations to best support each student's needs. Some supports are embedded in the assessment for all students, and some supports must be decided on through a diagnostic process and activated by the IEP or 504 team.
Regardless of whether you're student take PARCC, Smarter Balanced, STAAR, or another assessment based on rigorous new standards, it likely that you will be able to accommodate your students' needs during testing—you just have to know what your state's rules are. In nearly all cases, if a student needs an accommodation, 1) the need has to be determined diagnostically, 2) it has to be written into the IEP , and 3) it has to be used in instruction throughout the year (well ahead of the test).
Follow these simple steps to meet your state's testing accommodation criteria!
1

Determine the need for accommodations using a diagnostic tool
Accommodations should always begin with understanding a student's needs. Accommodations are meant to be based upon evidence, not belief. It is not sufficient merely to assign them without documenting each student's strengths and needs. Diagnostic tools like uPAR can streamline and simplify the process while increasing fidelity.
2

 Write the accommodation into the student's IEP
All states require that any accommodations used during state testing must be listed on a student's IEP, and that the technology is used in their daily instruction. Visit your state's department of education website to see your state's testing accommodation policies.
3

Use the accommodation instructionally throughout the year and on the assessment
If a student receives accommodations on the assessment, they must also use the accommodation throughout the year. Many districts require that the accommodation is used instructionally by the student for at least a certain number of months prior to the assessment. Establish your screening procedure early enough to get students the accommodations they need early in a timely fashion.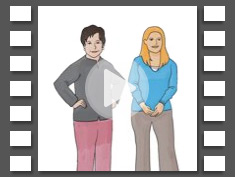 Watch our short SpED Talk video "Identifying Students for Accommodations" narrated by CASE Past President Dr. Christy Chambers.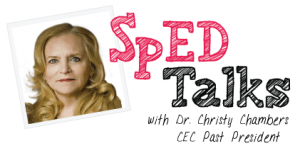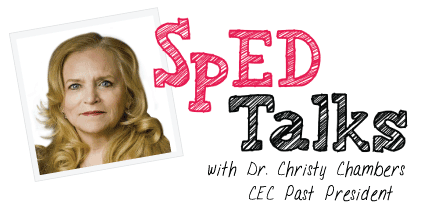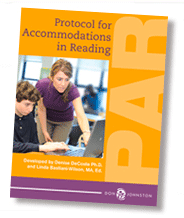 Universal Protocol for Accommodations in Reading (uPAR) is the only automated diagnostic tool that shows whether students benefit from read aloud accommodations. Download the print version (PAR) to assess students one-at-a-time (approximately one hour each student) or check out uPAR (Universal Protocol for Accommodations in Reading)—(administer online to up to 25 students in one class period)!
The two national testing consortia are PARCC and Smarter Balanced. Most Common Core states have joined one or the other consortium, but as these things go, nothing is written in stone. States may still switch, drop out, or join, so check your state's current status. The map below shows state statuses as of November 2015.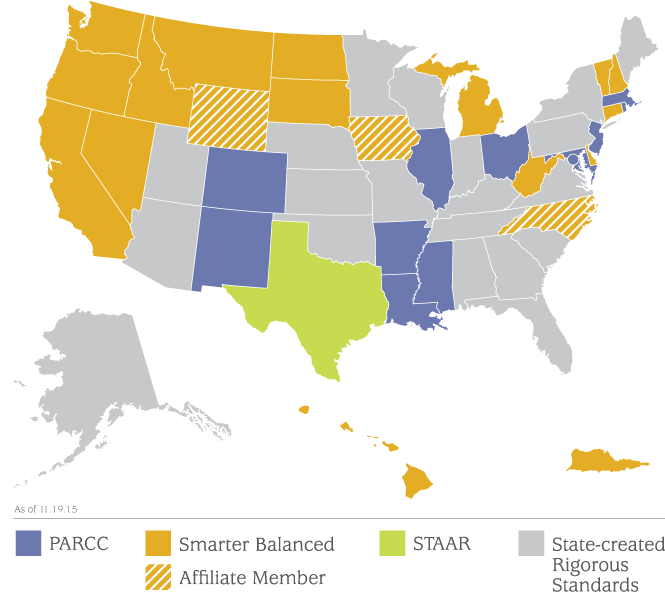 PARCC 
PARCC aims to provide equitable access through technology and universal design principles. You can preview sample questions in their computer testing environment and read the latest accommodations guidance from their website. For a nice overview, check out this PARCC teacher's guide.
Most decisions regarding designated supports and individualized accommodations must be documented in a student's Personal Needs Profile (PNP). The PNP allows certain accessibility features to be turned on for the test, and if accessibility features are not indicated in the PNP, then the student will not be distracted by unfamiliar features.
Where the old assessments were simple multiple choice, 60% of the PARCC literacy assessment will involve writing. The good news is that PARCC recognizes the need for writing accommodations and included word prediction on the list of approved individualized accommodations. This is great news for your Co:Writer users. Co:Writer Universal includes new testing accommodation supports to comply with your state's restrictions, but the PARCC assessment may lock out all other tools that aren't built into the assessment (students may need to use another device to access word prediction). Request a quote to upgrade your Co:Writer license to the Universal version.
Read the guidance here: Appendix D: Text-to-Speech, Human Reader, or Interpreter Accommodation Guidance for English Language Arts/Literacy Assessments
Learn more about PARCC accommodations from their Accommodations Manual.
Smarter Balanced
Both assessment consortiums make provisions for accommodations and they are are fundamentally similar, but each handles things slightly differently. Where PARCC uses a Personal Needs Profile to document accessibility decisions, Smarter Balanced specifies that accessibility decisions be documented in a student's Individual Student Assessment Accessibility Profile (ISAAP) and the state Test Information Distribution Engine (TIDE). The ISAAP is to be guided by and consistent with the student's IEP.
Smarter Balanced issued a nice FAQ document (PDF) regarding their accessibility guidelines (released September 11,2013). It outlines which accessibility tools are available for which students and details which tools are embedded and which are not. Here's a short sample of the embedded accommodations listed:
• Text-to-Speech for ELA reading passages — only available for students in grades 6+ with the need documented on an IEP or 504 plan
• ASL sign language videos for ELA listening items and math
• Braille
• Closed captioning for ELA listening items
Non-embedded accommodations include: abacus, alternate response options (adapted keyboards, mouse, touch screen, switches, etc.), calculator, multiplication table, print on demand (paper copies), read aloud, scribe, and speech-to-text.
Take a quick look at the differences in supports allowed by PARCC and Smarter Balanced …
Check with your state for the most up-to-date policies