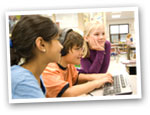 One thing you can do today
We get it — driving changes in a school district can seem impossible. Yet, this is what's expected with the policy, assessment, and curriculum shifts you're facing now.
So let's take it one step at a time and start with your vision. What change do you want to see take place as a result of successful implementation?
Your vision is critical to your success because it will act as your guiding point and filter for everything you do to implement change.
Let's get started…
To write a clear and concise vision statement, you will need:
A specific long-term outcome, based on a current deficit you identify in your students
Alignment with a larger district mission or initiative
A deadline
Indicators of success
Need some help putting your thoughts together? Try filling in the following example of a vision statement to get started:
Students who are (describe current deficit) will (achieve desired improvement) by (deadline). Progress will be noticeable by (indicators of success).
This Making AT Easy idea was originally featured on ATcollective, your place to come together as a community to share new ideas and ask questions about AT implementation, screening, and more. Join the conversation!