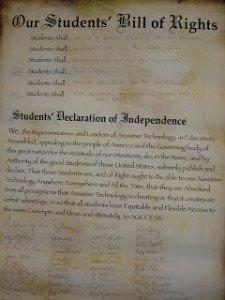 At the Assistive Technology Industry Association (ATIA) conference in Orlando last month we started a student revolution that we're sure even Thomas Jefferson would be proud of!
Hundreds of educators and families stopped by our booth to learn more about how to use our solutions to overcome the barriers that keep students from achieving independence. At our evening event, we celebrated the momentum that AT now receives in K-12 general and special education to support students with disabilities and those with reading and writing challenges.
Together, we declared student independence and created a new Student Bill of Rights where educators proclaimed their vision for ideal learning environments and wrote their ideas down for all to see. They even took up the Quil and signed their allegience.
Students' Declaration of Independence
We, the Representatives and Leaders of Assistive Technology, in Education, Assembled, appealing to the people of America and the Governing body of this great nation for the rectitude of our intentions, do, in the Name, and by Authority of the good Students of these United States, solemnly publish and declare, That these Students are, and of Right ought to Be able to use Assistive Technology Anywhere, Everywhere and All the Time, that they are Absolved from all perceptions that Assistive Technology is cheating or that it creates an unfair advantage, in so that all students have Equitable and Flexible Access to the same Concepts and Ideas and ultimately, to SUCCESS.

 — And for the support of this Declaration, with a firm reliance on the protection of Divine Providence, we mutually pledge to each other our Lives, our Fortunes, and our sacred Honor as Citizens of Education.
Students' Bill of Rights
Students Shall be given the opportunities they need to achieve their full potential
Students Shall be allowed to learn using their favorite medium
Students Shall use technology even when other think they shouldn't
Students Shall have a voice
Students Shall learn to advocate for what they need to succeed
Students Shall have accessible textbooks and materials
Use the comments feature to add your own student statements! And spread the word, "Independence for ALL Students!"