SOLO Literacy Suite  Research & Case Studies  Resources  Pricing  Request A Quote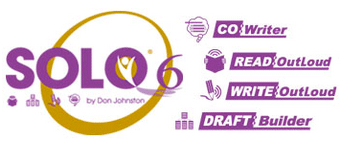 SOLO is a literacy suite of the most popular assistive technology accommodations, including a text reader, graphic organizer, talking word processor, and word prediction. The new version (SOLO 6) was completely redesigned to be simple to use, yet powerful for students who struggle to read and write. For these students, SOLO 6 places all of the right tools at their fingertips. The accommodations in SOLO put students in charge of their own learning.
SOLO 6+ includes brand new versions of our top accommodations (also available separately):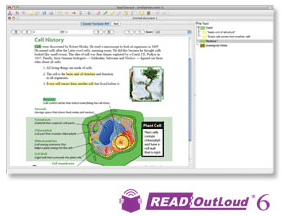 Text Reader Provides access to all of the new eBook formats required in IDEA, and also includes an accessible web browser. Watch a 5-minute demo of Read:OutLoud 6
Talking Word Processor Provides a simple interface, text-to-speech, and writing tools that help students focus on writing. Watch a 5-minute demo of Write:OutLoud 6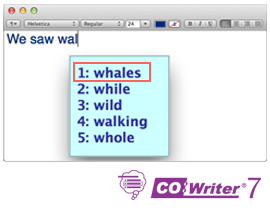 Word Prediction Guides struggling writers to write grammatically-correct sentences with proper spelling Watch a 5-minute demo of Co:Writer 7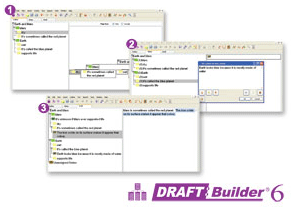 Graphic Organizer Guides students to write a quality first draft using three steps: 1) outlining, 2) note-taking, 3) draft-writing. Watch a 5-minute demo of Draft:Builder 6
Super Easy Interface
Fully redesigned for ease of use
No log-in required
Train one tool at a time
NEW Speech Engine Curiously human-sounding
Bookshare Support Open books on Bookshare's website with one click
NIMAS and PDF Ready Native support with NO CONVERSION
Accessible Web Browser Bring smart speech support to the web
Check out our demos for each of the products included in the SOLO package—it's a great way to see the new features in action. Co:Writer 7  |  Write:OutLoud 6  |  Read:OutLoud 6  |  Draft:Builder 6

Read reviews here, or click to write your own product review
Accessibility at your fingertips
By a reviewer from Maine Version: SOLO 6. Product Setting: Resource room, classroom, home, self-contained classroom, computer lab. Skill Development: Improve writing, reading, spelling, organizational skills for a variety of students with unique learning challenges.
I have witnessed amazing experiences with using the SOLO Literacy Suite. When we first started, we were implementing on a case-by case basis, using SOLO as a part of AT evals for students who struggled with writing. The combination of CO:Writer and Write:OutLoud created some amazing opportunities for students to express themselves and become more confident in their reading and writing. I have users across grades 3-12 that use these tools, and they are remarkably adept at using them. Having Read:OutLoud available for students with bookshare.org accounts affords teachers the ability to have accessible content at their fingertips. Since we have a site license, we install this solution on any machine. There are students that may not be identified as requiring Special Education services, but may benefit from these tools. Going in and teaching lessons on how to use Co:Writer as a writing tool amazes all students, and they are eager to try it and use it for long term writing should they need it. It's all about the right tool for the task, and SOLO Literacy Suite has opened up a whole new world for our students.
Quote From Student on SOLO
By Kelly Key, Illinois Version: SOLO 6. Product Setting: Gen ed classroom and resource room. Skill Development: Improve writing outcomes and organization for a student who's verbal skills do not match their writing skills.
This student also has very poor spelling and handwriting. I wanted to share an exact quote from this student (he shared this during an AT Consult that I conducted with him and his team in 5th grade last year)… "Before, I would type on Word and have 50,000 errors. I would have to re-type it, fill in things, and it would be a pain and take like two days to write. When I use SOLO, it still takes me a little time, but I'm REALLY accurate!"

SOLO Review
By reviewer from Texas Version: SOLO. Product Setting: Resource setting-elementary school. Skill Development: Improve writing outcomes, improve communication skills, facilitate writing for student with physical disability.
Over the past few years I have used SOLO with a variety of students in grades K-5. One LD student this year increased his average sentence length from 6 words to 13 words. This year I also had one kindergarten student increase his writing from one sentence containing 3 words, to 57 words in 8 sentences. Many of the students that have used the program have made enough progress in their writing abilities that they progress to the point that they no longer need to utilize word prediction and text-to-speech support for their writing.

Jennifer's SOLO Experience
By Jennifer Pressly, Texas Version: SOLO. Product Setting: General education and co-teaching classroom. Skill Development: Writing.
Using Co:Writer helped my students communicate effectively.

Tara's SOLO Review
By Tara Silvers, Texas Version: SOLO. Product Setting: Reading Lab Classroom – Grades 6,7,8. Skill Development: Target: Improve decoding skills of struggling readers.
My students were really excited about using solo suite. This product has improved my students reading skills and made them more confident in their writing.

Motivation for Writing
By Kris Reynolds, Texas Version: SOLO. Product Setting: English Lab class in middle school for students who are in special education. Skill Development: Target: vocabulary development sentence expansion parts of speech.
My class is a Co-Teacher classroom with middle school special education students who are reading and writing a minimum of three years below their current grade level. They are very resistant to writing independently. I take two separate groups (a maximum of 7 students at a time) into the computer lab a minimum of once a week to use SOLO (Read:Outloud, Co:Writer, Write:OutLoud, and Draft:Builder). Initially, when starting this product, my students were not used to using a word prediction software. They had difficulty using Co:Writer. They did not understand the concept and almost exclusively ignored the program. Once they realized that it would predict for them, and they then had several words to choose from, it gave them a freedom to express their ideas in written form.

Hope By Reviewer from Washington Version: SOLO. Product Setting: Resource Room. Skill Development: Improve reading outcomes for student with dyslexia. One of the students in my class has tremendous difficulty reading. He is patient, well behaved, wants to learn, but gets frustrated with himself when he can't read to acquire information. We were able to connect him to the internet images and use SOLO to read some of the material to him. First we chose "cars", one of his favorite topics. Although he needs assistance, SOLO allows him some independence in getting feedback about what he views. From this experience, I saw a spark in him that I have not seen for awhile. As the year starts up again, I will quickly hook him back up to the program. He is creative and will find ways to utilize the software that I am only beginning to understand.

Super Writing Tools
By Leslie Walker, Washington Version: SOLO. Product Setting: This product is used in a Life Skills classroom. Skill Development: This product allows my "non-writers" to become writers using the maximum level of supports and my writers to become fluent writers with the spelling support.
This product takes my students from can't do to can do. They are excited about writing now. We have paired the writing with keyboarding lessons and now everyone is keyboarding their lessons.

WE WANT SOLO!
By Reviewer from Illinois Version: SOLO. Product Setting: We have tried this product in several buildings and had presentations for principals and special education program coordinators.
Several of the secondary buildings have written proposals for using the SOLO in their computer labs for ALL the students, not only students with IEPs. Public school setting. Skill Development: Writing skills… organization and organizers for 3 and 5 paragraph themes. This product has been used for training students for practice on the writing prompt for state assessments!