Snap&Read is your Universal tool for accessible reading on Google Chrome!
• Reads text aloud (both accessible and inaccessible) on Google Drive, email, websites, and even PDFs
• Dynamically levels text
• Translates text into over 90 languages
• Works with Bookshare books
• Works with Kindle Cloud Reader
• Proves outcomes with data!

Text Reading + Dynamic Text Leveling™ + Translation for Google
Snap&Read Universal  Download Snap&Read Universal  Resources  Pricing  Request A Quote

Not all text readers are created equal, and Snap&Read helps students in ways no other tool can. Only Snap&Read:
Dynamically Levels complex passages by adjusting needlessly difficult vocabulary (without changing the meaning/rigor)
Reads inaccessible text (Flash, images, and PDFs) on Google Chrome without a complex conversion process
Reads PDF and Bookshare books in the Chrome browser
Supports Kindle Cloud Reader (works with over 3.2 million books)
Works offline — if your school is like most and has internet outages or speed issues, you need this!
Translates text into over 90 languages — including entire pages and after Dynamic Text Leveling!
Gives Smart Data — See how much your students are reading and the level of text they're reading.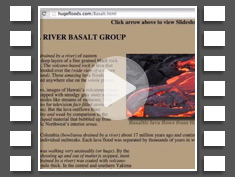 Dynamically Levels Text
Students often shut down when they face text above their reading levels. These students need their text made more readable. Snap&Read does just that! It allows students to dynamically adjust text across the web without changing the meaning. The result? Students get control over the most challenging texts like Shakespeare, and the Declaration of Independence!
See Dynamic Text Leveling™ for yourself in this 3-min demo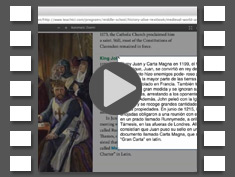 Translates into 90+ Languages
NEW!
Learning a new language is difficult enough. It's even more difficult to soak up grade-level content in that new language—especially with challenging vocabulary.
Snap&Read takes a creative approach to language support through a combination of Dynamic Text Leveling, text-to-speech, and translation.
See these unique translation supports in this 3-min demo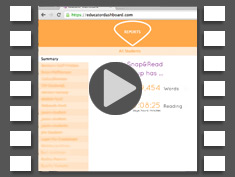 Proves Outcomes with Data
NEW!
Quickly see how much students are reading and the readability levels of the what they read. This data gives you the data you need to make smart decisions and implement with a level of fidelity that you've never had before. Snap&Read complies and collects all of this data in a way that protects student privacy.
See Snap&Read Data in this 3-min video

Snap&Read Basics — How it works
Snap&Read Universal is so simple it takes less than five minutes to train.
Reading Text Aloud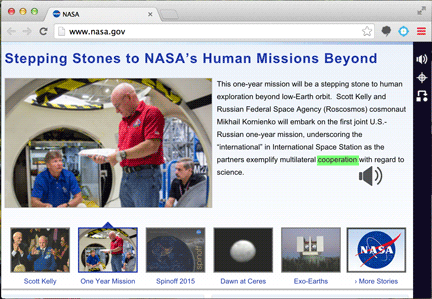 To read text aloud, just click the

 (speaker) button and then click on the area where you want to start reading. Snap&Read will read the text aloud until you click again to stop the speech.
Adjusting Text Complexity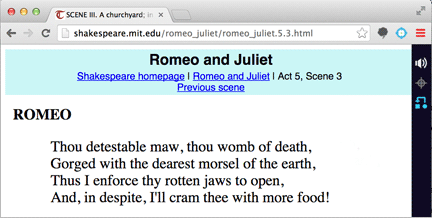 (original text)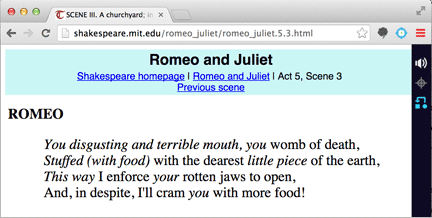 (simplified text—notice the complex vocabulary is simplified while retaining the original meaning)
Adjusting text works the same way, just click on the

 (text adjusting) button and then click area you want the text to be simplified and Snap&Read will simplify from that area on. Or you can select the passage you need simplified and then click the 

 (text simplifier) button and only the selected text will be simplified. The simplified vocabulary will show in italics.
Toggle between the simplified text and the original with a click.
Reading Inaccessible Text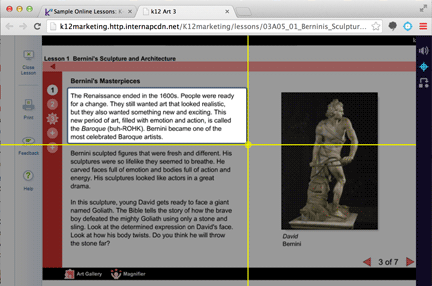 When you come across inaccessible text that cannot be selected. Click on the

 tool and make a box around the text to be read. Snap&Read will automatically convert the text on the fly and read it aloud.
Settings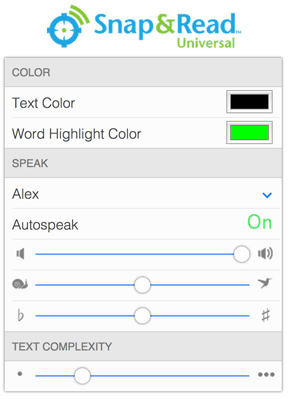 Snap&Read keeps its options simple to minimize training. Change color preferences, speech rate and pitch, as well as how much complex text is simplified.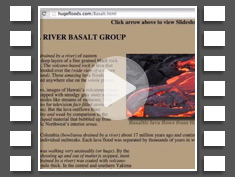 Watch to see how Snap&Read Universal dynamically levels text on-demand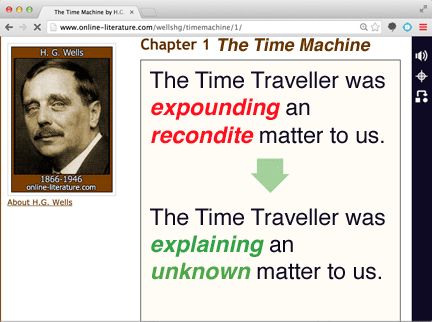 Simply reading text aloud is often enough to help students comprehend. Other times, the text can be filled with complex vocabulary that is even above a student's listening comprehension level. For these situations, Snap&Read builds in text adjusting features. It automatically simplifies complex words to a level students can read passages fluently. The difficulty level is selectable so students can adjust the vocabulary complexity of their reading passages to a levels they can feel comfortable with.

It's a great alternative to teachers using modified materials. Students access the grade-level content from the original source material, but they can adjust the complexity until they comprehend it. They can even toggle between the adjusted text and the original with a click.

Translation into 90+ Languages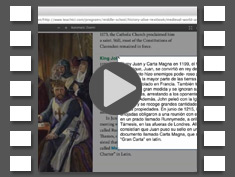 Watch to see how Snap&Read supports over 90 languages!
Learning a new language is difficult enough. It's even more difficult to soak up grade-level content in that new language—especially with challenging vocabulary.
Snap&Read takes a creative approach to language support through a combination of Dynamic Text Leveling, text-to-speech, and translation.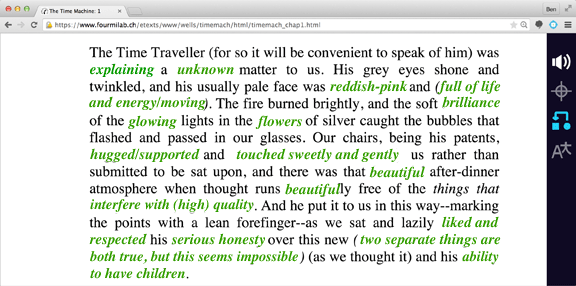 For some students learning English, Dynamic Text Leveling will be enough support—it makes challenging vocabulary more readable in English (leveled text pictured in green italics).
Other students need more support.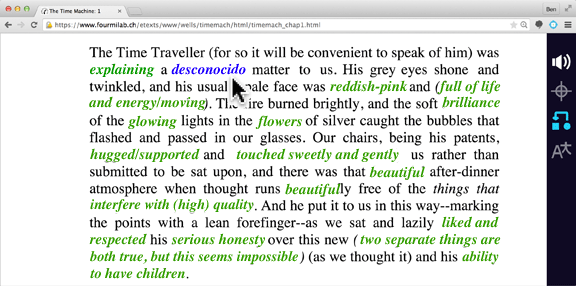 Clicking on any of the dynamically leveled text will take the leveled text and translate it into any one of the 90 languages Snap&Read supports. In this case with Spanish selected, "unknown" was translated into desconocido. A traditional translator translates the original text "recondite" into "recóndito"—an uncommon word in Spanish.
Snap&Read is not just translating the text, it's translating more readable English words. And more often than not, translating these more readable English words gives more understandable words in the primary language.
No other tool does this.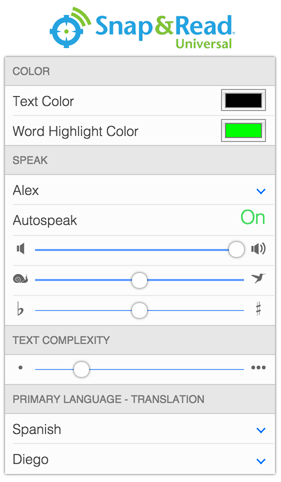 Snap&Read supports over 90 language from Afrikaans to Zulu. They're all available—just select the primary language in the Snap&Read options. Here's a complete list (as of June 1, 2015):
Afrikaans
Albanian
Arabic
Armenian
Azerbaijani
Basque
Belarusian
Bengali
Bosnian
Bulgarian
Catalan
Cebuano
Chichewa
Chinese (Simplified)
Chinese (Traditional)
Croatian
Czech
Danish
Dutch
English
Esperanto
Estonian
Filipino
Finnish
French
Galician
Georgian
German
Greek
Gujarati
Haitian Creole
Hausa
Hebrew
Hindi
Hmong
Hungarian
Icelandic
Igbo
Indonesian
Irish
Italian
Japanese
Javanese
Kannada
Kazakh
Khmer
Korean
Lao
Latin
Latvian
Lithuanian
Macedonian
Malagasy
Malay
Malayalam
Maltese
Maori
Marathi
Mongolian
Myanmar (Burmese)
Nepali
Norwegian
Persian
Polish
Portuguese
Punjabi
Romanian
Russian
Serbian
Sesotho
Sinhala
Slovak
Slovenian
Somali
Spanish
Sundanese
Swahili
Swedish
Tajik
Tamil
Telugu
Thai
Turkish
Ukranian
Urdo
Uzbek
Vietnamese
Welsh
Yiddish
Yoruba
Zulu
Tip: To get word-by-word highlighting while reading, select system voices or download new ones in the languages you need. When reading text, Google Voices aren't compatible with word-by-word highlighting.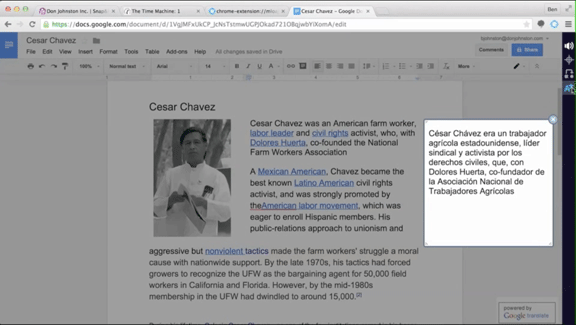 Snap&Read also translates entire passages and pages whether in email, websites, Google Drive, online books, PDFs—just about anywhere!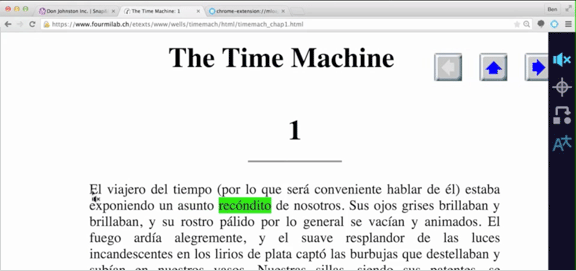 Then the text can be read aloud with word-by-word highlighting.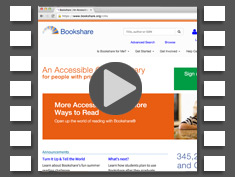 Watch to see how Snap&Read makes Bookshare even better!
Bookshare is an incredible resource for accessible books. They have close to 350,000 titles available to members.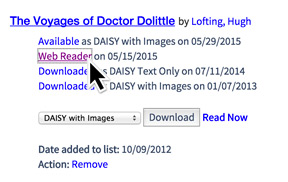 Snap&Read works right on top of these books. Just browse to a book in Bookshare and click on the "Web Reader" link. (Tip: deactivate the Web Reader Chrome extension and open the books directly in the Chrome browser since two extensions can't work together.)
Inaccessible Text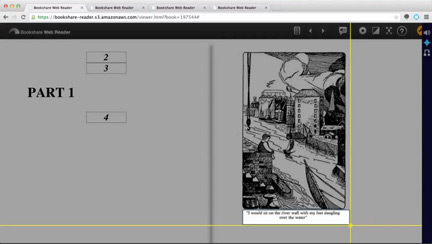 Occasionally, you will find image captions that are inaccessible—even in Bookshare books. Use Snap&Read to read these, right on the page.
Better Text-to-Speech Functionality
The text-to-speech in Bookshare is very restrictive. The speech always starts at the top of the page and it isn't possible to choose where the speech starts.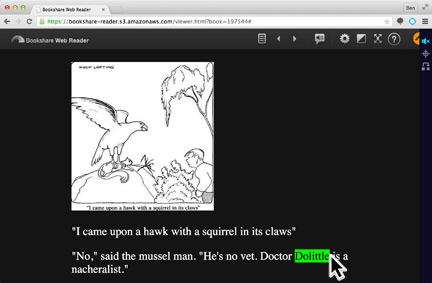 With Snap&Read, just point and click to start the speech anywhere in the text, then click again to stop the speech.
This is crucial for students who only need help with the difficult words or passages.
Dynamic Text Leveling
With a click, Snap&Read transforms this text to be more readable—right on the page—without changing the meaning of the content.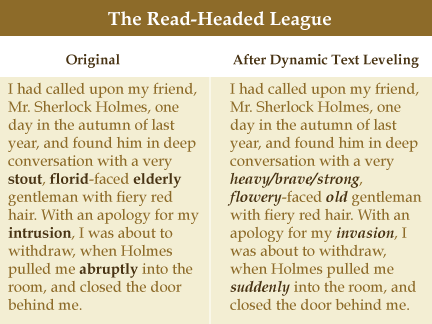 It turns stout to heavy/brave/strong, florid becomes flowery, and elderly, old.
Then Snap&Read will read the new text aloud.

Kindle Cloud Reader Support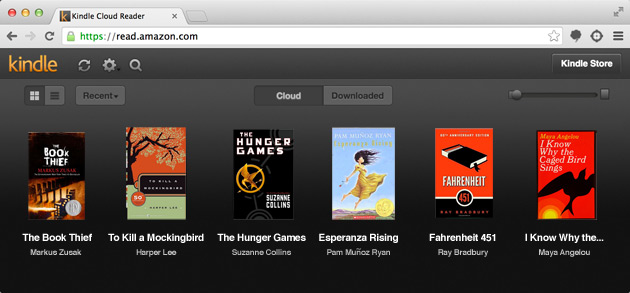 Snap&Read supports Kindle Cloud Reader!
What does this mean?
Snap&Read Universal is the first and only read aloud extension that supports Kindle books from the Kindle Cloud Reader.
Kindle has 3.2 million books and anyone can use them. Want to read the latest New York Times best seller? Not a problem. Your class is reading a novel and you have students that don't qualify for Bookshare? Get the Kindle book and you're all set.
You can even rent textbooks.
Kindle has a sleek and widely used management system targeted at education institutions. Purchasing and deployment is incredibly easy.
Snap&Read Universal not only reads the text aloud, it also gives students Dynamic Text Leveling and Translation—right inside Kindle books.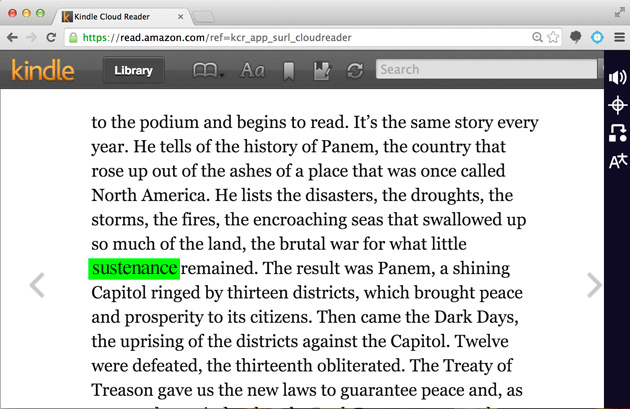 Snap&Read reads the Kindle book text aloud.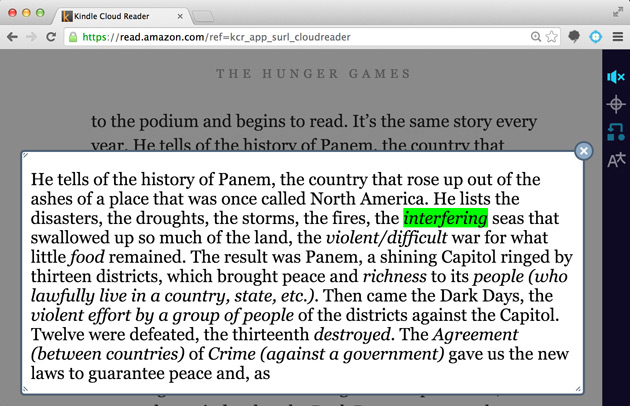 Snap&Read dynamically levels the text.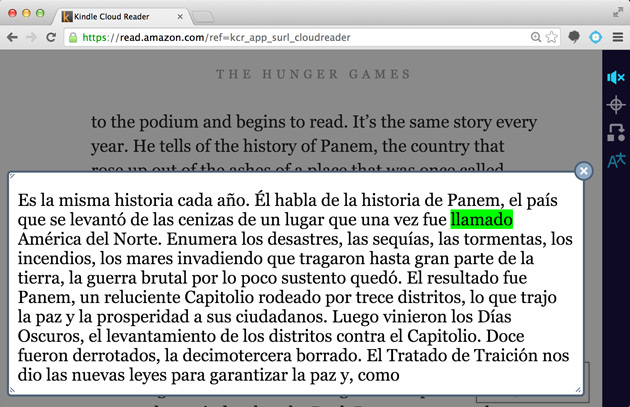 Snap&Read translates the text.

Traditionally, students needing read aloud accommodations received human reader in groups or individually because the assessments weren't accessible. New online state assessments are changing this. Now accommodations are more available than ever. Some are even built into the assessment itself, but students need to have access to accommodations (like Snap&Read) well ahead of the assessment.
Watch an on-demand webinar and learn more about how text to speech as an approved testing accommodation.

NEW!
There are a lot of good reasons for smart data. Smart data isn't like the once a year assessment that gives you results in July. Smart data gives constant feedback so you can make ongoing adjustments.
With smart data, you can make better decisions—in real time. Snap&Read gives you this kind of smart data.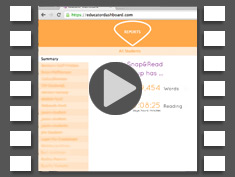 Watch a 3-min demo of Snap&Read data
Simply log into the Educator Dashboard™ website from any device and get data on your students. Here's what you'll see…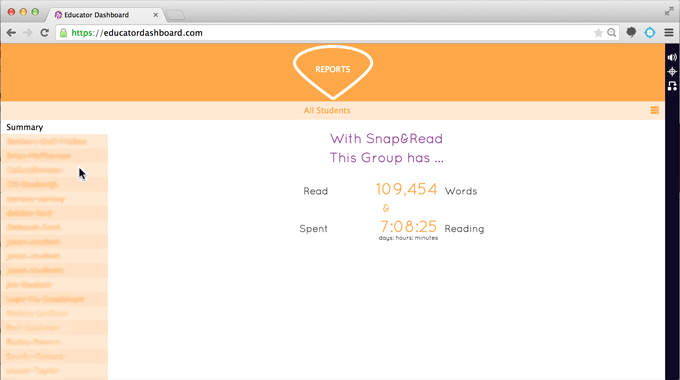 This is group data where you can see how much your students read collectively.
Usage Data
Click on a student's name to see individual data.
First, you see the date the student was set up—a nice way to show he had access well ahead of the assessment. Next you see how much the read. Reading data is collected anytime the Snap&Read toolbar is active—even if a student only uses the accommodation for difficult passages. Snap&Read will collect reading data using a set of algorithms. In this case, the student read 71,442 words since January 27, 2015 and spent over 145 hours reading. Over the school year, you'll see these numbers continue to grow. You'll know exactly how much students are reading!
Qualitative Data
Snap&Read analyses the text students read through an average of five readability scales—giving you a really good idea of the levels of content each student is reading.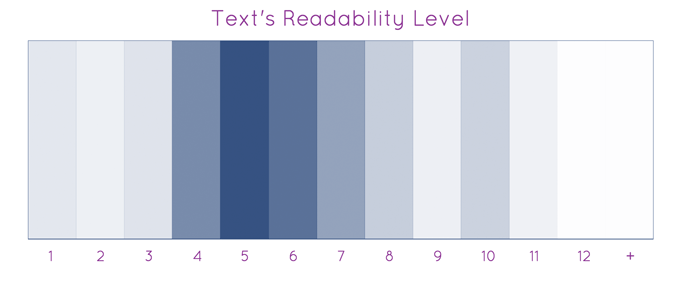 The darker the color, the more the student read content at that level. You can see here, that most of the content that this student read is clustered around the 5th grade level, but read content as high as 11th grade and as low as 1st. This data helps educators guide students to content at appropriate reading levels and then monitor the results.
Student-safe Data
You would be surprised if you found out what data can be collected by your Google Chrome extensions—potentially everything a student writes and reads. And it can be stored on servers anywhere in the world where data protection laws are different. By law, any parent can request all of the data held on their child from every technology vendor you use. Can you face your parents and confidently tell them the data that is being collected, how it is collected, and where it is stored?
With Snap&Read data, there is no potential for sensitive data to be stored on our servers. We don't collect search terms, websites visited, passwords, or the specific text read or written. They never even reach our servers. We want to make sure that you get powerful data that won't jeopardize and put you at risk of violating student privacy.
Read more about student-safe data and how Snap&Read protects privacy.
Get access to all of this for your district, school, or individual students!


Read reviews here, or click to write your own product review. Write a Review