Now Available!

For some students, simply hearing passages aloud is enough to understand them. Other students need leveled text. We believe that a reading accommodation should do both—allow students to dynamically level their text and hear it read aloud.
This is truly personalized learning.

Text Reading + Dynamic Text Leveling™ on Chrome + Desktop!
Snap&Read Universal  Download Snap&Read Universal  Resources  Pricing  Request A Quote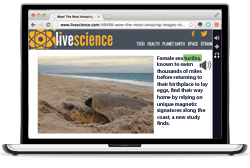 Snap&Read Universal for Chrome and Desktop
Personalized learning starts with having the right supports for each student. Whether a student needs a read aloud accommodation, leveled text, or a combination of the two, Snap&Read has you covered.
It works with Google Chrome on Mac, Windows, and Chromebooks supporting Google Drive, email, websites, PDFs rendering in a browser, images containing text, and more…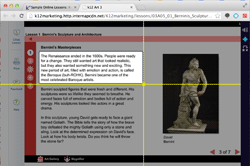 Reads Text Aloud
Students who have high auditory comprehension skills but struggle with fluency often benefit from hearing text read aloud.
Snap&Read makes it easy. It reads text aloud on the widest range of accessible and inaccessible websites—the kind your typical text reader won't read. In fact, Snap&Read is the only Chrome Extension that reads inaccessible text and PDFs in real time without a separate special conversion process!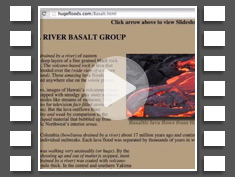 Dynamically Levels Text
Students often shut down when they face text above their reading levels. These students need their text made more readable. Snap&Read does just that! It allows students to dynamically adjust text across the web without changing the meaning. The result? Students get control over the most challenging texts like Shakespeare, and the Declaration of Independence!
See Dynamic Text Leveling™ for yourself in this 3-min demo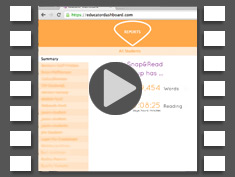 Proves Outcomes with Data
Coming Soon!
Quickly see how much students are reading and the readability levels of the what they read. This data gives you the data you need to make smart decisions and implement with a level of fidelity that you've never had before. Snap&Read complies and collects all of this data in a way that protects student privacy.
See Snap&Read Data in this 3-min video

Snap&Read Basics — How it works
Snap&Read Universal is so simple it takes less than five minutes to train.
Reading Text Aloud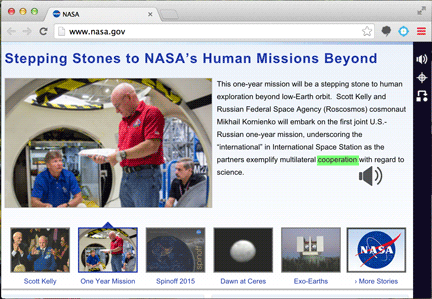 To read text aloud, just click the

 (speaker) button and then click on the area where you want to start reading. Snap&Read will read the text aloud until you click again to stop the speech.
Adjusting Text Complexity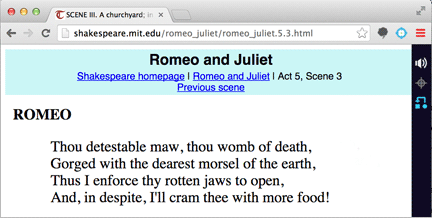 (original text)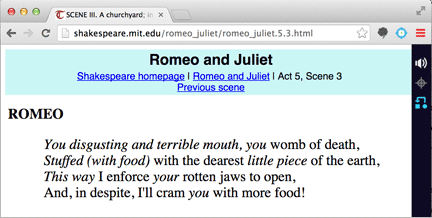 (simplified text—notice the complex vocabulary is simplified while retaining the original meaning)
Adjusting text works the same way, just click on the

 (text adjusting) button and then click area you want the text to be simplified and Snap&Read will simplify from that area on. Or you can select the passage you need simplified and then click the 

 (text simplifier) button and only the selected text will be simplified. The simplified vocabulary will show in italics.
Toggle between the simplified text and the original with a click.
Reading Inaccessible Text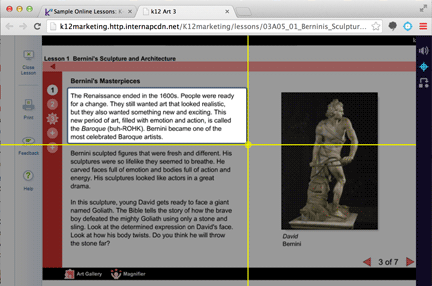 When you come across inaccessible text that cannot be selected. Click on the

 tool and make a box around the text to be read. Snap&Read will automatically convert the text on the fly and read it aloud.
Settings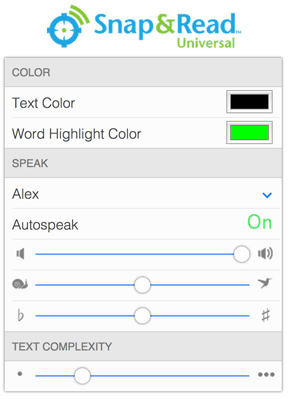 Snap&Read keeps its options simple to minimize training. Change color preferences, speech rate and pitch, as well as how much complex text is simplified.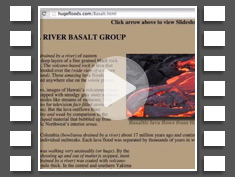 Watch to see how Snap&Read Universal dynamically levels text on-demand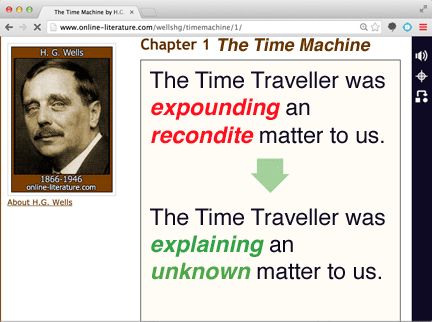 Simply reading text aloud is often enough to help students comprehend. Other times, the text can be filled with complex vocabulary that is even above a student's listening comprehension level. For these situations, Snap&Read builds in text adjusting features. It automatically simplifies complex words to a level students can read passages fluently. The difficulty level is selectable so students can adjust the vocabulary complexity of their reading passages to a levels they can feel comfortable with.

It's a great alternative to teachers using modified materials. Students access the grade-level content from the original source material, but they can adjust the complexity until they comprehend it. They can even toggle between the adjusted text and the original with a click.

Traditionally, students needing read aloud accommodations received human reader in groups or individually because the assessments weren't accessible. New online state assessments are changing this. Now accommodations are more available than ever. Some are even built into the assessment itself, but students need to have access to accommodations (like Snap&Read) well ahead of the assessment.
Watch an on-demand webinar and learn more about how text to speech as an approved testing accommodation.

Coming Soon!
There are a lot of good reasons for smart data. Smart data isn't like the once a year assessment that gives you results in July. Smart data gives constant feedback so you can make ongoing adjustments.
With smart data, you can better decisions—in real time. Snap&Read gives you this kind of smart data.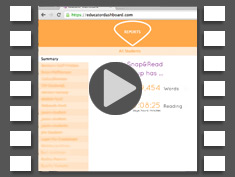 Watch a 3-min demo of Snap&Read data
Simply log into the Educator Dashboard™ website from any device and get data on your students. Here's what you'll see…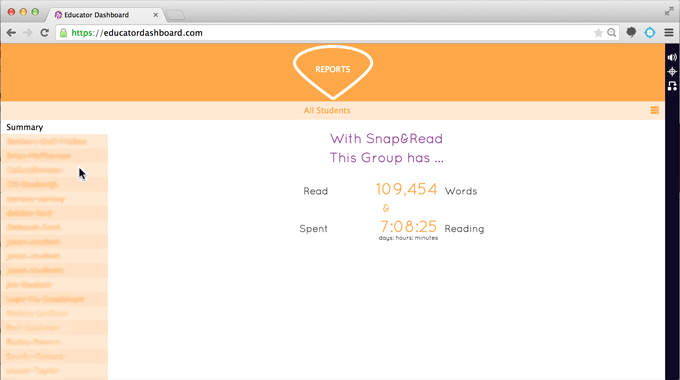 This is group data where you can see how much your students read collectively.
Usage Data
Click on a student's name to see individual data.
First, you see the date the student was set up—a nice way to show he had access well ahead of the assessment. Next you see how much the read. Reading data is collected anytime the Snap&Read toolbar is active—even if a student only uses the accommodation for difficult passages. Snap&Read will collect reading data using a set of algorithms. In this case, the student read 71,442 words since January 27, 2015 and spent over 145 hours reading. Over the school year, you'll see these numbers continue to grow. You'll know exactly how much students are reading!
Qualitative Data
Snap&Read analyses the text students read through an average of five readability scales—giving you a really good idea of the levels of content each student is reading.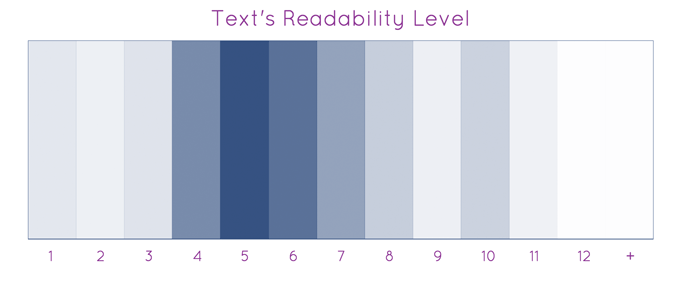 The darker the color, the more the student read content at that level. You can see here, that most of the content that this student read is clustered around the 5th grade level, but read content as high as 11th grade and as low as 1st. This data helps educators guide students to content at appropriate reading levels and then monitor the results.
Student-safe Data
You would be surprised if you found out what data can be collected by your Google Chrome extensions—potentially everything a student writes and reads. And it can be stored on servers anywhere in the world where data protection laws are different. By law, any parent can request all of the data held on their child from every technology vendor you use. Can you face your parents and confidently tell them the data that is being collected, how it is collected, and where it is stored?
With Snap&Read data, there is no potential for sensitive data to be stored on our servers. We don't collect search terms, websites visited, passwords, or the specific text read or written. They never even reach our servers. We want to make sure that you get powerful data that won't jeopardize and put you at risk of violating student privacy.
Read more about student-safe data and how Snap&Read protects privacy.
Get access to all of this for one school-wide price!


Read reviews here, or click to write your own product review. Write a Review