Snap&Read  |  Snap&Read Extension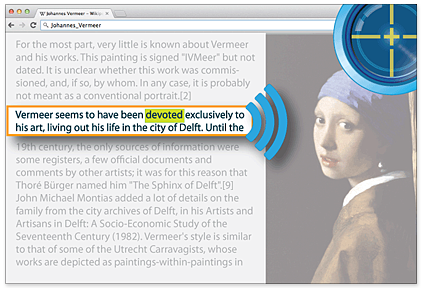 Coming Soon!
Snap&Read is a simple way to bring accessibility to websites and documents—any text that renders in your Chrome web browser. Simply select any text on-screen, and Snap&Read will read the text aloud. There are no additional applications to launch, so the accessibility is available immediately when it's needed.
It works with both selectable text as well as text-based images (which are typically inaccessible to traditional screen readers).
Get notified when Snap&Read Extension is released!
Here's how it works:
Selectable Text: Simply highlight any text on-screen and a speaker button will appear. Click the speaker button and the text will read aloud highlighting word by word.
Text-based Images: Click on the Snap&Read icon in the Chrome browser window. Click and drag your orange hash marks to define the area of the text contained in the image. Snap&Read will translate the inaccessible text using optical character recognition (OCR) and read the text aloud, highlighting the words as it reads.
Highlighting Study Tool: In addition to reading text aloud, Snap&Read also provides a highlighter study tool. Click on the highlighter and selected text will save straight to Google Drive.
Compatibility: Snap&Read is compatible with computers running the Chrome browser – including Mac, Windows and Chromebooks.
Supports Mac, Windows, Linux, and Chromebooks running the Google Chrome browser.

Click to write your own product review.
Write a Review