Sorry, Simon has been discontinued. The information below is for reference.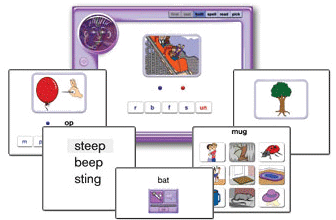 This multi-level phonics program delivers individualized phonics instruction and corrective feedback to beginning readers. It builds skills in phonemic awareness, phonics, and the alphabetic principle.



Read reviews here, or click to write your own product review.
Write a Review
Simon S.I.O. Review
By Reviewer from Texas
Product Setting: Home. Skill Development: To improve reading level.
The software was installed on a laptop that was checked out to the student. The student is nonverbal and was below grade level in reading. The program was able to help bring her reading level almost to grade level. It is a great program and is easy to use!

Simon S.I.O. Works for ESL Student with Moderate Disabilities
By Reviewer from Virginia
Product Setting: Self contained classroom. Skill Development: To improve word fluency.
This product was used with an ESL student with moderate disabilities. The student was very engaged in using this product and enjoyed the part of the program that allowed her to record and listen to her voice as she read the target word. This program not only assisted the student in building her english word fluency but motivated the student to learn.

Shannon's Review
By Reviewer from Kansas
Product Setting: Self contained classroom. Skill Development: Improve the phonics skills and reading fluency of low-performing 1st graders.
I am currently using this program as an intervention for action research. i am finding that the students are making much greater gains in their ability to decode and blend words. Their scores have also gone up significantly on sentence dictation.

Finally Some Success
By Reviewer from California
Product Setting: Self contained classroom. Skill Development: We have been using the program with several of our struggling English Learners and have had some real success.
We had 4 students who repeated the beginning level of ESL with little success. However, using the program, we have begun to see some real changes.

Patty's Co:Writer and Simon S.I.O. Review
By Reviewer from New York
Product Setting: Self-contained, AIS small group. Skill Development: Improve reading outcomes for AIS students: fluency, vocabulary emergent skills: letter sound association, increasing stamina working in small group.
Shared with group of reading specialists who are eager to use with their student population on a regular basis. Students are fully engaged and eager to continue and gain confidence in their reading/writing ability.