by Valerie Chernek
Last week, Bill Reeder, former Director of Fairfax County VA Public Schools, AT Department, prompted us with questions about the assumptions we often make using technology and a few excuses we hear from those who don't want to use these tools.
It's hard to make changes. Most folks don't like it. Since our video released, 'The Case Against Assistive Technology', we've heard from lots of you and hope you will keep the momentum going and the discussion alive…it's an important one.
What we know from your comments and guest blogs is that CHANGE can happen! It all starts with a 'SHIFT' in thinking. And, of course a 'CHAMPION' of an idea…i.e. that technology can add more learning support for students with special needs and this can have a big impact.
That CHAMPION could be you, a teacher, a student who knows how to make things work…like computers and software or a principal or administrator. Whoever it is…acknowledge them … reward them … and recognize their efforts. Everyone likes to be recognized for their good works!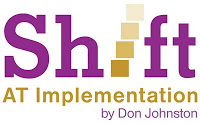 Helping students with disabilities reach their true learning potential and overcome common barriers to learning is such a worthy mission. Yes, you are shaking your heads in confirmation. That's why we developed SHIFT!
Our new AT Implementation Framework, affectionately dubbed 'SHIFT', for shaping habits in fellow teachers can help you create a vision, build your team, design and deliver training and keep the momentum going. And it's FREE!
We designed this professional development program after working with AT specialists and administrators from across America who visited our headquarters to participate in our learning summits.
These folks know what it takes to make change happen in their urban and rural school districts and how to address different types of students' needs. For the last few years, we tested our theories, gathered best practices, put teams together and helped many educators successfully build their AT infrastructure.
Now we can help you…Take the Challenge with SHIFT!
We believe, as we know you do too, that ordinary people can achieve extraordinary results. Check out our new SHIFT professional development program and all the great resources and materials available.
Don't forget to use the video 'The Case Against AT' as a presentation resource. It's really a great tool for opening up new discussion and to start the ball rolling.
Thanks for staying with us, talking about change, and sharing our new SHIFT professional development program.