by Mary Jo Barry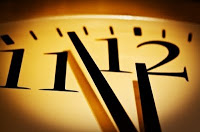 I'm pretty sure Mick Jagger was incorrect when he told us that time was on our side. In fact, I'm positive time is not on your side when it comes to learning new technology at school, in the midst of your typical work day.
Thus, lack of time is the number one barrier keeping you from effectively leading and teaching your staff and students to use new technology. Uncovering and leveraging times that already exist will probably become your greatest task–you're going to have to get creative! We often hear that reserving school or district PD days is not available to you. Here's the thing, even if PD days are an option, they're rarely frequent enough to create a sustainable learning environment. You cannot hold a training and come back in six months for a follow up and expect that things have changed.
There's a paradigm shift to be made here too that nobody likes to talk about, it's a bit taboo…at some point you will need to get people to understand and agree that learning new technology is not an extra thing. The ability to use and leverage technology is a minimal expectation in the working world, and has been for more than a decade.
If we want our students to be competitive in the digital, global economy we live in, this belief system has to start, or at the very least be reflected, in our schools. Once your staff begins to experience using technology in context (regularly), they will discover that it will replace other things they're doing, and it can help them do some things more quickly. For many administrators and classroom teachers, this is a big hump to get over. Getting past this will also get you past that mind-set that many staff members have, "I should be getting paid for learning this."
So, with that out in the open, let's move on to strategies that will help you push your trainings out more effectively!
Districts that have excelled at implementation have offered up several common time-slot suggestions: planning periods, before/after school and lunchtimes. Remember that food is a great motivator—make snacks or treats! A brown-bag luncheon where everyone brings their lunch and eats together works really well too. These meeting times should be static and need to occur every couple of weeks at first. Maybe you're thinking that these short bits of time are not long enough to deliver enough information—au contraire mon fraire—start thinking mini-lessons!
Developing Your Training Materials and Content
The biggest mistake made in developing the content to be covered in actual trainings and workshops is that the trainer provides way too much information at one time. The other is that trainers tend to lead with the technology and not the student outcome. If you are involved in AT, chances are you are slightly more tech-savvy than some of your peers—so remember that!
We get excited about what a technology can do, and we often go in guns blazing showing off every single bell and whistle. The reason we do this is because we're afraid we're not going to get another time with the people who attend. If you want to have the greatest possible impact, you'll have to stop doing and thinking this way. Here's a tip sheet called, "How to Create Custom PD Training Modules". It contains some foolproof ways to create fabulous training modules! Plus, it will suggest more resources that you can get on our web site!
Find Your Bright Spots
Somewhere in your district, technology is working well—your job is to discover why. Even if it's only one classroom in one building, follow these steps to leverage that bright spot:
Gather data on what IS working
Understand the normal way things are done
Find out what's being done differently
REPRODUCE what's working in your plan
If you haven't already, sign up to become a SHIFT Member! It's free, and you'll not only get a great starter kit that contains tools to help you create a fool-proof plan that you can roll out this fall, but also lots of extras, like certificates of achievement, data collection sheets, student success forms, etc.
Happy training! Don't forget to post your successes on this blog so that others can benefit from your learning!