by Mary Jo Barry

How are you doing communicating your vision for pushing out your assistive technology and getting people on board? Have you created a team to help you?
Here is the most important reason for creating teams: Your goal is to move away from that old "you are the expert model" and make "more YOUs" at each location (where the technology is being placed)! While your effectiveness does hinge a little bit on how you carry out your training, the bulk of successful implementation really lies in the team(s) you create. The Team Builder Tool on our web site will walk you through each step and will outline how to identify the types of people and personalities you'll need to build a phenomenal team.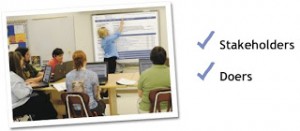 First things first, you're actually going to need two teams, the first one being your stakeholders, probably your peers or your administrators. They're the ones who, if you can get their "nod," will help you with infrastructure and accountability.
The second will be your team of doers: those are the folks that will actually assist you in doing training and will be actively involved in pushing the technology out. In the Build Your Team section of our web site, we teach you how to identify and go with the goers!
A couple more key things about putting your team together: make being on the team a prestigious thing and validate the team's existence by naming it. A little intrinsic motivation goes a long way! If you make the people on your team feel special, they will act special.
There are lots of ways to do this:
Send a letter to their administrator, letting the administrator know why this person was selected (there is a sample letter in your kit!)
Put a "Making SHIFT Happen" certificate or sign outside their door
List the team name in your district newsletter, announcing your team members
The more you generate awareness about your team, the more you'll breed excitement about being on the team.
One last thing, make sure you carve out a regular meeting time for your team—at least once a month. You don't need a big chunk of time—one hour should do it, so think about planning periods or lunch times. Always make this meeting a positive experience. For example, at the opening of each meeting have each member of your team share a success they've had with a student, or explain how they overcame a barrier. If you can, keep your team from talking about all of the negatives and keep them focused on the finish line. It will also provide a platform for leveraging each other's ideas. Additionally, when you use this meeting method you can gauge which members are "stuck" or aren't participating as you had hoped. They probably won't bring much to the table during this time. With that information you can perform an intervention.
I know it's almost the end of the year but if you start planning now, you can come back in the fall with a foolproof plan!