< Back  
District: Prentice School • Location: Santa Ana, CA
Leaders: Stanley Tom,  AT Specialist
Students at The Prentice School, California, use Read:OutLoud to help students read. School officials say the program will help the students advocate for themselves in high school and college. For them, it becomes essential to know what accommodation technologies can enable them to keep up with increasing academic workloads, specifically to support reading comprehension and written expression. 
Assistive Technology Class Prepares Students with Dyslexia for Lifetime Academic Achievement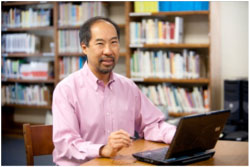 Students at the Prentice School in Santa Ana, CA have dyslexia and/or dysgraphia, two processing disorders that make every literacy assignment a challenge. These students often become frustrated because they cannot keep up with their academic workloads. Some students give up; their grades suffer and their enthusiasm spirals. Not so at Prentice School. Students who struggle in reading and writing make academic progress through a new AT Tools Class taught by Mr. Stanley Tom, an Assistive Technology Specialist. Mr. Tom believes that using AT will help to make his students' academic life a little easier.
"Assistive technology (AT) tools can help our students avoid a downward spiral, even when traditional remediation attempts fail," he said. "If we prepare children early on to use AT supports, they'll have more advantages. By the 7th grade, if a student cannot keep up with studies without such supports, they're in for increasing academic trouble."
To this belief, Mr. Tom created a first-of-its-kind assistive technology literacy class. All 6th graders attend the class and learn to use AT software such as Read:OutLoud, an accessible text reader that will equip students to keep up with their reading and research assignments throughout high school, college and even the workforce.
In 2009, the school invested in computer network improvements and purchased hardware and software that could serve as the foundation for faculty and students to use AT. Among the software purchased is an Unlimited Site License to the SOLO 6 Literacy Suite. SOLO includes Co:Writer, Write:OutLoud, Draft:Builder and Read:OutLoud. It's like Microsoft Office in that it includes several tools, but is appropriately designed to help students with learning challenges improve the quality of written expression and reading comprehension skills. The Unlimited Site License allows students to use SOLO at home so they can study, research, and write papers.
Ms. Debra Brunner, an SLP at Prentice and a parent of a son in 7th grade said, "He is a great storyteller, but writing challenges hinder his progress. He felt disillusioned to write the stories he thought about. With SOLO, he writes lots of stories, especially on mythology and has improved his written fluency."
"Co:Writer can reduce the burden of spelling by predicting or anticipating intended words based on the user's phonetic attempts, such as 'lphant' for the word 'elephant' or 'sicology' for 'psychology'," said Mr. Tom. He notes that research suggests that employing multi-modalities (hearing and seeing text simultaneously) can improve written expression and reading comprehension.
"It is safe to assume that school-age children already know about technology in the given age of blogging, texting and tweeting," adds Mr. Tom. "They are familiar with word processing and can use the Internet. However, if they are poor spellers, have trouble organizing thoughts into written expression or have difficulty comprehending what they read, as some of our students do, than these types of materials are largely inaccessible. If we provide students with opportunities to learn what assistive technologies can do and how to master these tools, they are more likely to reach grade level achievement, continue to make academic progress, and expand their expectations of themselves. A vicious circle is broken and competency with these tools leads to accomplishments, which engenders greater confidence, and ultimately a sense of responsibility for one's progress and purpose."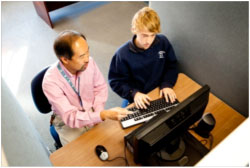 In previous positions, Mr. Tom often realized that attempts to improve an individual's reading and writing skills were not succeeding, but there was no awareness of how assistive technology literacy tools might help. Even when educational AT tools were considered, budget constraints, lack of administrative support, lack of teacher training, and attitudes sometimes stymied effective implementation.
"I recommended AT for many students back then who needed accommodations, but never got to see how students made out. Did they embrace the technology? Did they ask for it in school or use it at home to study? Did their skills improve? Did they go to college? Why is it that we second guess the advantages of providing students the chance to use technology accommodations to support their learning styles in schools? When a person is diagnosed with vision impairment, they get glasses as an appropriate accommodation," he said.
When Prentice students graduate after the 8th grade, many enter a general education public high school environment. By then, they have experienced three years of exposure to AT literacy software. They use the tools to accommodate their learning challenges and the demanding new rigors of high school. "It is our goal to position our graduates with practical strategies," summarizes Mr. Tom. "Our students know which tools are available, and can choose to use them as they deem fit. Some students will never be "good" readers and writers natively, but with the skills and knowledge they have learned about educational supports through our AT Tools Class we have given them opportunities to learn and to cope with academic pressures more successfully."
The Prentice Mission is to nurture the full potential of bright, capable students who learn differently (dyslexia, dysgraphia and other processing difficulties) through mastery of skills, development of a "toolbox" for lifelong learning and the celebration of the individual strengths of each student. To serve as a resource for students and their families through early intervention, assessment, support services, current information and research, and/or recommendations for alternative educational avenues.