< Back
District: Pomfret Community School, CT  • Location: Pomfret, CT
Leaders: Linda Bates, Certified Special Education Teacher
Mrs. Linda Bates lead her 5-8th grade students in a reader's theatre where they recorded a digital storybook presentation of acting out the characters in Don's book, sharing secrets to surviving the classroom and individual reading successes. 

Don Johnston would like to say…
Congratulations to Mrs. Linda Bates, Certified Special Education Teacher and students from Pomfret Community School, CT in grades 5-8! This winning digital storybook presentation includes students' acting out the characters in Don's book, sharing secrets to surviving the classroom and individual reading successes.
The Woodstock Villager featured Linda Bates' class winning the Reader's Theater contest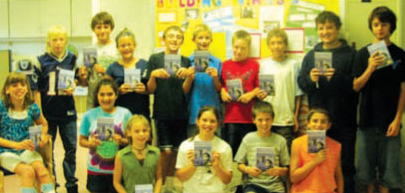 Reader's Theater Diary by Linda Bates:
"The best gift we can give our students is acceptance. Each student has different ways of learning and retaining knowledge. Don's Reader's Theater brought a new energy to our students and created a sense of community among the 18 students who participated in the project. They can feel very proud of their successes, along with winning this computer and audio reading collection for all of our students to enjoy!"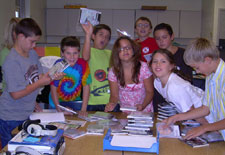 We are thrilled and want to thank you so much. Our gift was just delivered to our resource room. What a wonderful collection. I also shared the enclosed letter with my colleagues. This is all so exciting. Our students continue to beam with their part in all of this. We have a local newspaper reporter coming Monday morning to take some photos and hear about our project.
The Start-to-Finish collection is really great and the kids are already choosing titles to read! We had a 6th grade open house last night and a few of our Building Wings parents attended and were so pleased about us winning the contest and appreciative for what's it has meant to their kids. Some of these kids have not stopped smiling since school started. It has impacted their whole performance. The impact and student response to your book just continues to amaze me.
Thanks for your acknowledgement. I thought this local Woodstock news article was great and really captured the "spirit" of what we are doing. I can't tell you how much this all continues to mean to my students and me. We have sent out an email to our teachers in the lower grades to see if they would like our "Building Wings Ambassadors" to come in and read the book to their class, share some discussion and show their presentation. This invitation received great response and many teachers have taken the book to read and are in the process of signing up with our students to read Building Wings to their classes. WOW!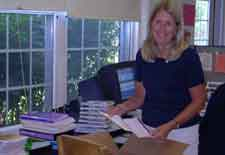 There has been so much coverage from our local newspaper and our superintendent's interview with my Special Education Director in which she highlights our Reader's Theater Project. I have had many people stop by to say congratulations and I can't tell you the number of people who have had a "story" of their own to relate.
So, Don's story and book continue to be shared. It is great to be able to tell others about your Company and the wonderful resources you have made available for students. I can't tell you how much the kids are enjoying their new Start-to-Finish library. It's awesome to see them reading so much and to see the diversity in their reading choices.