by Kristin M. Rytter, Ph.D.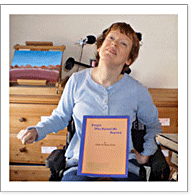 This book will enlighten parents or teachers who have children with disabilities or anyone who wants to understand how society could better support individuals with disabilities. Dr. Rytter is truly an inspiration.

She cannot speak or use her arms, but this didn't stop Kristin Rytter from earning a PhD from University of Washington. It also didn't prevent her from writing and self-publishing this book with the help of a Morse code input to Co:Writer.
But in this memoir, Dr. Rytter doesn't focus on only accomplishments: she paints a raw and vivid picture of what it was like growing up with a significant physical disability—from learning to read, attending a regular school, going to dances, falling in love, going to college, holding down a job, and dealing with death.
Every educator has a responsibility to embrace her story and to help all children reach their optimum learning potential. This book helps us to better understand the barriers and obstacles people with disabilities face. We will be amazed at Kristin's incredible spirit which drove her to achieve the highest academic degree, start a career and publish 'People Who Raised Me Beyond.
— Ruth Ziolkowski