uPAR (Online)  PAR (Print Version)
Celebrating over 7,000 downloads!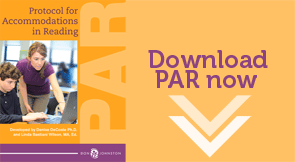 The PAR manual helps you determine the most suitable reading accommodations for specific students by assessing their individual needs. Anyone on the IEP team can administer PAR to systematize how reading accommodations are recommended on a student level or across the school district.
Join the PAR Community!
ATcollective is a place where you can ask questions, review survey responses, share implementation ideas, and keep the conversation going.

PAR Review
By Hillary Brumer, Texas
I wanted to share a PAR success story. I have begun to use the PAR as a part of my AT evals for students that require evaluation in reading strategies and supports. I have administered PAR on a couple of occasions, and have been able to show the team that a student's comprehension improves (or does not) depending on the tool they use! I love that the PAR gives "teeth", or some degree of validity to what I've been saying to teams when discussing reading accommodations.
Especially with older students, having the ability to understand what they're reading is integral. Also, being as independent as possible is important. The PAR allows me to show teams what is the best fit for a student to ensure they are comprehending the content, as well as allowing for the student's voice to be heard regarding preferences.
Thank you.