Keep up with the latest ed trends with a webinar, and bring your team!
Our webinars address timely and relevant topics like new education standards, high-stakes testing, closing the achievement gap, and how to choose the right accommodations for your students.
Our live webinars are always free to attend—you just need to register!
More (new!) webinars are coming your way in 2018!
Please stay tuned!
3 Joyful Steps for Writing Growth in SpED Classrooms
Welcome to the New Year! Now's the perfect time to make a Writing Resolution for your students with complex learning needs.
New expectations are increasing writing requirements for special ed and autism classrooms. Students are now expected to share and communicate through writing. But, special educators often tell us, "My students can't even trace their names. How can I teach them expressive writing?"
Don't despair! Believe in instructional practices that help students discover communication through writing—starting with scribbling. First Author Writing Curriculum guides writing instruction step-by-step. It also gives you measurement tools so sensitive that you can track writing progress in even the most emergent writers.
Are you ready to meet new writing expectations? Let us show you more!
Join Dr. Janet Sturm to learn ideas and strategies that will have a lasting impact on students.
Live Talk a Mini Lesson—follow along with a sample lesson from the program (register and we'll send you the lesson)
Ramp Up Writing Time—make writing time a joy with photos, alphabet, and scribbling ideas
Artifacts and the Authors' Chair—tips & tricks to optimize communication at Authors' Chair time by using artifacts, AAC, and other communication options.

Presenter: Janet Sturm, Ph.D., CCC-SLP.
Professor in the Department of Communication Disorders at Central Michigan University. Dr. Sturm has been working in general and special education classrooms for over 25 years. Her research and development work focuses on writing instruction for students with disabilities, computer-supported literacy, formative and summative assessments of beginning writers, and classroom communication.
Wednesday, January 24, 2018
12:00-1:00 PM (CST)
Our on-demand webinars are always free to view—you just need to sign up!
Readtopia—Experiential Learning for SpED Classrooms
A decade in the making, Readtopia is a comprehensive reading and learning curriculum for middle and high school students who take the alternate assessment. Hear from Readtopia's creators and two districts that are implementing it. The Readtopia team traveled the world to bring stories, sights and sounds into classrooms. Experiential video, graphic novels (at six levels) and informational text give students rich experiences across reading, ELA, social studies and science.
Experience Readtopia for yourself! Descend 1,000 feet in a submarine, hear from Sacagawea, fly in a WWII fighter plane, then peek into classrooms and see the impact on students!
Presenters:

Don C. Johnston, CEO, Don Johnston Incorporated
Dr. Caroline Musselwhite, Assistive Technology Consultant, AAC Intervention, Litchfield Park, AZ
Jeanmarie Jacoby, Special Education Teacher, Washington Elementary School District, Grand Canyon University. Phoenix, AZ
Mary Ann McGinn, Technology Coordinator, NSSEO, Mt. Prospect, IL
Essential uPAR—What You Need to Know to Choose the Right Reading Accommodations
Recorded November 2017
Think you know what reading accommodations your students need? You may be missing the most important part!
Hear from Dr. Denise DeCoste as she shares her experience as an OT, special educator, and developer behind uPAR—a protocol that helps educators make data-driven decisions on reading accommodations.
Dr. DeCoste will cover:
Strategies for uPAR implementation
Reading modifications vs. accommodations
Social-emotional impact of dyslexia
Schools transformed by making better decisions with uPAR data.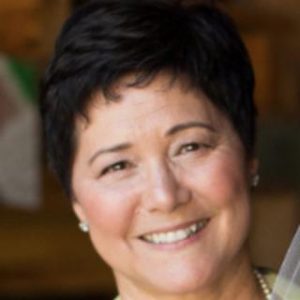 About the Presenter: Dr. Denise DeCoste, the author of PAR (Protocol for Accommodations in Reading) and uPAR (online version of PAR), is an occupational therapist and a special educator with 30 years of experience in the field of assistive technology. She led two AT teams (InterACT and HIAT) in Montgomery County Maryland Public Schools for 22 years. She received her doctorate in education and human development in 1993 with a dissertation focusing on using assistive technology to improve the spelling and writing development of students with severe speech and physical disabilities.
5 Steps to Implementation Success with Co:Writer and Snap&Read
Recorded October 2017

54 campuses, 48,000 students, 92 languages, and…One set of instructional tools that will support all learners!
Round Rock ISD, Texas needed instructional tools to support access, participation, and progress for a diverse student population. Special Education Supervisor Angela Solis believed Co:Writer and Snap&Read Universal fit the bill.
From assessment to success, hear how Angela's 5-step implementation plan sparked district level enthusiasm to create the change teachers and students needed.

Presenter: Angela Solis,
Special Education Supervisor
Round Rock ISD, Texas
Transforming Schools Through Universal Design: Accommodations Go Mainstream!
Recorded September 2017

Dr. Eileen Garza and Kathryn Bonds are passionate educators who transformed their Houston-area district by providing curriculum access accommodations to all students. Collaborating with teams across Tomball ISD, they went from pilot program to district-wide implementation creating amazing outcomes!
Join us to learn how you can follow their 4 stage process to transform your district, too!
You'll also:
explore text-to-speech as a support to grade level content
relate tech supports with common testing accommodations
examine opportunities and barriers to implementing instructional supports
identify sources of meaningful outcome data
Presenters:

Dr. Eileen Garza, OTR, ATP/SMS, PhD is an occupational therapist by profession and has provided assistive technology services to Houston area school districts since 1988. She is a firm believer in providing access to curriculum regardless of a student's eligibility and thus loves the concept of universal design for learning as an intentional process. Dr. Garza was instrumental in the implementation process for the curriculum access tools, Snap and Read Universal, Co:Writer Universal and Universal Protocol for Accommodations in Reading, as them moved from proposal to pilot and then district wide implementation.

Kathryn Bonds is a Special Education Content Specialist who works with teachers and administrators to maximize the time spent with students to ensure learning and growth. She has supported teachers through providing professional development to them as well as using a collaborative problem solving model with teachers to build teacher capacity. Kathryn is trained in dyslexia and special education. Kathryn holds a B.A. in Special Education from Purdue University. She is currently working on her M.Ed. in Curriculum and Instruction from Sam Houston State University.
First Scribbler! First Writer! First Author!
Recorded September 2017

Classrooms supporting students with significant delays in writing ability and those who barely make a mark on a page have been getting on the path to writing through the researched-based First Author Writing Curriculum.
Whether starting in Elementary, Middle, or High School with students who are First Writers, this curriculum provides lessons to teach why we write, develops a desire for writing, and can help educators create a community of authors in their classrooms!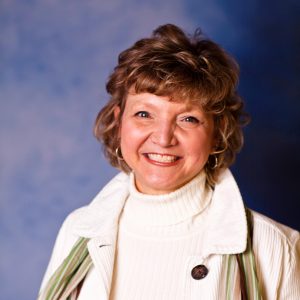 Presenter: Kelly Fonner, MS
Educational Technology & Assistive Technology Consultant
Implementing First Author Writing Curriculum in My Autism Classroom!
Recorded May 2017
Learn how you can dive in and get started with the only writing curriculum for students with complex needs! ESE teacher Julia Reckord shows you how she implemented First Author Writing Curriculum in her autism classroom.
You'll see a First Author Curriculum Lesson and witness the progress Julia and her students have made with writing!

Presenter: Julia Reckord is an ESE teacher at Oscar J. Pope Elementary School in Lakeland, Florida. Julia has been teaching for five years.
What's New in Snap&Read Universal—Spring 2017!
Recorded March 2017
View this on-demand webinar and see the new supports in Snap&Read including Outline Templates to guide reading, Study Tools, downloading & printing outlines and sources, and more…
We also show you Snap&Read for iOS—Now on iPads!

Presenter: Dustin Vanderploeg, Educational Support Specialist
Taking First Author Curriculum to the Classroom
Recorded March 2017
Long-time special educator Mary Chamberlin shares how she implements First Author Writing Curriculum in her special education classroom. Her students are going far beyond copying and tracing—they're writing for communication and are preparing for the alternate assessment. Learn how you can do the same in your district!

Presenter: Mary Chamberlin has been teaching for the Western School District in Michigan for 29 years. She has taught five years in the general education setting as well as 24 years in special education in grades Kindergarten through 5th grade.
Watch Online
The DeCoste Writing Protocol
Recorded January 2017

New college and career readiness standards emphasize writing in the classroom for all students. Students are required to write routinely for long and short periods across a range of tasks. And with students using computers at an earlier age, we need to consider if technology can help them meet classroom demands.
Your district needs a process to evaluate writing issues for students with disabilities. Unfortunately, many districts don't have a systematic way to do this.
Join author Dr. Denise DeCoste as she shares her research on the subject and walks us through her DeCoste Writing Protocol (an important update to her original book, Assistive Technology Assessment: Developing a Written Productivity Profile, first published in 2004). The formative assessment tool helps educators identify factors affecting an individual student's ability to produce writing. The Writing Protocol compares a child's individual performance across handwriting and keyboarding tasks. It examines spelling performance and writing skills so educators make more informed decisions about instructional strategies and the appropriate use of technology to meet classroom demands.
Bring your team and learn how you can use the DeCoste Writing Protocol to make sure your students have access to the tools they need to support their writing! If you own the 2004 edition, it's time to retire it—updated research, updated protocol!
College and Career Ready Challenge Series: Helping Students Meet Writing Expectations with Co:Writer Universal
Recorded October 2016
New College and Career Ready standards have increased writing expectations. Students are expected to write extended responses to assessment questions and compose online. Yet, most students with disabilities face significant challenges with these tasks.
In this webinar, you will learn how to improve your students' writing skills using Co:Writer Universal with Grammar- and Vocabulary-smart Word Prediction, Topic and Momentary Dictionaries, and Built-in Speech Recognition.

Presenter:Brenda Bender
See the Latest in Co:Writer and Snap&Read Universal
Recorded September 2016
Co:Writer Universal uses smart word prediction to help students write better across devices. Topic Dictionaries support college and career vocabulary. Built-in speech recognition gives students a new way to get their ideas out. Students can write with Co:Writer anywhere on their iPads with the Co:Writer iOS keyboard!
Snap&Read Universal reads both accessible and inaccessible text across websites, Google Drive, Amazon Kindle Reader, and Bookshare. Dynamic Text Leveling supports helps students read complex text. Translation (100+ languages) supports ELL/ESL students. And study and outlining tools help students better comprehend content.
Watch Amy D'Aquila present a demonstration of Snap&Read and Co:Writer Universal, and see how these tools will support diverse learning needs!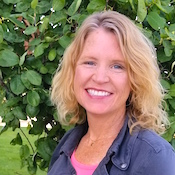 Universal Accommodations—From Vision to Reality
Recorded March 2016
Darren Avey had a vision for assistive technology in his district. He wanted to give his students UNIVERSAL access to reading and writing accommodations so they could succeed in their inclusion classrooms and on the assessments. His accommodations needed to work across multiple platforms in schools and homes including Google Chrome, Windows, and Mac.
Darren made his vision a reality across his 32 school campuses, and in this webinar he will share how he got there. You learn the steps he took to bring Co:Writer and Snap&Read Universal to his district from vision, rollout, training, to watching his students tackle grade level materials with their new accommodations!

About the Presenter
Over the last 20 years, Darren Avey has worked in the Texas area schools and education service centers in a variety of roles, including resource content mastery teacher, technology manager, and since 2005, has taken over all special education technology for the 32 schools in Tyler, Texas.
Inclusion 2.0—What's in Your Toolbox?
Recorded January 2016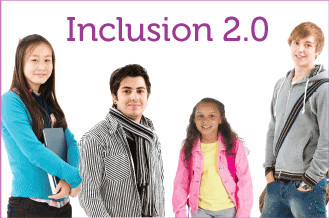 Inclusion 1.0 gave students with IEPs physical access to the same education as their peers. But too often the support wasn't there to make them successful in these settings. Inclusion 2.0 changes this. Instead of stopping at physical inclusion, it focuses on helping students succeed in their classrooms.
There are three main shifts from Inclusion 1.0 to Inclusion 2.0:
Students must fail before getting support —> Needs are identified with data before students fail
Reliance on staff for support —> Personalized accommodations help students become independent
Progress tracking is used for compliance and reporting —> Data is used to inform instruction and prove outcomes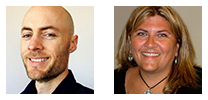 In this webinar, Ben and Trish show you how Don Johnston's tools are designed to help you achieve Inclusion 2.0. First, needs are identified proactively with uPAR. Then personalized accommodations including Co:Writer and Snap&Read give students fluid access to the curriculum across devices. Finally, data from these tools proves outcomes and gives feedback.
Recorded January 2016
SPONSORED ATIA WEBINAR — Smart Data, Safe Students: Harnessing Data While Protecting Student Privacy

Apps and extensions can send just about anything they want to any server they want anywhere in the world. In fact, it's likely that student information is being transferred from your school computers to the cloud right now.

What data is being collected by your apps and extensions?
You will be shocked.
Where is the data stored?
And what rules control how that data is handled? Keep in mind many data servers are located in foreign countries.
What if a parent requested all of the data held by your technology vendors?
They can by law.

In this Don Johnston, Inc Sponsored Webinar, accessibility leader Mike Marotta helps answer these questions and give you criteria to use when selecting apps and extensions that will keep your student data safe. From COPPA to FERPA, he has synthesized the regulations and requirements. Mike also shares the student-safe way Don Johnston Inc is protecting student privacy with data collection in Co:Writer and Snap&Read Universal.
Watch this webinar to learn what you can do to better protect student data — and keep your students safe!
Thinking Ahead to Testing—What If We Get Our Accommodations Wrong?
Recorded September 2015
With all of the changes to assessments and expectations over the past couple of years, it is never too early to start thinking ahead to make sure your students are prepared. Think about the potential impact to your students if they are using the wrong accommodations. What happens if their accommodations aren't determined early enough?
From PARCC to Smarter Balanced to STAAR and more, each state has their own rules and regulations regarding allowable accommodations. BUT … No matter what state you are in, certain rules and conditions must be covered to make sure your students are set up for success. Ruth Ziolkowski joins us to discuss what you need to consider as you begin this school year, including a data-driven approach to address accommodations.
In this 30-minute webinar, Ruth will introduce you to uPAR and share how personalized accommodations like Snap&Read Universal give your students fluid access to the curriculum across devices.
Join us (bring your team!) to learn what you can do now to make sure you are ready when testing season begins.

About the Presenter
Ruth Ziolkowski is the President of Don Johnston and a member of several education boards such as Accessible Educational Materials, ATIA, and Bookshare. In addition, Ruth has acted as liaison between the assessment consortia and AT field.
How to Prepare Your Students for New Testing Accommodations in Texas
Updated August 2015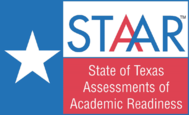 Students in Texas are facing higher expectations in the STAAR testing. Which means it is more important than ever that students are prepared with the best accommodations.
In this webinar, Darren Avey will outline the programs he implemented in 32 Texas schools to prepare for testing accommodation changes in Texas. He will share stories about what worked well and what didn't.

About the Presenter
Over the past 20 years, Darren Avey has worked in the Texas area schools and education service centers in a variety of roles, including resource content mastery teacher, technology manager, and since 2005, has taken over all special education technology for the 32 schools in Tyler, Texas.
Going Google: Accessible Reading and Writing with Co:Writer and Snap&Read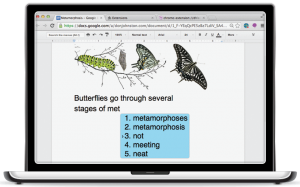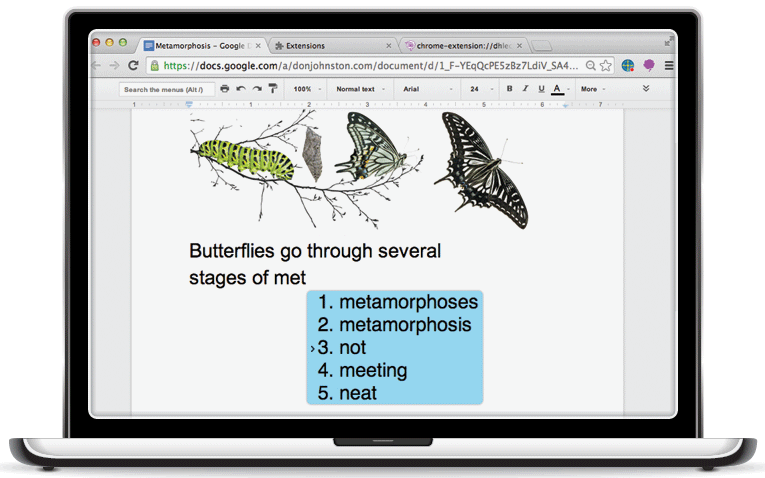 Recorded August 2015
Google Drive, Google Apps, Google Extensions … It's official. Schools are "going Google" and fast.
In less than a year, over 184,000 students got access to Co:Writer and Snap&Read Universal—tools they need to read and write across Google. They have their favorite word prediction, some incredible new reading supports AND student-safe data collection.
In this webinar, Google expert and accessibility leader, Mike Marotta, shares how districts are using Co:Writer and Snap&Read Universal to help their students read and write across Google. He will share how you can do the same and instantly track usage and qualitative data that helps implementation.
Whether your district is just beginning to consider Google for your students or have already "gone Google," this webinar will help you make the best accommodation decisions possible.
Alternate Assessment and Reading: Instruction That Gets Outcomes
Recorded July 2015
The new assessment standards have changed reading expectations for your students with complex needs. Your students are expected to read with comprehension, which is a big shift from earlier alternate assessments and many students have been left unprepared.
NSSEO Technology Director Mary Ann McGinn joins us for this new 30-minute webinar to share her district's journey as they shifted to Start-to-Finish CORE Curriculum, a comprehensive reading curriculum designed to develop core reading skills and comprehension and help them prepare for the new DLM Alternate Assessment.

About the Presenter
Mary Ann McGinn, a former special education teacher, is the Technology Coordinator for the Northwest Suburban Special Education Organization (NSSEO) in Mt. Prospect, IL. NSSEO provides a wide variety of professional development programs which are rich in research and based in best practices.
Recorded July 2015
Chrome as AT: What You Need to Know
Chrome Accessibility 101
From Chromebooks to Google docs, Google for Education has exploded. The devices and apps change just about everything you know about accessibility.
In this webinar, accessibility leader Mike Marotta will share  what you need to know to support accessibility on Chromebooks and Google apps on the Chrome Browser. Mike will also share literacy-based accessibility tools Co:Writer Universal (word prediction) and Snap&Read Universal (text reader and leveler) with you.
Join us for this webinar and learn how you can give all students the accessibility they will need on your new platforms.

About the Presenter
Mike Marotta is well-recognized for presenting on Google Apps for Education and Google Chromebook Accessibility issues. He has been an innovator in the field of assistive technology for over 20 years. Starting as a provider of direct services in his first professional jobs, Mike has transitioned to a leadership role within the assistive technology community that has seen him impacting not only service provision but systems change and pre-service training for new professionals. He also worked with Kirk Behnke in the development and delivery of the Assistive Technology Applications Certificate Program (ATACP) at California State University, Northridge (CSUN).
Building First-Time Readers, 30 Minutes a Day with Start-to-Finish CORE Curriculum
Updated March 2015
"New curriculum standards are changing literacy expectations for ALL students, including students with complex instructional needs. Unfortunately, few of our students with complex needs experience real literature through chapter books.
Our goal while designing Start-to-Finish CORE Curriculum was to help teachers give students instructional access to real literature and many of the same book titles their peers are reading in general ed. The curriculum structures instruction so students with complex needs learn the skills needed to construct understanding while reading and/or listening.
The result?
Students are now able to hold and read chapter books for the first time, including classics like Huckleberry Finn, Frankenstein, and Anne Frank—just like their peers.
Join me in this webinar. I will share the research behind the curriculum and how to use it effectively to meet the new standards, and more importantly to unlock the potential hidden in our students."
Dr. Karen Erickson
Center for Literacy and Disability Studies
University of North Carolina—Chapel Hill

About the Presenter
Dr. Karen Erickson is the Director of the Center for Literacy and Disability Studies. Her research addresses literacy assessment and instruction for struggling readers of all ages including those with significant disabilities. In addition, Dr. Erickson is the Associate Director for the Dynamic Learning Maps alternate assessment consortium.
Can Your Low-Incidence Students Become First-Time Authors?
Building an Effective Writing Program with First Author Writing Software
Recorded October 2014
No Child Left Behind didn't even mention writing, but with new rigorous state standards, writing is back in focus—even for your students with complex instructional needs who will take the alternate assessment.
But how do you move these students move from a focus on letter forming to really writing?
Join Dr. Janet Sturm as she outlines the critical elements of a highly effective writing program designed for students with complex needs—including writing structure, accommodation, and measurement. She will share how each of these elements are embedded in First Author software.
Writing Structure: Emergent (and non) writers need guidance to independently plan, compose, revise and then "publish" their writings.
Accommodation: The writing of typically-developing students start with scribbling and drawing. It's crucial that students with physical and cognitive disabilities have the accommodations they need to progress through each developmental stage.
Measurement: Students with complex needs often make small gains, and it's crucial to measure and celebrate the smallest movements. First Author Writing Measures help educators identify and track the smallest progressions from scribbling to conventional paragraph writing.
Dr. Sturm will share stories of how these elements have worked together to help real students—just like yours—write in several schools that she has worked with to implement First Author Writing Software.

About the Presenter
Janet Sturm, Ph. D, CCC-SLP from Central Michigan University has spent over 15 years improving writing instruction for students with developmental disabilities.
Looking for more of our archived On-Demand Webinars? Check the blog: