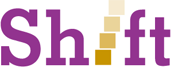 Implementation — one step at a time
New school year. New teams. New technology to learn and implement. We get it — change is hard and there are a lot of people who may not like it.
But don't give up! That is where SHIFT can help. We broke down our implementation framework into small, manageable chunks that you can introduce to your team without overwhelming them.
All it takes to get started is a vision — think of something concrete that you want your team to accomplish by a specific date. Sara, one of our friends in Colorado, downloaded her SHIFT kit and got right to work. She even shared her goals with us on ATcollective! Are you ready to get started?
This Making AT Easy idea was originally featured on ATcollective, your place to come together as a community to share new ideas and ask questions about AT implementation, screening, and more. Join the conversation!