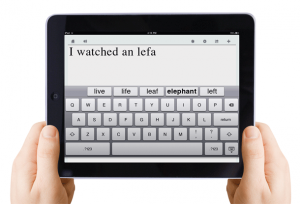 That's write right — the Co:Writer App is here!
We know… Mobile devices are here to stay. And they are showing up in more classrooms and students hands every day. And you all made sure we knew that the other word prediction apps out there just weren't Co:Writer.
All of the writing support you (and your students) love in Co:Writer is now available for your iOS devices — iPads, iPhones, and even iPod Touch devices. From FlexSpell® to Topic Dictionaries, Co:Writer App has you covered.
Did you know…
You have access to over 4 million+ (yes, we're serious!) Topic Dictionaries?


Learn more…

You can tweet, text, email, or even update your Facebook status right from the app?


See how!

You can add (and delete) your own personal words to your dictionary on the fly?


Learn more…
Of course there are more tips and tricks, but those are definitely some of our favorites.
What are other users saying?
"…Amazed at how intuitive it is and how quickly I was using it — especially for emails." – Andrew Leibs, About.com Assistive Technology
"I guess patience is a real virtue especially when it comes to developing apps for Apple's IOS devices… the wait was certainly worth it." – Brian Friedlander, AssistiveTek
"Love is not a strong enough adjective for this feature [being able to sync your contacts to the dictionary] and the app as a whole." – Jill Goodman, AppoLearning
How do I get it?
Co:Writer is now available for download in the iTunes App Store!
Congratulations to our winners!
To celebrate the launch of our new Co:Writer App, we gave away ONE copy of the Co:Writer App each Friday for the rest of October (10/18, 10/25, AND 11/1). All of our winners followed these steps to enter:
1) Like us on Facebook
2) Share this message on Facebook, "Have YOU seen the new Co:Writer App from Don Johnston Incorporated yet?! http://bit.ly/173AK2I #DJImobile"
3) Follow us on Twitter
4) Send a tweet to your friends, "I want to win a copy of the new Co:Writer App from @DonJohnstonInc! http://bit.ly/173AK2I #DJImobile"
And the winners are……
10/18/2013 — Angela Baronello
10/25/2013 — Amy Albenda
11/1/2013 — Amber Aslakson
Congratulations!