< Back
District: Fairfax County School District • Location: Fairfax, VA
Professionals: Shelly Lawrence and Mollie Kropp, AT specialists
Shelly and Mollie describe the premise of accessible instruction materials (AIM) and the benefits for students who struggle to read and write.
Dyslexic Teen Shares Use of Classroom Literacy Technology Tools For Success …After Years of Struggle in School
Thinking back, Nichelle Stewart, now a freshman at Woodson High School in Fairfax County, Virginia recalls that she couldn't wait to start kindergarten. She looked forward to getting on the bus and meeting her first teacher, but her excitement was soon crushed by the dread of reading.
Nichelle found out quickly that she didn't learn like the other students whose reading skills progressed though elementary school. Teachers were stumped why she could not read simple sight words and her words got jumbled up. Throughout middle school, her classmates called her dumb and some teachers thought her to be lazy. "I felt odd; not smart," she said. "I knew that I didn't learn like the other kids and I was jealous of them. They bullied me, so I kept to myself. I didn't socialize or participate in class."
Nichelle's reading issues were ultimately diagnosed as dyslexia. In her first year of high school, she asked her 9th grade teacher, Ms. Ellen O'Ryon, "Is there technology that could help me become a better learner?" Ms. O'Ryon requested the assistance of Mollie Kropp, the Assistive Technology (AT) Resource Teacher and today, the 16 year old proudly displays A's and B's on her report card. Her reading skills jumped four grade levels and she carries a binder with her in school to remind her how far she has come. The binder includes assignments, report cards, inspirational quotes, IEP goals, certificates of achievement and a photo of Whoopi Goldberg, who also has dyslexia. The cover reads… "Failure is Not an Option."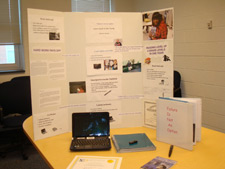 How could this quiet, reserved teenager excel at such a rapid rate after failing for nine years? The solution rested in the hands of insightful teachers and specialists, like Ms. O'Ryon and Ms. Kropp, and a handful of AT tools on a laptop computer. Because of her dyslexia, Nichelle needs to hear content read aloud and the ability to repeat and review subject matter often so that her mind can process the data. "Ms. Kropp changed my life," said Nichelle, "by providing me with these technologies."
Today, Nichelle is the Fairfax County's first Student Technology Ambassador. She is honored by the position and speaks to teachers and parents about her learning journey with dyslexia. Recently, she spoke to 100 Virginia educators in the TOPS program, (Technology Outreach Program Support Team). They wanted to know about the AT tools that led to her ability to succeed at reading, science, math and history. She created a storyboard (see photo left) to demonstrate the literacy tools that continue to help her improve her reading and writing skills.
In her AT toolkit, Nichelle uses four literacy tools daily to keep up with her schoolwork:
• Read:OutLoud, an accessible text reader that reads eBooks, electronic text and the Internet aloud
• Co:Writer, a word prediction tool that improves spelling and grammar
• Write:OutLoud, a talking word processor that reads words and sentences as students write
• A Smart Pen and Livescribe paper. Nichelle can record notes in class and can later listen to any part of the recording to review her notes after the lecture is over. This tool helps her to increase her reading fluency skills because she can read printed materials, then listen to herself to see which words she missed.
Hearing text aloud reinforces Nichelle's ability to comprehend even when dyslexia mixes her words and letters. Through the Virginia district's accessible instructional materials (AIM-VA) she was able to get her curriculum materials in an alternative format and then use the technology and training provided by Fairfax County Public Schools' AT Services to access digital materials and books to support her learning needs.
In one year, this tenacious young teen went from failing to studying on grade level; from sitting in the back of the class to excelling beyond expectations; from dreading school to dreaming of college. Next year, she will mentor other students and help Ms. Kropp build a team of tech-savvy ambassadors. This team will talk with teachers, parents, and peers about the benefits of assistive technology. "If teachers and students learn how to use this classroom technology and advocate for the AT that best accommodate their learning styles, they won't have the experience I did," she said.
For everything Nichelle writes today…essays, emails to teachers, poetry and presentations, she uses Co:Writer and Write:OutLoud assistive technologies. Her favorite tool is Read:OutLoud, the software that reads eBooks and the Internet. Read:OutLoud also has a variety of homework tools that help her collect data, organize notes, do research and accurately cite a bibliography.
Mr. Adam Entenberg, Assistant Principal at Woodson, said, "Nichelle is a role model. With the support of her teachers and the technology, she had the fortitude to move beyond her learning challenges. She can now do anything she sets out to do; including attending college. It will be great to celebrate more of her achievements throughout high school."
With a precious smile, Nichelle credits her mother and grandmother who kept her going. She also has many new friends and is especially grateful to Ms. Kropp for providing the literacy tools and accessible books that helped her comprehend required courses.
"Typically, there's no looking back," she said, "but I want others to learn from my experience. I hope more teachers will see the benefits that assistive technologies can have for students and provide these tools as early as possible in school.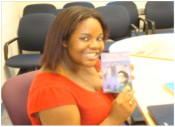 Nichelle is holding Building Wings, Don Johnston's autobiography written for students. "I felt like I was reading my story," said Nichelle. Ms. Kropp noted that she would read chapter 5 over and over again weeping as the words described her own struggle in school.