The Mind in a Jar

On December 8, 1995, Jean-Dominique Bauby suffered a massive stroke that left him in a coma. After 20 days, the 44 year-old French journalist work up terrified to find himself a victim of a biological mishap which left him unable to move. Bauby's contorted body looked like an empty container, but inside remained a brilliant reservoir of emotions and ideas dripping out one letter at a time. Tapping into this reservoir, Mr. Bauby composed the book Le Scaphandre et le Papillon, through 200,000 partner-assisted scanning blinks using only his left eyelid. The book became an international bestseller and was produced into the film The Diving Bell and the Butterfly.
You may not work with a brilliant journalist turned into a mind in a jar, but Bauby's plight should make us consider how we assess the potential of individuals when they can't speak for themselves. If his conversation partner, Claude Mendibil, would have made any assumptions about Bauby's abilities based on his physical state, Bauby may have had no way to communicate. If she presented a system other than the alphabet, he may not have had full range of expression. She not only determined that he was still able to communicate with the alphabet, but the alphabetic system allowed him to communicate and fully express himself, albeit slowly. How can one's potential be assessed until the right door is opened?
Traditionally, only two doors were available for people who are non-verbal: symbol-based AAC systems designed for people without literary skills, and alphabetic (text) based systems designed for people with advanced literary skills and input speed.
The power of the alphabet is unparalleled for those capable of using it. Despite his condition, Bauby's writing, while slow, was not limited. He had complete freedom of expression because he had access to the alphabet. This was his communication system:
E S A R I N T U L O M D P C F B
V H G J Q Z Y X K W

Today, we introduce Improv™, a new way to communicate with that alphabet. Improv relies on the alphabetic system, but it's unique because it continually learns and adapts to the user, collecting the words they use and the statements they make. The more Improv learns, the more it becomes an extension of each user by infusing their own unique vocabulary and sayings into their communication.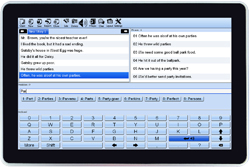 It also
demolishes the notion that communicating with the alphabet requires advanced literacy skills and input speed
because it features
Co:Writer
word prediction. With
Co:Writer
, even your most beginning spellers have the precise word or phrase at their fingertips just by entering a few letters.
Improv opens the door to communication and keeps it open allowing people to release their reservoir of emotions and ideas so that ALL can see the individual in the jar.
Want to get our LeaderLink Newsletter delivered right to your inbox?