By Ruth Ziolkowski
A few weeks ago, I visited New York City schools to see first-hand the excitement they were generating with First Author Curriculum.
New York City has a writing initiative made famous by Staten Island's school turnaround article featured in The Atlantic. Like many other districts, they see how writing cements learning across subjects. Writing is in focus across the district.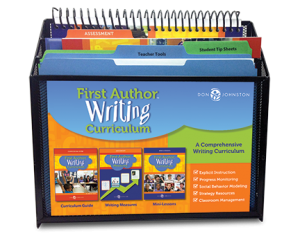 First Author Writing Curriculum was a natural fit to drive instruction in their self-contained autism classrooms. They wanted to grow students from forming letters to writing with letters.The curriculum's scripted lessons give educators the resources they need to implement best practices with fidelity. In a matter of months after rolling out the curriculum, classroom teachers were up and running and took ownership to train other teachers.
The excitement showed everywhere!

Cork boards in hallways pin up proud students under the question, "Who is an Author"? Banners at each school prominently display student writings under the statement "Everyone is an Author!" They completely envelop writing across their environment—clearly communicating the importance of writing.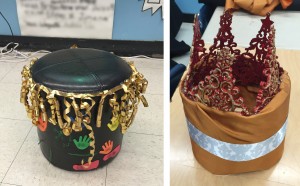 Student writings vary from scribbling to early paragraphs. The topics range from family to pets to pop culture. It's truly authentic writing.
Classrooms show their creativity as they create a special spot to honor the author during Author's Chair presentation. This gives students the opportunity to present their writings. One class created a special Author's Chair and another class created an Author's Crown. The kiddos are sad when writing ends.
Poster boards set expectations and guide the process.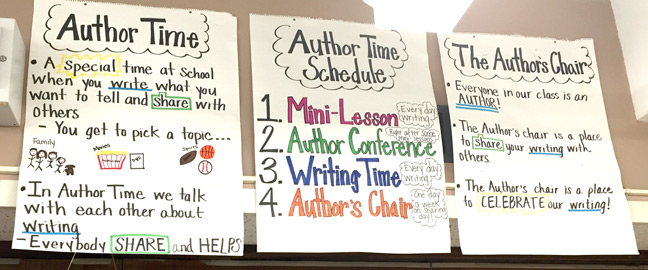 The "Author Time" poster sets the schedule of expectations:
Mini Lessons (every day)
Author Conference
Writing Time (every day)
Author's Chair (once a week)
The leadership is excited at all levels because students are reaching far beyond expectations and teachers are teaching with fidelity. But ultimately, what struck everyone most, myself included, was that First Author helped change the belief about what the students could do. It's a culture shift. Prior to First Author, many students didn't even see themselves as being able to write, now they consider themselves Authors!

Ruth Ziolkowski
President, Don Johnston
~ Ruth
Want to get our LeaderLink Newsletter delivered right to your inbox?
Subscribe Now