by Houghton Mifflin Harcourt Learning Technology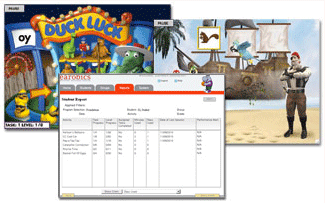 Earobics is a popular software program that helps students who are lacking phonological awareness and the ability to notice and manipulate individual sounds in words.
Earobics builds phonemic awareness, auditory processing and phonics skills. Developed by language-learning and literacy specialists, Earobics teaches the skills necessary to learn how to speak, read and spell. Use the automated data collection tools to monitor students' progress, print reports and guide remediation. For each activity, Earobics automatically generates IEP-formatted goals.
Easy-to-use management tools that give you control of the learning process
Increase reading, speech and comprehension through phonological awareness
Use phonemic training to build spelling skills
Increase reading speed and comprehension
Help students struggling with speech and language
Effectively use collected data to monitor student progress
Literacy Curriculum Planner (PDF)
Earobics Foundations
Developmental ages 4 to 7. Instructs in the foundational phonological awareness and auditory processing skills such as auditory processing & memory, phoneme identification, sound blending, segmenting, rhyming and sound discrimination. Features six interactive learning games with over 300 levels of play (some games are switch accessible)
Earobics Connections
Developmental ages 7 to 10, instructs in all of the skills targeted in Foundations but at higher levels. Includes insertion, deletion and substitution of sounds to make new words. More advanced phonics skills and oral language processing skills are covered. Features five interactive learning games with nearly 600 levels of play.
Earobics 1 for Adolescents & Adults
Concentrates on phonological awareness and processing skills such as segmenting, blending, rhyming and sound discrimination. Designed to fill in the gaps for older readers with cognitive and linguistic reading difficulties. Older students will read faster, spell better and improve their comprehension. Adolescent/Adult version is an older version and not Win 7/Mac OS 10.6+ compatible.
READY TO BUY? (USA Only)
>Buy Now Online   >Request a Quote   >Call 800.999.4660
Earobics
 
Code
Limit of Student Users per computer*
Price
Foundations Clinic CD v3.0
R52WB
6
$450.00
Foundations Home CD v3.0
R16WB
2
$99.00
Connections Clinic CD v3.0
R60WB
6
$450.00
Connections Home CD v3.0
R17WB
2
$99.00
Earobics 1 Adolescents/Adults
R50WB
6
$329.00
IMPORTANT UPDATE: 

System Requirements are Windows 7, XP, or Vista, or MAC OSX 10.2.x to 10.5, 10.6. Newer versions of Windows and Mac are not supported.


Read Earobics reviews here, or click to write your own product review.
Write a Review
Lisa's Earobics Review
By Lisa Loscos California
Product Setting: In an SDC or RSP classroom, also as an intervention for students at-risk. Skill Development: Phonemic awareness, auditory attention.
I have used this product for almost 8 years and still highly recommend it. It reinforces skills individually and can be tailored to the specific skills you want the student to work on. The Clinic version is much better than the Home, as you can't customize or keep data like you can with the Clinic version (thus the great price difference).

Earobics
By Reviewer from Illinois
Product Setting: Special Education. Skill Development: Used to increase literacy skills, particularly aids comprehension.
Program has built in progress monitoring system, which is very useful. Also, it is very engaging for students. Used the program to target phonological awareness skills.

Earobics
By Reviewer from Kentucky
Product Setting: K-12 ESL . Skill Development: For early development of ESL students.
All teachers love to supplement their writing instruction with earobics to maximize ESL student English acquisition.

Best of Auditory Listening Software
By Merianne Wright, Texas
Version: Step 1 and 2. Product Setting: Speech therapy classroom. Skill Development: Auditory listening, sound blending, sound awareness, phonemic awareness.
I have worked with this product and frequently recommend it to parents of language disordered children, especially low readers. I have had wonderful results from parents using this at the same time as I use it in therapy.

Barbara's Earobics Review
By Barbara Stimson, Colorado
Product Setting: Inclusion Classroom. Skill Development: Improved phonemic awareness for students with learning disabilities, mild cognitive disabilities, and autism.
This program has provided a means to easily track student progress in a way that meets the standards for research based. It also makes a reasonable targeted intervention for students from general education classrooms.

My Earobics Experience
By Reviewer from Oregon
Product Setting: Home setting. Skill Development: Improve phonologic awareness for child with apraxia and possible other phologic processing disorder.
Seems like a good idea from my perspective, but my then-five-year old hated it. It moved too fast for her and was very frustrating. We are still testing and may find that she has a slight processing issue, which may explain her dislike for this. I think she needs a little more time to accomplish the tasks in Earobics.

Diane Loves Earobics
By Reviewer from North Dakota
Earobics Step 1 & Step 2. Product Setting: Elementary classrooms with students who are included with regular education peers and with students on intervention plans. Skill Development: Improve phonemic awareness skills so oral reading fluency goals can be reached.
These two pieces of software are the most often requested when I ask staff what they want. I visited with a student recently regarding this and he said that he likes the games because they are fun. His teacher told me that his reading graphs are closing the gap to average and she feels that Earobics is helping. Recently when our district started pulling all of the OS9 machines out of the building, I started getting calls from teachers and from the IT staff complaining that they now needed to have their software replaced and would not let their OS9 machines out of their rooms until the IT people proved their WIN/MAC versions would indeed work on their replacement Dell pcs.

Earobics
By Katie Stimpson, Idaho
Earobics Step 1. Product Setting: 2nd grade classroom.
Our school purchased 2 of the Level 1 programs this Fall and we are in LOVE with it. We actually have just ordered Level 2 and we have a waiting list of kids to get on the program. I have one student who has had 1 1/2 years of kindergarten and 1 1/2 years of first grade. He has also been receiving Title 1 support since kindergarten and is still only reading 17 words per minute. Needless to say, he has a very low self esteem and has no desire to come to school. We gave him the CTOPP and placed him on Earobics. After 3 sessions of about 20 minutes each, he had received 27 bubbles and he is on FIRE!!! He now has asked to do Earobics before and after school because he doesn't want to miss any activities and he surely doesn't want to miss his computer time. Mom and dad are also on board and getting him level 2 for the summer.
It has been amazing to see his self confidence and desire to learn soar since he started on Earobics!!!
I am SOLD on this product and I am actually hoping to buy my own "clinician" program for my classroom next year so I can serve the needs of my student better and not have them on the school waiting list. I had 2 parents who have already purchased the level 2 home version and the kids are loving it. I currently have 6 of the 12 kids on the program from my classroom and I have talked to other parents about getting the program for the summer. The growth has been incredible!!!