< Back
District: Westerville City Schools • Location: Westerville, OH
Leaders: Melinda Reames
Westerville implements SOLO district-wide in a Response to Intervention (RTI) setting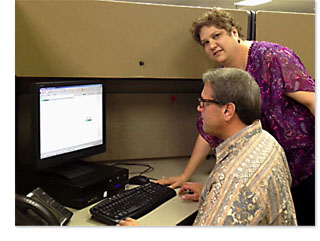 "Write:OutLoud has changed how he writes," said Bill R. of Westerville, Ohio, of his fifth-grade son, Chris. "Instead of rushing through a report we spend nearly three times the time to get it right. The constant reading/feedback the software gives allows him to work at his pace and doesn't require me to read it to him over and over to correct grammar or spelling errors."
This is just one of the success stories that teachers, students, and parents throughout Westerville City Schools have reported after the district purchased a district-wide license for SOLO 6, a literacy suite of the most popular assistive technology accommodations (text reader, word prediction, talking word processor, and graphic organizer) produced by Don Johnston Incorporated. Here are some other examples.
A class of first graders mastered the basics of writing in record time. Their teacher said concepts that formerly took days or even weeks to learn came together almost immediately.
One middle school teacher reported that her students, who previously resisted writing, now want to write every day—even the kids with autism. "I've created a monster," she said jokingly, noting that the class wants to write all the time, sometimes to the exclusion of other subjects.
The performance of a severely dyslexic and dysgraphic student improved dramatically after he started using SOLO. "It has allowed him to be successful in the content," said Melinda Reames, coordinator of special education for Westerville City Schools in Ohio.
What makes Westerville's application of this technology unique is that the district purchased a site license covering school and home access for every student in the district, from preschool through adult education. This includes 23 schools and more than 15,000 students. Hoping to provide support for the most possible students, Reames created an Assistive Technology Task Force to answer the question: "What would meet the needs of our students district-wide around reading and writing?" After testing products from several different manufacturers, the task force selected SOLO because of its adaptability and the instructional benefits it provided.
The results have been even more successful than school leaders had dared imagine. "The integration of all the components together makes it a total solution package," Reames said. "SOLO allows students to perform academic tasks in writing and reading in a seamless fashion. Furthermore, teachers are able to customize and scaffold their work with students." Westerville purchased its SOLO district-wide license in May 2011 and installed it on all desktop computers in the district. In May 80 staff members received a full-day training session on using SOLO. Another 120 staffers got a less-intensive overview of the product.
"I felt like a kid in a toy store," commented Christina Rupp-Poole, interventions specialist at Westerville South High School, about her training. "I'm sure I said 'This is so cool' with instruction in each new feature." One aspect that makes Westerville's use of SOLO so successful is integrating both school and home use. "We really felt the kind of support that SOLO provides was definitely something that students needed access to at home as well," Reames said. "And the only way to get the use at home is to provide training through the school."
At this point, nearly 200 parents have been trained in using SOLO. "The response has been phenomenal," said Reames. "Parents are excited about the software and the opportunity to get training."
"The training was very helpful," said parent Bill R. "That's where we saw the pieces of the program, and I had both my kids with me. They both were excited to see it and play with it right after seeing it."
SOLO benefits students from the first grade through post-secondary levels. Poole showed the program to a 23-year-old who had always struggled with writing. "Here was this incredibly technically intelligent young man having a venue that allowed him to focus on his strengths rather than his learning challenges," she said. "I watched the intellectual process as he typed and listened to his solution AND his words."
Westerville sees its use of SOLO as an investment. For instance, using SOLO in a Response to Intervention (RTI) setting mitigates the need for specialized instruction for some students. "We don't need to identify as many students as disabled," Reames said.
But the real beauty is that the application is so broad. "SOLO is being used everywhere," said Reames, "from students with disabilities to students in the International Baccalaureate program. It is designed to support students who struggle with the reading and writing process, but it also can take persons who have competencies to a higher level." Furthermore, students—especially those with disabilities—enjoy reading Don Johnston's book Building Wings online. They find the book, which chronicles Don's struggle with learning disabilities while in school, both enlightening and inspiring. "His book has been an inspiration for many of them," Reames said. "He proves that having a disability is not a life sentence."
"SOLO is an amazing program," concluded Poole. "I would absolutely recommend it as an educator and a parent." Bill R. echoed that sentiment from a parent's point of view. "SOLO is a great tool to use for the kids," he said. "And it helps me by freeing up time so I don't have to stand there and help read each sentence. I love it."