< Back  
District: Fulton County Public Schools  • Location: Fulton County, GA
Leaders: Shonda Golden, Velita Cochran
Download full case study (PDF)
Fulton County, GA was created a district-wide 'writing with technology' initiative to impact the writing skills of hundreds of students with special needs. They used SOLO to develop a peer-to-peer editing process using a writing rubric on capitalization, usage, punctuation, and spelling. Her student's liked the collaborative learning approach and using the computer to write papers. At the end of the school year, Ms. Cochran, Shonda Golden, and several of their colleagues were presented with an award and recognized as early classroom adopters who bridged daily instruction through the use of assistive technologies.
Students Recognized for Writing Skill Improvement— Teachers Recognized for Innovation Using Assistive Technologies
Don Johnston and his team wish to congratulate the students and teachers at Fulton County School District, GA for winning the 2009 Yes I Can! Award and the Innovation Awards for Promoting Excellence in the Classroom. These awards were presented by the Foundation of Exceptional Children in May at a special evening ceremony we were honored to attend.
Shonda Golden, AT Specialist, Fulton County, GA, talks about her district's 'writing with technology' initiative and celebrates teacher collaboration across the curriculum.
We watched 360 students from across the district proudly recognized for their outstanding achievement and writing skill success. Seventy of those students won the Yes I Can! Award for improvement of overall writing gains with the use of the SOLO Literacy Suite, (reading and writing assistive technology) developed by Don Johnston.
Yes I Can! Award
Teachers in three schools received the Innovation Awards to Promote Excellence in Their Classrooms.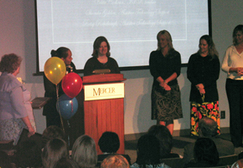 This was a touching event for us as we watched Mrs. Elizabeth (Betsy) Rohrbaugh (in colorful skirt) and Ms. Velita Cochran, (in the white blouse) two outstanding teachers at Northwestern Middle School, Fulton County, accept this award.
Read their case study to learn about the creative and innovative teaching ideas they used with SOLO to improve students' reading and writing skills in general and special education classes.
Mrs. Rohrbaugh, Ms. Cochran and other fantastic teachers were honored by their colleagues and distinguished members of the Foundation and School District, including Dr. Vickie Perdue Scott, Executive Director of Services for Exceptional Children, Dr. Vicki Denmark, Assistant Superintendent of Student Services and the School Board and Sara Snyder, Director, Instruction for Students with Disabilities.
2009 Vendor Partner of the Year
Dr. Scott presented our company with the 2009 Partner of the Year Award for outstanding service and support. Wow! What an honor from the Fulton County School District.
Trisha Johnson, VP of Sales and Services, received the award on our behalf. Trish is joined here in the photo by Mrs. Rohrbaugh, Shonda Golden and Dr. Scott. She said, "There is nothing we can't do together to achieve success for all teachers and their students!" YES WE CAN!
About The Foundation for Exceptional Children Yes I Can! Awards
In 1981, The Foundation for Exceptional Children in Fulton County established the Yes I Can! Award ceremony for the purpose of acknowledging the achievements of the children and youth with disabilities to:
Overcome barriers caused by public misconceptions
Encourage children and youth with disabilities to seek their greatest potential
Increase public awareness of the abilities, aspirations and personal qualities of persons with disabilities