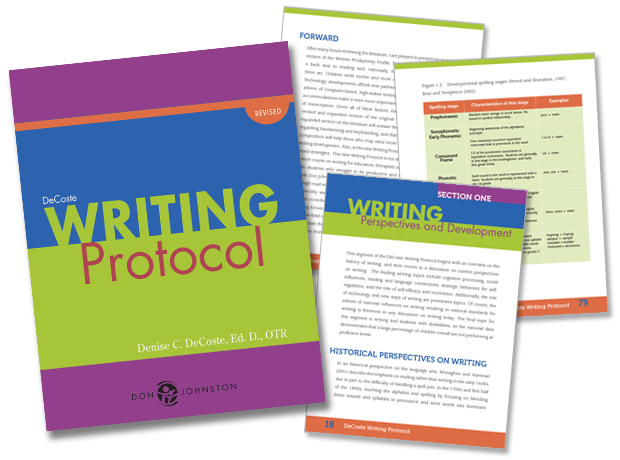 In this age of accountability and assessment, your district needs a process to evaluate writing issues for students with disabilities. Unfortunately, many districts don't have a systematic way to do this.
The DeCoste Writing Protocol is a formative assessment tool that helps educators identify factors affecting an individual student's ability to produce writing. The Writing Protocol compares a child's individual performance across handwriting and keyboarding tasks. It examines spelling performance and writing skills so educators make more informed decisions about instructional strategies and the appropriate use of technology to meet classroom demands.
The DeCoste Writing Protocol evolved from Dr DeCoste's original book, Assistive Technology Assessment: Developing a Written Productivity Profile, first published in 2004. Much has changed over the last decade—fueled by advances in technology and insights from new research, including:
Increased focus on writing in the classroom
Students using computers at an earlier age
New College and Career Readiness Standards emphasize the importance of daily writing across different "types" of writing
The DeCoste Writing Protocol takes these changes into account. The scoring has shifted substantially to accommodate the shifts.
New research findings summarized in the DeCoste Writing Protocol provide important background information on writing development for typical students and those with disabilities. New national accommodation policies make it imperative that teachers provide evidence of writing deficits for students with documented writing disabilities. For educators, digital age opportunities afford us the ability not only to create e-books, but also to provide a way to digitally network and engage in discussion on important writing topics related to students with disabilities.
For all of these reasons, it was time to update the protocol, as well as to update the accompanying information on writing to take account of the most recent research.
What's New?
Writing the alphabet unaided from memory
Fast sentence copying task
Spelling analysis based on linguistic knowledge
Extended writing task
About the Author
Denise DeCoste, Ed.D., OTR
Dr. DeCoste is an occupational therapist and a special educator with over 25 years of experience in the field of assistive technology (AT). For 22 years, she was an assistive technology team leader for the Montgomery County Maryland Public Schools (InterACT and HIAT Teams). Recently, she was the governor appointed chair of the Maryland UDL Task Force. Denise is the author of three books on assistive technology. She presents at national conferences and lectures regularly in school districts across the country on AT related topics.
READY TO BUY?
Price:
$25 for an individual practitioner
$529 district-wide
Call us at 800.999.4660

Click to write your own product review.
Write a Review