Co:Writer  Resources  Research & Case Studies  Topic Dictionaries  Pricing  Request A Quote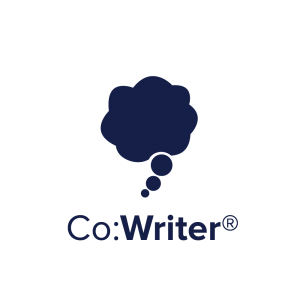 Co:Writer 6 Resources  Co:Writer 7 Resources
Understanding the Product
Co:Writer 7 Product Demonstration
Watch a 5-minute product demonstration and find answers to your questions
Learning and Leading with Technology Magazine
Read the article titled "Writing Tools for Differentiating Instruction" written by Sean J. Smith, Kylie Stewart and Diana Greer. (PDF)
Research & Case Studies
Read research that supports Co:Writer features.
SOLO Overview Video
Watch a brief introduction to our SOLO Literacy Suite that includes all of our most popular reading and writing accommodations.
Write On! Camp Video
Watch a video of Fairfax County, Virginia implementing SOLO during a summer writing camp.
Technology & Learning Magazine
Read the SOLO Literacy Suite product review featured in the May 2007 issue.
Article: U.S. News-Health
For Teens With Autism, Handwriting Problems May Persist
Learning to Use the Product
Train-in-30 Tutorial
Train your teachers in just 30 minutes (really!) with this tutorial. This is your best tutorial to get teachers up and running quickly. Includes Skills Checklist. (PDF)
Show-Me-How Video Tutorials
Show-Me-How video tutorials demonstrate key Co:Writer 6 functions in less than a minute each.
Don Johnston's FREE Implementation Framework
Melds proven implementation strategies with some fundamental principles of change!
Testing Accommodations
How to use Co:Writer for your students' assessments.
Assessment
• Writing Accommodation (PDF)
• Word Prediction Screening Tool (PDF)
Student Success Stories Form
Fill out Student Success Stories form to track progress (2 pgs PDF)
Quick Card
Quickly reference common Co:Writer features with this Quick Card. (PDF)
Don Johnston Professional Development Designed Just for You!
Get your staff up and running quickly with Don Johnston's proven training methods. Our trainings are available to fit your schedule. Don Johnston Professional Services has trained thousands of educators, so you can feel confident that your initiative will launch successfully.
Extras and Support
Download product updates and manuals. Find answers to common technical support questions.
Topic Dictionaries
Topic Dictionaries add topic-specific words to Co:Writer's prediction list—
over 100 available to download and more are added every month.
Sample of Co:Writer Parents' Letter
CD Label for Unlimited Site License Customers
Save Network Ready Files
How to Use Co:Writer 7 on Your Network (PDF)
Software Requirements
Check to make sure your computers and operating system will run Co:Writer