Introducing a Student-Lead Model of AT Integration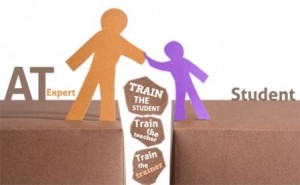 Despite a number of factors that support effective implementation of assistive technology — the training of staff, students, and families on use of AT continues to be a barrier to achieving success. How can you ensure that your students a) understand the purpose of AT, b) know how to use AT effectively, and — perhaps most important — c) develop a sense of ownership in their use of AT?
Implementing AT effectively with your students is critical in preventing the eventual abandonment of the technology.
What makes this approach different?
Unlike the more typical training models that emphasizes training teachers and other school personnel, Nora Bardi and Brian Wojcik are able to present an overview of a student-focused approach based on their own work and research.
This model of technology implementation has been used with middle school students and is different in that it is student-lead, peer-driven, and socially promoted.
How did this work?
This project started with a core group of students (both with and without disabilities) that were invited to serve as student leaders. These student leaders received training about the software tool being implemented and then were asked to serve as trainers for other students.
These student leaders worked together as a group to come up with methods for training the other students, discuss their progress, and help each other work through any problems that may come up during their work.
What about the outcomes?
Using this student-based training approach, students were able to establish a sense of ownership not just in the use of the AT tool, but also in the process of encouraging the use of the tool.
Nora and Brian will be sharing the preliminary data that has been collected throughout this project that includes:
Student perceptions
Teacher perceptions
Use of the software tool
Want to learn more? Stay tuned here for notes from Nora and Brian's Closing the Gap 2013 presentation!
About the Presenters
Nora Bardi is the AT Coordinator for the Special Services Center of McLean County Unit District #5 in Bloomington, Illinois. Follow Nora for more information!
Brian Wojcik is an Assistant Professor at the University of Nebraska at Kearney and is a regular contributor to #ATchat. Follow Brian to learn more!