Thirty years ago, Cheryll and I had no idea that spending late nights in our old garage to figure out what tools would help children with special needs succeed, would lead to the business we have today.
We owe much gratitude to you, educators who truly make a difference. Many of you, in fact lots of you, have been with us for a long time. We've enjoyed the ride and appreciate you standing by to provide insight into what's working for you and your students.
Your feedback has helped us to develop the quality products we have today. You've put Co:Writer and Read:OutLoud in product leader positions and we could not be more proud that our programs help so many kids become better readers and writers.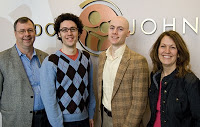 To celebrate 30 years in business is humbling. Recently our employees held a party in our honor and to see our sons, Ben and Kevin, work with Ruth, our fantastic president, to lead the charge is an incredibly satisfying legacy. How many companies can say this about their business!
It all started because I didn't have technology in school to accommodate my learning disability and still today many students do not have tools like text readers to support them. I was labeled a poor learner and carried that stigma for years. Then in 8th grade, Mrs. Tedesco, an incredible teacher and bright spot in my life, challenged me to think in different ways. I'm sure many of you are "Mrs. Tedesco's" for your students too!
As many of you know, my autobiography, Building Wings, highlights Mrs. Tedesco and her faith in my strengths and abilities — not my weaknesses. Hundreds of letters pour into my mailbox from students and teachers about the book. I read every letter and believe that technology is a way to level the widest inequalities for all people. Through your letters and stories we know that every student can attain some level of literacy.
On behalf of my family, we sincerely thank you for all the well wishes on our 30th anniversary. We couldn't have done it without you and our incredible employees. We look forward to the next 30 years. Who knows…maybe my grandchildren will be the next generation to carry us into a world we can imagine now…where kids grow up using technology at an early age and as an everyday tool in school. You are the bright spots! Keep your passion and share your stories.
– Don
P.S. Your video greeting was too much fun to watch! Thanks for thinking of us.