For people who care for children with disabilities …


Last time I wrote we had just had Jack's Individual Education Plan meeting. I know a lot of you have had your child's IEP meeting already too…it is so important to follow up and see how they are implementing the plan. Remember, the therapist, teachers and social worker are part of your team and you are the engine that drives it.
Revisit the goals frequently to keep a handle on how your child is progressing and remind them that you're checking! The squeaky wheel gets the grease! Also, if appropriate, see that your child has been considered for assistive technology. Many teachers do not send in referrals for AT because they don't know a lot about what is available, how it can help students and what kinds of AT the school already owns. Ask the team about this!
Recently, we also discussed recovery funding (ARRA). Both rounds of this federal funding have been dispersed to states and are supposed to be allocated to special education. If you're curious to find out how your state is divvying up the money, go to our website and look for your state. You'll see how much of the stimulus money has been spent and will probably be surprised to learn that less than 10% has been spent in some states. There's only a year left to put the plan in motion, so stay on top of your school district. I myself have called my superintendent to find out what our district has done so far, and what they plan on doing with it in the future. And more specifically, how it benefits Jack. I will let you know the outcome (hopefully) in my next newsletter.
On a personal note…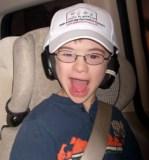 Jack turned 8 this month. Every year at this time I tend to reflect on how much better my life is because of Jack. I had no idea this was the path I was supposed to take, but looking back it makes perfect sense. When Jack was born I could not get enough information or advice. I was going to change the world…I was going to be the biggest advocate for Down syndrome…I was going to let the world know it is OK to have a child with a disability…And even though my life might not be what I expected it's even sweeter.
What I thought vs. what I have learned…I have learned that advocating for Jack does not mean making him the poster child of his disability. Sometimes, it is just the opposite-it's about NOT following the same path as others. My husband and I do what is best for Jack and try to ensure that he is learning daily, being treated equally, and that he is happy.
Best,
~ Roberta