For people who care for children with disabilities …

Hi all,
I'm compelled to address an issue that I don't take lightly- the "R" Word. March 6th, 2013 is the annual day of awareness for the national campaign to stop this hurtful word, called 'Spread the Word to End the Word".It's a very touchy subject for many and it presents some awkward situations, but as an advocate for my son, Jack, I feel I need to address it. I cannot tell you how many times friends, teachers, and co-workers use this word. Before having Jack, I too probably used it loosely as an adjective for being stupid, not knowing the ramifications it might have on someone who is disabled or someone with learning disabilities and their families.
Just the other day, my gym friend said,"I feel like such a retard" several times. This person works with children with disabilities and knows I have a child with Down syndrome. I let it go the first time. I let it go the second time. But on the third time I said to her "Can you please use another word to describe your stupidity or awkwardness?" She replied "Oh, you know I don't mean anything by it." I said I know it is not out of malice but it is hurtful just the same. She actually said "No, I have been using that word forever and just because people are making a big deal out of it now, I don't really feel I need to stop." "Wow," I said and tried to make light of the situation since there were six other people in our class.
I couldn't believe I was having this conversation.
She said "It is not towards your child." "My child's name is Jack and yes it is," I said, "and it is disrespectful towards him and towards me."
TOTAL SILENCE
Then she said "I just don't feel I need to stop," and I just turned to her and said "Then I just don't feel the need to be around ignorant people nor do I need to be friends with them."
This didn't go as well as I would have liked it to go. I've replayed this conversation in my mind wondering if I could have handled the situation better. I probably should have approached her one-on-one later rather than in front of other people. No one likes to look bad in front of others. I should have probably asked her questions first so she didn't polarize with me right away. This experience will help me prepare for the next time I hear the word. I know when people say it, most of the time it is not out of hatred. But it will take education and a plan to change of habits and end this word.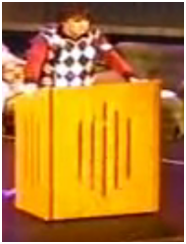 There's a powerful tool that I think could be used in schools to raise awareness of staff and students. It's a speech given back in March 2007 by student at Fremd High school here in Palatine, Illinois. Read the transcript here . This high school senior spoke to a gymnasium full of his high school peers and faculty and received a standing ovation. His topic was the "R" word. I encourage you to watch it. It's 10 minutes long, but it's incredibly powerful, worth watching, and may even draw tears…
I also encourage you and your students to take a look at the R-Word website . There are many ideas and areas that will challenge you to make the commitment to stop the "R" word. If you can get just one person to stop saying it you are making a difference. (NOTE: The R-Word website is very busy today but don't give up.)
So put your plan together for how you will combat the R-word before the you hear it again. Please, let me know what you plan to do to stop the "R" word!