By Ben Johnston
Did you see the latest "Dear Colleague" guidance letter from OSEP (Office of Special Education Programs)? This letter is very influential, and has broad implications for assistive technology. Your director probably read it.
OSEP reiterates that the IEP is intended to give access to the "state's academic content standards for the grade in which the child is enrolled." Several pages are devoted to this point.
We hear a lot about high expectations, but rarely hear about the practical side—how to make the expectations a reality.
Fortunately, OSEP gives recommendations through an example of implementation: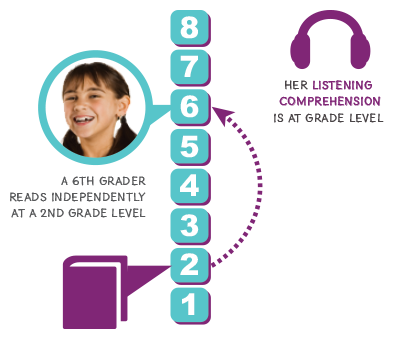 We love how OSEP recognizes the importance of identifying listening comprehension levels! We felt so strongly this point that we developed the only diagnostic process that shows student listening comprehension levels with accommodations. Check it out:
Universal Protocol for Accommodations in Reading
(uPAR).
In the implementation example, the IEP team determines that the student can comprehend at grade level with a reading accommodation. For districts using uPAR, this is most often the case—most students can comprehend grade-level passages with a read aloud accommodation.

Accommodations are only part of the solution. The IEP team determines that with specialized instruction, the student could improve fluency at a rate of 1.5 grades per year. For a 6th grader reading at a 2nd grade level, it would take
six years
to get to grade level.
What to do in the meantime? The student needs access to grade level content, but that content is too challenging to handle without extra support.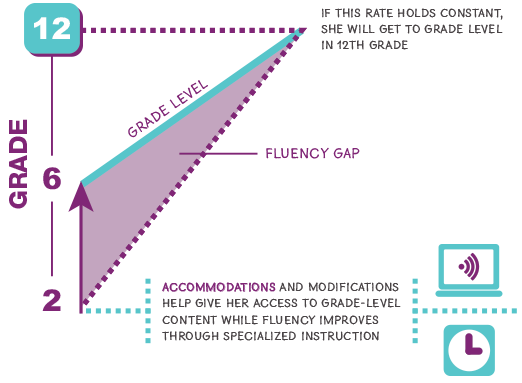 What kind of extra support does OSEP recommend to bridge the fluency gap?
Accommodations and modifications.
Snap&Read Universal
is unique in that it goes beyond simple read-aloud accommodations to include modifications too.
Dynamic Text Leveling
(exclusive to Snap&Read) helps make challenging words more readable for students. It does so without lowering the rigor of the content. For students learning English as a new language,
translation
gives students an immediate way of bringing the content into more familiar terms.
It's a big step for OSEP to recommend assessing students for listening comprehension and providing accommodations to access grade-level curriculum. This is your validation to do what you've wanted to do all along—create a more fundamental approach to giving students independent access to their grade-level curriculum!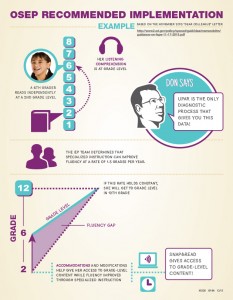 Download the implementation infographic
(based on OSEP's "Dear Colleague" letter).
Want to get our LeaderLink Newsletter delivered right to your inbox?
Subscribe Now