By Joan McAlpin
How would you find your way around an unfamiliar city if you couldn't read the signs? Could you catch the right train, order from a restaurant menu, read a hotel bill? If extreme dyslexia prevented you from accessing written text at school, work, and in daily life what would you do?
Would you pursue an occupation that is rooted in the written word?
For Ptahra Jeppe, an extremely dyslexic New York law student, this is exactly what she did.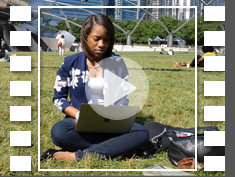 Watch this 3 min. video
"My parents used to be nervous about me traveling because I can't even read things like street signs very well," she acknowledged. "But, I love to travel and see new things!" she said with obvious enthusiasm.
On the day I met Ptahra on her first visit to Chicago, I took special notice of text everywhere as we walked through city parks and ate in a busy restaurant. As I try to imagine Chicago through the eyes of the dyslexic person beside me, I was struck by this concept: Barriers constructed by written words truly could have discouraged Ptahra  from pursuing the things she loves—like travel or earning a law degree.
Multi-tiered supports, Ptahra confirms, have been critical to her success. "Thanks to a great family, great educators, assistive technology, multi-sensory education and accommodations, I was really able to navigate academia and in the world beyond that. But, it took so many years of practice!"
Now age 26, she negotiates her way through the world with verbal agility, confidence and a breezy sense of humor. A few difficult to read street signs can hardly slow her down!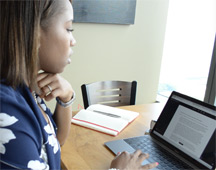 She uses assistive technology including Co:Writer and Snap&Read Universal to bridge the gap between her primary reading and writing levels and her incredible capabilities. These accommodations help her navigate text and write using the sophisticated language used in the legal profession.
Reflectively, she told us "I have lived with, navigated, and continue to attempt to master life with dyslexia. And although the tools I use and the tasks I am asked to master have changed over the years, my assistive technology and my accommodations have really been the core elements that bridge the gap between my decoding level and my intellectual level."
Since her diagnosis with dyslexia in the third grade, Jeppe has experienced pretty much every kind of classroom the New York City educational system had to offer.
"I am a special education student who has experienced General Ed, General Ed with Resource Room, Collaborative Teaching environments, 12-1 classes, 12-1-1 classes, Occupational Therapy. If you name it, I probably experienced it." She laughs easily. Familiar with the memory of those challenging years she adds, "Short of standing on my head, if it was out there, we tried it!"
During this brief Windy City vacation before law classes begin again, Jeppe shared her journey from her early schooling to acceptance into law school because she wants other students to know that it's possible. She wants to help those with learning disabilities especially dyslexia gain confidence with technologies—technologies that can help them become independent readers and writers and active members of society.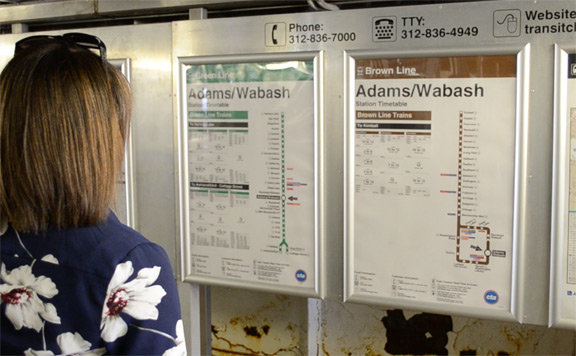 "My parents used to be nervous about me traveling because I can't even read things like street signs very well," she acknowledged. "
After being denied her right to take the LSAT exams (in many states accommodations were being denied for students with defined, documented disabilities), Ptahra returned to New York and became an active participant in a class action suit that ultimately won her the opportunity to take the exam in her home state. She now attends Syracuse University College of Law. She plans to use her law degree to help other students with learning disabilities advocate for themselves.
From being told she would never graduate high school, to becoming Chief-of-Staff to a New York State Assembly member, to attending law school, Jeppe has defied the odds. She repurposed the expectations of students like herself with diverse learning needs. Her attitude, commitment to lifelong learning, and her advocacy for others with learning disabilities make her an inspiration, not just for those who navigate the world with dyslexia, but for all of us meeting life's challenges.
While she studied the menu in a cafe on Chicago's Michigan Avenue I asked, "Ptahra, what's your motto?"
She thought for just a moment, then laughed confidently again and said simply, "Never. Give. Up."
Want to get our LeaderLink Newsletter delivered right to your inbox?
Subscribe Now