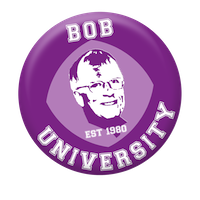 Bob University 2014
Great news! Bob Keller, a long-standing personality in the field of assistive technology and long-time team member of Don Johnston, is bringing Bob University back!
Bob University 2014 is a series of webinars that will give you a fast overview of our programs, all in 30 minutes or less. This is your chance to learn something new and keep your skills sharp over the summer months. This summer, Bob will be covering everything from assessments and curriculum to Co:Writer, Start-to-Finish, First Author, Snap&Read, Draft:Builder, Read:OutLoud and more.
Take a look at the course schedule below and register for as many sessions as you would like (there is no limit!). To make it even more convenient for you, courses will be held twice each day — once at 7:30 AM (Central) and again at 8:30 AM (Central).
Just grab a cup of coffee, login to the courses you've selected, and get ready to learn!
Course Schedule — July 2014
Monday, July 21 — Emergent Reading: Start-to-Finish Literacy Starters & Curriculum
Wednesday, July 23 — Early Emergent Writing: First Author
Friday, July 25  – Testing Accommodations: Word Prediction on PARCC & STAAR
Monday, July 28 — Testing Accommodations: Text-to-Speech on PARCC & STAAR
Friday, August 1 – Writing Probes: Data Collection with SOLO
Course Schedule — August 2014
Monday, August 4 — Writing Solutions: Co:Writer & Write:OutLoud
Tuesday, August 5 — Text to Speech for Your Struggling Readers: Read:OutLoud and Snap&Read
Wednesday, August 6 — How Do You Know? Protocol for Accommodations in Reading
Thursday, August 7 — Organize Before You Write: Draft:Builder
Friday, August 8 — SOLO Technology with Strategy Instruction: SOLO Writing Coach
Monday, August 11 — Early Conventional Reading: Start-to-Finish Online & CORE Curriculum
Tuesday, August 12 — Emergent Reading: Start-to-Finish Literacy Starters & Curriculum
Wednesday, August 13 — Early Emergent Writing: First Author
Thursday, August 14 — Testing Accommodations: Word Prediction on PARCC & STAAR
Friday, August 15 — Testing Accommodations: Text to Speech on PARCC & STAAR
Tuesday, August 19 — Emergent Reading: Start-to-Finish Literacy Starters & Curriculum
Wednesday, August 20 — Early Emergent Writing: First Author
Thursday, August 21 — Emergent Reading: Early Literacy Skill Builder
Friday, August 22 — Early Emergent Writing: First Author
Monday, August 25 — Writing Solutions: Co:Writer & Write:OutLoud
Tuesday, August 26 — Text to Speech for Your Struggling Readers: Read:OutLoud and Snap&Read
Wednesday, August 27 — Organize Before You Write: Draft:Builder
Thursday, August 28 — How Do You Know? Protocol for Accommodations in Reading
Friday, August 29 — SOLO Technology with Strategy Instruction: SOLO Writing Coach

Past Courses — Summer 2014
Monday, June 2 — Writing Solutions: Co:Writer & Write:OutLoud
Tuesday, June 3 — Text to Speech for Your Struggling Readers: Read:OutLoud and Snap&Read
Wednesday, June 4 — How Do You Know? Protocol for Accommodations in Reading
Thursday, June 5 — Organize Before You Write: Draft:Builder
Friday, June 6 — SOLO Technology with Strategy Instruction: SOLO Writing Coach
Monday, June 9 — Early Conventional Reading: Start-to-Finish Online & CORE Curriculum
Tuesday, June 10 — Emergent Reading: Start-to-Finish Literacy Starters & Curriculum
Thursday, June 12 — Early Emergent Writing: First Author
Friday, June 13 — Emergent Reading: Early Literacy Skill Builder
Monday, June 16 — Testing Accommodations: Word Prediction on PARCC & STAAR
Tuesday, June 17 — Testing Accommodations: Text to Speech on PARCC & STAAR
Wednesday, June 18 — Writing Probes: Data Collection with SOLO
Thursday, June 19 — Teach Your Students First: Draft:Builder
Monday, June 23 — Early Conventional Reading: Start-to-Finish Online & CORE Curriculum
Tuesday, June 24 — Emergent Reading: Start-to-Finish Literacy Starters & Curriculum
Wednesday, June 25 — Early Conventional Reading: Start-to-Finish Core Content
Thursday, June 26 — Early Emergent Writing: First Author
Friday, June 27 — Balanced Literacy Package: Reading & Writing for ALL Your Students
Monday, July 7 — Writing Solutions: Co:Writer & Write:OutLoud
Wednesday, July 9 — Text to Speech for Your Struggling Readers: Read:OutLoud and Snap&Read
Friday, July 11 — How Do You Know? Protocol for Accommodations in Reading
Monday, July 14  – Organize Before You Write: Draft:Builder
Wednesday, July 16 — SOLO Technology with Strategy Instruction: SOLO Writing Coach
Friday, July 18 — Early Conventional Reading: Start-to-Finish Online & CORE Curriculum