by Patrick Black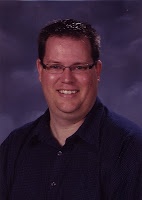 When I was contacted by Don Johnston to write this post, I really wasn't sure what to say…I mean I'm a classroom teacher, who writes a moderately popular blog, and participates in discussions on an email list. Why is my opinion important?
Then I watched the video, "The Case Against AT", and realized I'm exactly the person who needs to see it and talk about it. As "just" a teacher I know the struggles that children with cognitive and physical disabilities face every day. I've seen first hand how a piece of technology can change a student, allowing them to communicate and participate.
"For students without disabilities, technology makes things easier. For students with disabilities, technology makes things possible." –M.P. Radabaugh
This quote really says everything for me, students with disabilities get more possibilities with technology. That can be a PECS book, a laptop computer with text-to-speech, or a speech generating device. Technology is not a crutch to students with disabilities, it is a way to help them be more successful in their life.
Why allow a student to fall behind and try and catch them up, why not help them be successful the first time. We have the ability, let's take it!
Please take a moment today and share this video with a colleague, we can all make a difference!
Sincerely,
Patrick
Patrick Black has been a special education teacher for 10 years and currently teaches students with significant cognitive disabilities in a self-contained classroom in Mt. Prospect, IL, focusing on children with autism and significant cognitive disabilities. He is a "geek" who loves to share all things technology. Over the years, he's integrated technology into the classroom to assist with communication, cognition, and socialization. You can also find Patrick at his blog, Teaching All Students. You can also follow him on Twitter (@teachntech00) or the Teaching All Students fan page on Facebook.