< Back  
Making a Difference for Students with Autism: Transforming Non-Writers into Writers with Word Prediction
District: Joe-Dan Mills Elementary School  • Location: Austin, Texas
Leaders: Murphy McBride, a SCORES Teacher
Download full case study (PDF)

Co:Writer helps Murphy McBride open the writing door for students who were deemed as non-teachable using traditional writing approaches. She shares her story.
Making a Difference for Students with Autism, Learning Disabilities and Physical Challenges
Students who will benefit from word prediction assistive technology:
Students who are reluctant to write
Students who cannot speak
Students who cannot spell or shut down because of poor spelling
Students who have trouble with organization skills
Students who have difficulty with fine motor skills
Students who need writing and vocabulary practice
Students who need coaching to express their thoughts
Students with learning disabilities who do not learn in traditional ways
View Murphy Talking About Transforming Students' Writing and Communication Skills with Word Prediction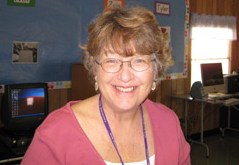 Murphy McBride, a SCORES Teacher (Social Communication Resource and Services) at Joe Dan Mills Elementary School in Austin, Texas has taught students with autism spectrum disorders (ASD) for over 15 years.
She has worked with students who have mental retardation, autism, traumatic brain injuries and cerebral palsy who were labeled as non-writers. Some had a combination of learning challenges such as a print disability and English as a second language (ESL). Some students did not speak; others could not hold a pencil. Some were poor spellers.
Do you teach students like Mrs. McBride's?
"Co:Writer helped me open the writing door for students who were deemed as non-teachable using traditional writing approaches," said Mrs. McBride. She credits Co:Writer word prediction software for helping students write their first word or sentence. "Co:Writer was the answer to keep these students from shutting down in frustration during the writing process," she said. "It transformed non-writers into writers for the very first time!"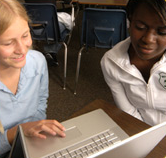 Tackling Each Student's Individual Writing Barriers
One girl suffered from traumatic brain injuries. She did have great language skills, but had damaged her vocal chords and had limited mobility. "Co:Writer gave her a chance to express herself again," said Mrs. McBride. "If you cannot speak or use your hands, Co:Writer can bring the learning process back to life. This young gal could finally put into words what she felt. The tool became her way to communicate her thoughts into action. She released the language inside of her, like a magic wand."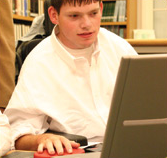 Helping Reluctant Learners Engage in Communication
Murphy encourages students to open Co:Writer in word processing programs such as the Microsoft Outlook calendar to help them organize their day. She likes the flexible spelling which helps students improve vocabulary and spelling. Her students used Co:Writer to compose letters to local businesses, write notes to the UPS man and communicate with their parents and teachers. One student, whose father traveled, used Co:Writer in email to stay in touch with him. This real-time writing activity transformed his life and made a big difference in his social interaction.
Special thanks to Mrs. Murphy McBride for sharing this technology success story with us.
SCORES is an instructional resource that supports students with Autism Spectrum Disorders (ASD) and students with disabilities who demonstrate impairment in social, communicative, and behavioral functioning.
Learn more about SCORES at http://www.austinisd.org/academics/sped/services/scores