Inclusion 2.0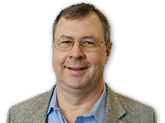 It's hard to believe, but this school year will mark 35 years since I started my company in a garage in the Chicago suburbs. Back then, computer technology was in its infancy. The Apple II was hot, and the late Steve Jobs was still four years away from changing how we interact with computers when he released the Macintosh. Although they look primitive today, those early computers were the beginning of something big—independence for people with disabilities, and our tools focused on this independence.
With independence as the foundation, the last decade brought Inclusion 1.0. This aimed to give students with learning challenges the same access to education as their peers without IEPs. While this has been successful at including more students, the next step is to help them succeed in their general education classrooms. This next step is Inclusion 2.0.
You see it all the time, students are referred for AT as a last resort after repeated failure. Inclusion 2.0 will be about catching students before they fall. This will happen by improving accommodation decisions with data. We'll have the data to compare how students will perform independently and with accommodations. Protocol for Accommodations in Reading (PAR) was the first tool to do this. The free version has been downloaded over 7,500 times. Our new online version moves it from one student at a time to school- and district-wide.
With Inclusion 1.0, educators and support staff never had enough time for all the students who needed help. With Inclusion 2.0, universal personalized accommodations will support students until they're successful. They will be available anywhere and work with the tools students already use. These accommodations will be seen in the same light as calculators and smartphone calendars. Throughout the website, you'll see our new models to give schools affordable universal access to accommodations.
With Inclusion 1.0, progress was tracked for compliance. Inclusion 2.0 will bring feedback to the student and teacher like my Fitbit gives me feedback about the number of steps I take and stairs I climb. Constant feedback is crucial to knowing when encouragement or instruction is needed. This feedback will also build usage habits so students are self-motivated to use thier tools. We're building this kind of feedback into our tools, starting with Co:Writer Universal.
We've come a long way from the early days, but there's still work ahead to accomplish our mission of ensuring every student has the supports they need to read and write. I hope you'll take the first step and see how uPAR (Universal Protocol for Accommodations in Reading) and Co:Writer Universal can bring your district into the future—a future where we catch students before they slip through the cracks and support them until they are independent and successful in the general ed curriculum!
–Don C. Johnston