< Back  
District: Olympia School District  • Location: Stanford, IL
Leaders: Cheryl Surratt
Cheryl Surratt broke with the "train the trainer" modeal and moved the technology workshops directly into class instruction with students. 
Olympia School District, IL Academy…Trains Teachers to Use Assistive Technologies in Direct Classroom Instruction Model
Cheryl Surratt, a retired special education teacher for the Olympia School District, Stanford, IL, advocated so much for assistive technologies to benefit students with special needs, that when she left the school, her superintendent and special education director asked her to return to teach other teachers why these tools are important. "I love teaching with SOLO," she said. "It's exciting for me to collaborate with so many teachers in general and special education to ensure that all students reach their academic goals."
Initially, Cheryl worked with teachers outside the classroom, but after a year, she moved the technology workshops directly into class instruction with students. "This makes learning more real," she shared. "Students learn technology quickly. When teachers see students using tools to write with improved spelling, grammar and stronger vocabulary, they believe in it! What's better than kids and teachers learning together? It just works!"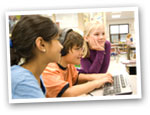 The Olympia School District, IL used IDEA (Individuals with Disabilities Education Act) ARRA stimulus funds to purchase the SOLO assistive technology and Title II Professional Development funds to create the Academy Training program.
Each fall, teachers take part in the Academy Training Program. Cheryl uses SOLO, with support from Ginger Payne, Olympia's Special Education and Student Services Coordinator, to help teachers integrate the reading and writing software accommodations into their daily routines. Using SOLO, teachers at Olympia scaffold the writing process and deliver accessible versions of textbooks. The SOLO unlimited site license allows the district to install the software on every computer in all elementary, middle and high schools. Students and teachers also enjoy take-home privileges.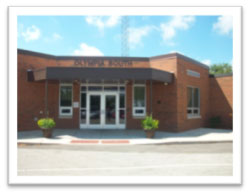 During the Academy, Cheryl uses the SOLO technology with teachers, grades 3-12, in all five schools to plan and implement literacy instruction for classroom and lab settings. Teachers use the software to differentiate instruction and plan out how they will increase student achievement. For additional support in the district's inclusion environment, where children with special needs are integrated into general education classes, Cheryl acts as the SOLO coach and team teacher. "When the general education teachers saw the results, they wanted to make the technology available to all students, said Cheryl." Today, many general and special education teachers demonstrate SOLO in the Academy Training for other teachers using their own 'teacher language' as showcased below.
Teachers Talk About SOLO in Classroom Instruction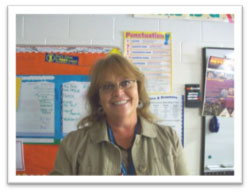 Writing Persuasive Essays for the ISAT
Janet Stevens, a 4th grade teacher at Olympia South, modeled the state's (ISAT) standardized test extended response section with SOLO. Students used it to show how to write persuasive essays from the built-in templates. Ms. Stevens also initiated an after-school club for students who wanted more literacy practice. Between 15 and 25 kids meet in the computer lab after school hours to use SOLO. Ms. Stevens feels that increasing the time students have to use technology will provide more opportunities for them to polish their writing skills. Students replicate their essays using Draft:Builder and use the accessible web browser in Read:OutLoud for research. They also used Co:Writer to improve their spelling and grammar.
Elementary Students End of Year State History Showcase
Rita Park, an elementary general education teacher, uses SOLO for an end-of- year state project. You can watch her video. Each student selected a state and worked in SOLO using teacher-created templates to research, write notes, and carry their facts and details over to Draft:Builder to organize their papers. Ms. Park used note cards for this project, but she gladly retired the printed cards. "I remember when students lost the cards and could not read their own handwriting," she said. "Today, my students use SOLO to present their state projects to peers and faculty. They dress in costume and have fun presenting their papers. This district project is very successful."
Middle School Poetry in English Classes
Anita Ross, 7th grade general education teacher at Olympia Middle School uses SOLO to teach students how to write letters. Ms. Ross teaches five classes and uses letter templates to help students write letters to a favorite book author, using Write:OutLoud. They mail the letters and hope for responses. Ms. Ross also teaches poetry where students use Draft:Builder to learn how to unscramble and organize a poem. You can watch her video as she describes a poetry lesson. Students manipulate each line to be in the correct order and are encouraged to use the text-to-speech (auditory feedback) to hear the poem aloud in Read:OutLoud. Ms. Ross says, "You can use these technologies to teach any subject!"
Writing Assessments and Analysis
School Psychologists, Patti Higgins and Jeff Schroder plan to use SOLO to initiate a universal screening process for all 4th, 5th, and 6thgraders to analyze writing abilities. Students will be given a writing prompt and a time limit to write with Write:Outloud. The 'writing help' prompts will be turned off for this screening assessment. Ms. Higgins will analyze the data to monitor student progress. Using the data, she can then assist teachers in assigning students to writing intervention groups based on their needs. "SOLO can help us systematize the universal screening process," shared Ms. Higgins. "This process used to be unbearable for us to count every word a student wrote. With SOLO, we can easily manage the process and spend more time helping students improve their literacy skills."
Olympia IL School District stands as an example of innovation, uniqueness and education opportunity. Stay tuned for updates on this district's progress, the universal screening model and their exemplary use of assistive technology to support their students.
SOLO includes these top four accommodations: