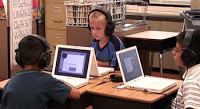 What better compliment than to have educators share their students' learning successes with others!
That's what happened today… Stan Tom, AT Specialist for Prentice School in CA shared this local news story published in the Orange County Register Newspapers.
Twelve sixth-graders sat silent and attentive as they clicked through a NASA website, learning how astronauts train.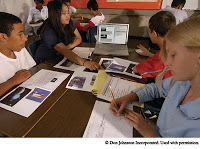 The Prentice School students use Read:OutLoud, which speaks the text, so that children with dyslexia, dysgraphia and other processing problems learn more easily. The program is part of the school's assistive educational technology class, which teaches students to use computer programs that help them read and write for a lifetime. School officials say these programs will help the students advocate for themselves in high school and college.
"It is safe to assume that school-age children already know about technology in the given age of blogging, texting and tweeting," said Mr. Tom. They are familiar with word processing and know about the Internet.
However, if they are poor spellers, have trouble organizing thoughts into written expression or have difficulty comprehending, what they read, than these types of materials are largely inaccessible media for students with learning differences.
For them, it becomes essential to know what accommodation technologies can enable them to keep up with increasing academic workloads, specifically to support reading comprehension and written expression.
When students find themselves in a remediation situation, they are already behind and face challenges ahead. If we provide these students with opportunities to learn what educational assistive technologies are available, and how to master these tools, they are more likely to reach grade level achievement, continue to make academic progress, and expand their expectations of themselves.
A vicious circle is broken and competency with tools leads to accomplishments, which engenders greater confidence, and ultimately a sense of responsibility for one's own progress and purpose." — Stanley Tom